Lisa Marie Andersson
Up The Wooden Hills
Lisa Marie Andersson is the founder of Up The Wooden Hills, an origami and paper brand which originally started as a clothing label. From her apartment and studio in Gothenburg, Lisa Marie folds and assembles by hand her origami pieces and also designs unique graphic paper sets.
Lisa Marie talks to us about her education, the inspiration behind her pieces and what it takes to become an origami artist.
Photos by Hilda Grahnat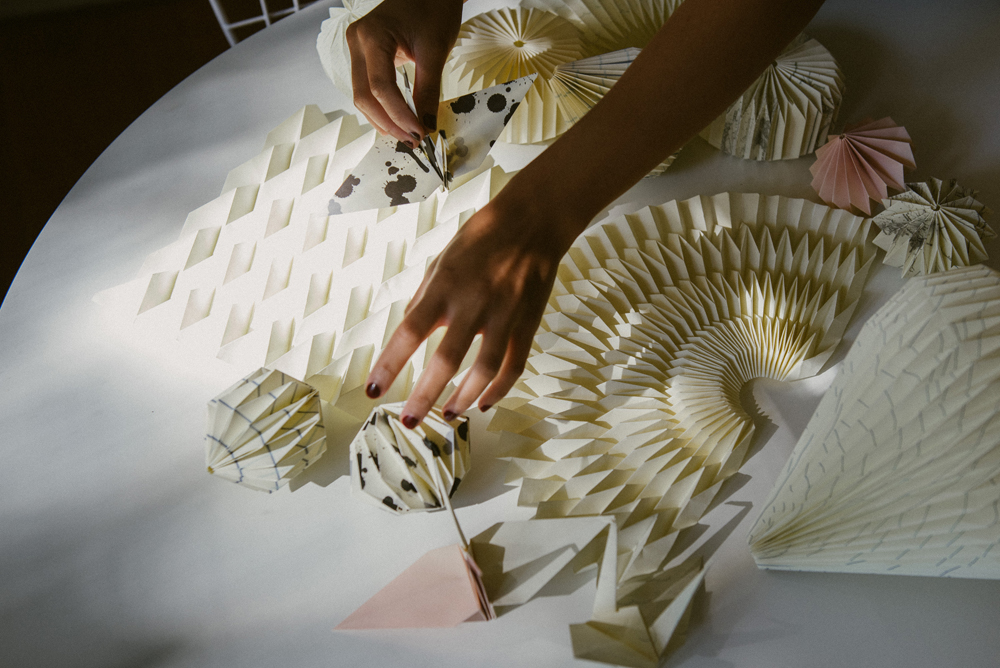 Please tell us about your background and education. What did you before Up The Wooden Hills?
I was born and raised in southern Sweden where my parents had a house in the country side, close to a small town. My life at home was rather creative while growing up and my mother encouraged me to draw a lot. My dad is a carpenter, so he let me create woodwork in our little barn during the summer holidays and my grandmother, whom I was very close to, taught me to sew, knit and crochet at a very early age. I've always been interested in beautiful aesthetics and flowers for as long as I can remember.
After finishing high school I went on directly to Lund University to study different subjects in humanities. In 2006 I moved to Gothenburg to complete my bachelor's degree with classes in art history and visual studies at the university there. During my first years in Gothenburg I also took classes in design theory and an evening class in fashion that included pattern construction, sewing and illustration.
In 2008 I applied for a project management course and was accepted. During the two years of this course I realised more and more that I wanted to work on something creative by hand and I made plans on starting my own clothing brand. In my spare time I had a lot of sewing projects going on – I made my own clothes and tried to construct garment patterns on my own. During the project management course, I got an internship at a men's wear fashion store called Très Bien Shop and sometime after graduating I worked at their office full time before moving on to starting my own business. In my free time I also did some work for a small Gothenburg-based clothing label called Permanent Vacation.
I learned so much from working at both Très Bien Shop and Permanent Vacation about clothes, the clothing industry, social media and running an online store. After some intense work and preparations, Up The Wooden Hills went live in 2011 as a handmade clothing label.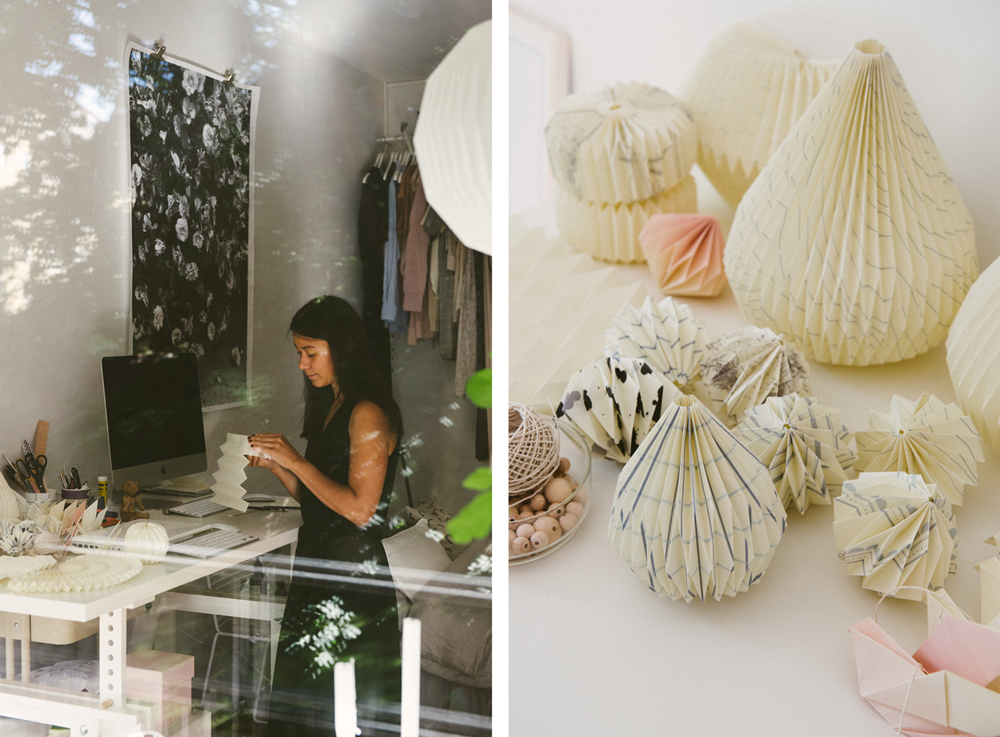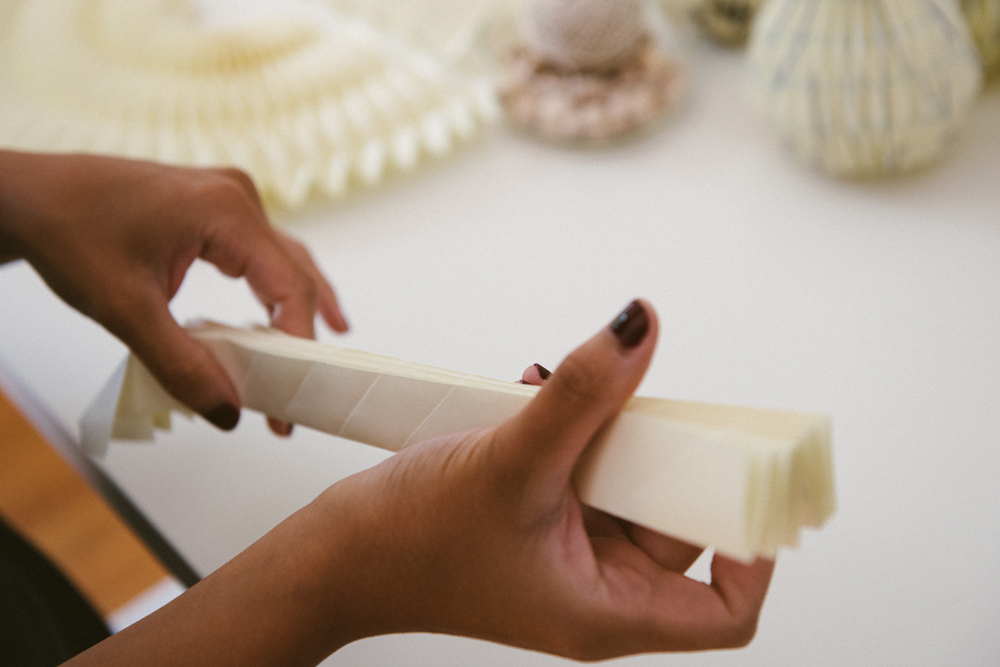 You started Up The Wooden Hills as a clothing brand but evolved into a paper label in 2013. Could you tell us a little bit more about this transition?
I had been making paper cranes for a while in my spare time and I always made them in white paper or paper I bought at some paper store. During the early spring of 2013 I had some friends over for "craft night" and we started folding different origami shapes that were geometrical and a little more advanced. Afterwards, I was hooked on folding these geometrical shapes. I repeatedly made them, whenever I had some time left between other work assignments.
One day I was working in Indesign and realised that I could make a pattern of my own and print it on paper and fold something out of it. So I did a simple pattern consisting of triangles, printed it and folded an origami shape out of it. I thought it looked pretty okay, so I decided to design a collection of a few patterns, print them on paper and fold origami shapes and cranes out of them. I actually didn't really know what to do with these items at that point, but I was going to sell my dresses at a design market that I was hosting with some friends a few weeks later so I figured I could do an experiment and bring my origami items to the market, have them for sale and see if anyone was interested in buying paper crafts. The interest turned out to be huge! I sold out almost every piece I brought with me and since I already had an online store for my dresses I decided to put my origami items up in that one too afterwards.
I announced my origami line on Instagram and after that I started getting a lot of orders in the web shop on origami items. During that summer I was literally sewing dresses during the day and folding paper orders at night. When autumn came, I made the decision of just continuing with the paper and leave the clothes behind. It was a huge relief even though I loved making dresses. Sewing everything on my own was rather time consuming and at that point I didn't have any ambition to expand the clothing brand either, so I think it just became a natural change in my company's direction to switch to another material. Paper craft really opened the door to so many other things – meeting new interesting creative people, giving workshops and making assignments. Things I never did when I was isolated in my studio apartment sewing my dresses.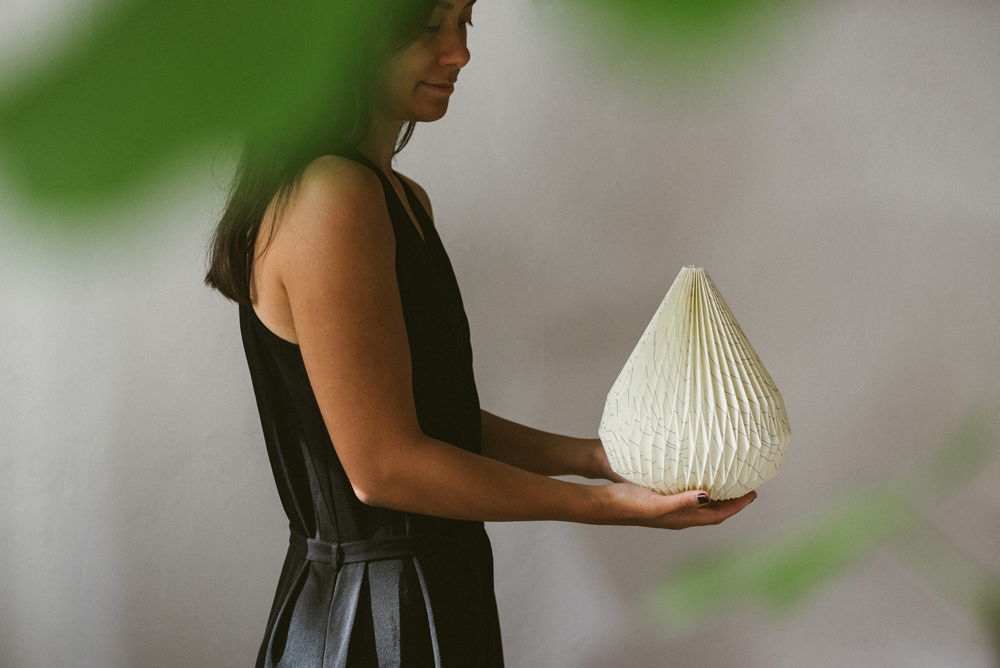 How did you become interested in origami?
It was just by coincidence – I walked by a window display a few years ago that had lots of paper cranes in it and I thought they were so beautiful that I wanted to learn how to make them myself. Making paper cranes had crossed my mind before that but I hadn't thought it was something I could even learn how to do. I watched a few YouTube videos and I was totally hooked on folding them. In my spare time I made paper cranes and decorated my apartment's ceiling at some point with them too. There was something mindful about the folding process of these paper birds that I enjoyed so much.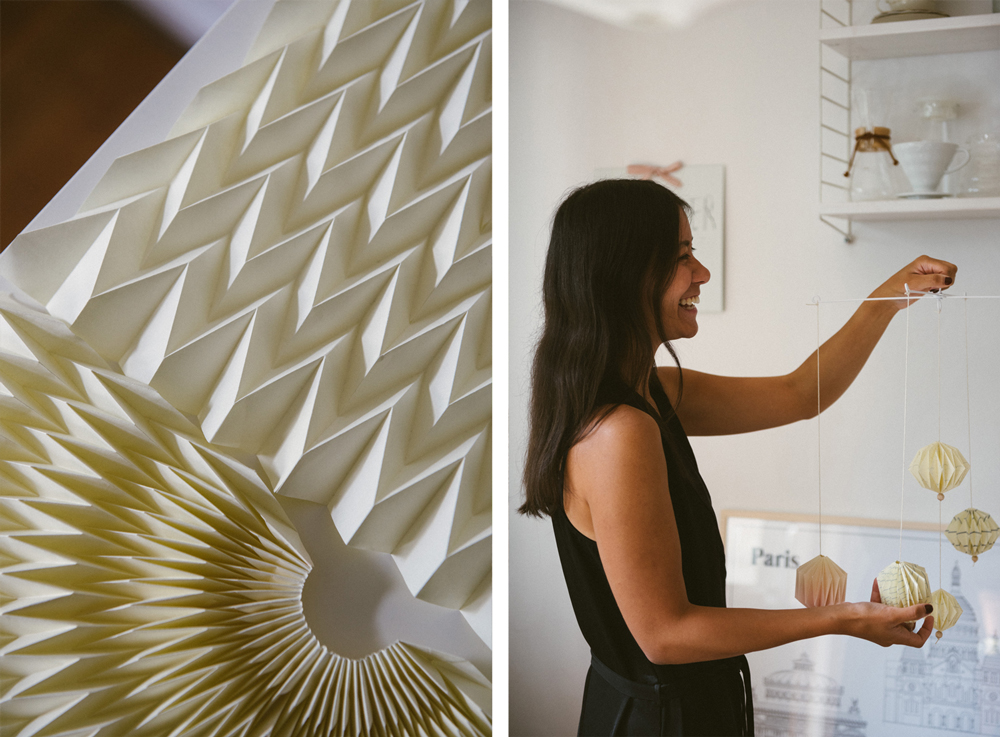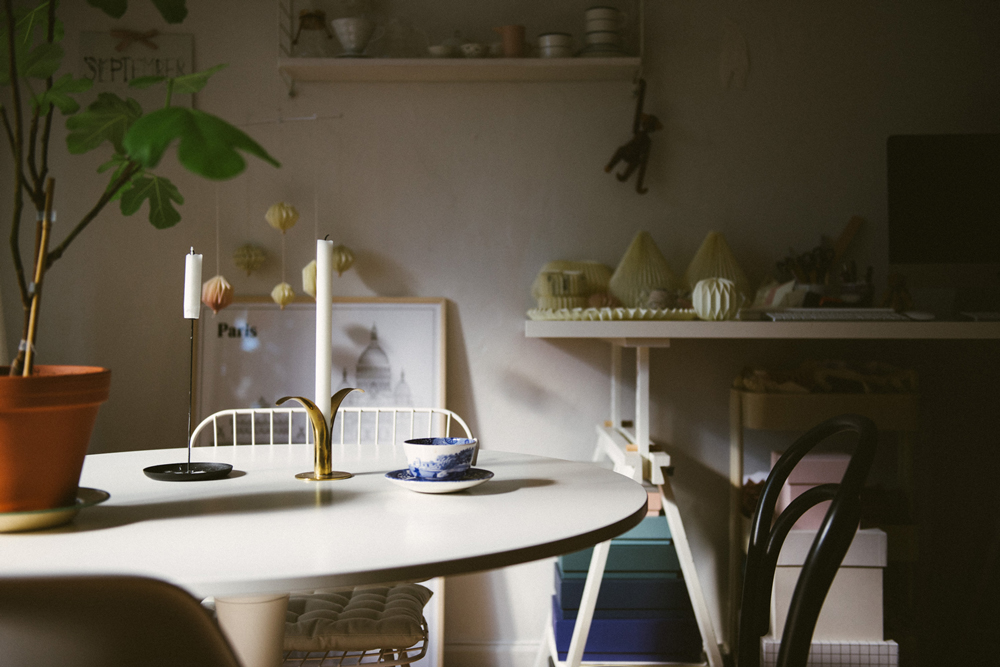 How did you train to become an origami artist? What advice would you give to someone interested in learning origami?
I trained by folding paper over and over again, and challenged myself in constructing and also de-constructing different origami shapes. Folding origami also trained my ability to see patterns on a bigger surface.
The advice I would give to someone who's interested in learning origami is to have patience and not give up! It seems a bit complicated sometimes and that's a part of it. But it's usually very logical too, so after a while the different steps of the process become clearer and you start seeing a pattern in the paper. Patience is also vital and taking breaks now and then if it becomes difficult. Starting at a basic level to work towards a more challenging one is also recommended in the beginning.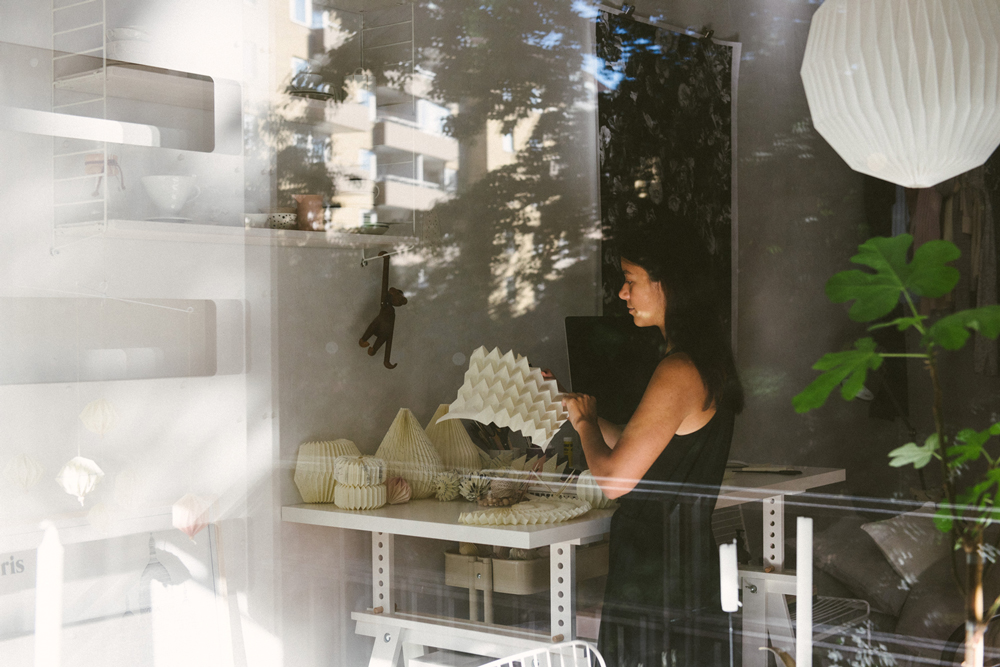 Tell us a little bit more about the folding process. What are the main steps you follow to create an origami piece?
I always prepare the paper sheet that I'm working on by folding creases. If I make geometrical shapes I always fold creases horizontally and sometimes also vertically, so the lines create a grid. In order to make a shape, I always apply a folding technique to the creased piece of paper. A folding technique can consist of diagonal lines that go through the grids in both directions or folds that look like a V which go through every pleat and that create another type of shape. When I've applied a certain folding technique to the pleated paper I start "sculpturing" it through all the different lines to get the shape to appear. I always work with the edges of the paper too, in order to make the shape "come together". Sometimes I put together several sheets of paper to get a bigger form or to make multiples.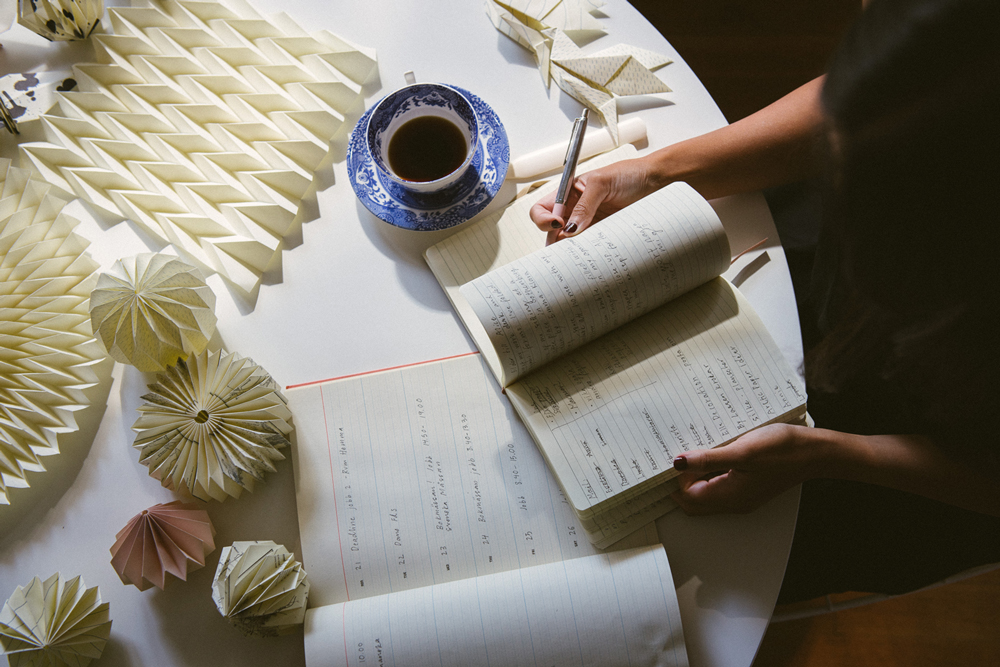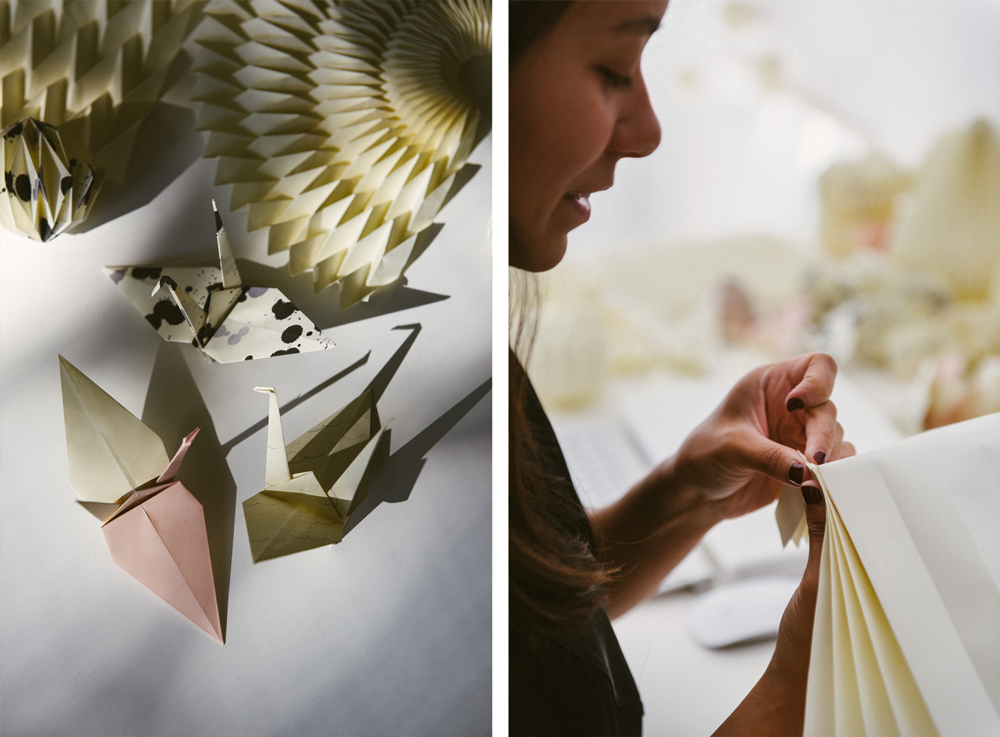 What has been the most challenging origami piece you've ever worked on?
The most challenging piece has been a flat paper circle that consisted of several V-pleats and several sheets of paper put together. It currently doesn't look that difficult to me as it did in the beginning but it's still very complex. When I was learning to do it, it was a real challenge to get all the folds to get together.
After having worked with paper for a while, I've managed to get the texture to follow the folds I create, but when working on a new shape this isn't always the case – it's not unusual that the paper fibres start working in a different direction.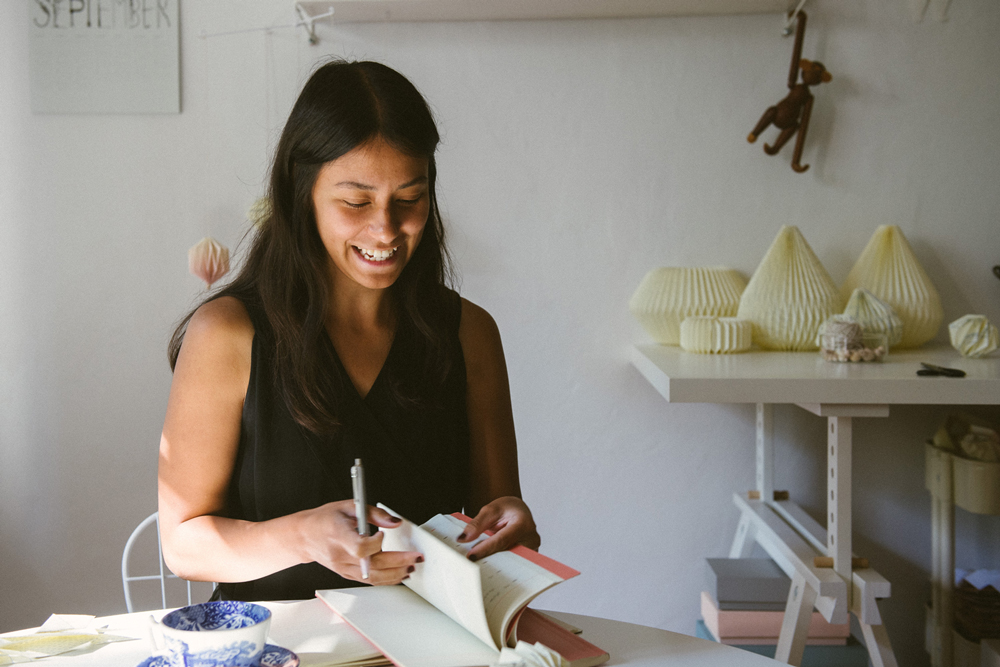 You also design patterns for folding paper. Could you tell us a little more about this? Where do you get your inspiration from?
I make graphic patterns in Indesign that I print on paper. I realised that it's also the patterns on the paper what makes the origami items more special and unique when it comes to my brand. It's nice to break the clean white paper with something else. I usually make rather simple patterns so they won't seem unbalanced together with the origami shapes.
I recently made a little collection of patterns that hasn't been released yet, inspired by textures in nature and Japanese aesthetics. I drew simple waves and tree rings among a few other things. I also look at classic shapes, like repeated diagonal lines or the grids on a kitchen towel for example, and make a pattern inspired by that. Some of the patterns that I made a while ago were really influenced by things related to my family – my grandmother's cross stitch, my dad's old grid papers that he used when drawing in and my mother's old notebooks from the 1980's.
I usually find inspiration during my everyday walks too. At one point this summer, when I was taking a walk, I passed by a cinema and saw an old popcorn container laying on the ground – I noticed that the edges consisted of scallops and I got really inspired by that pattern.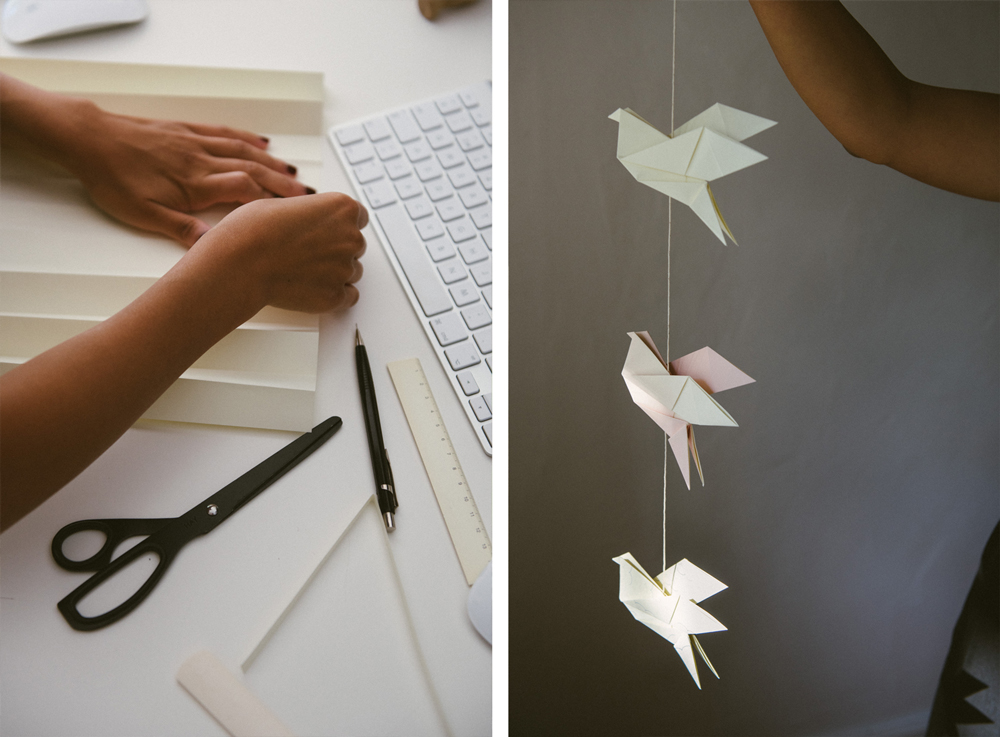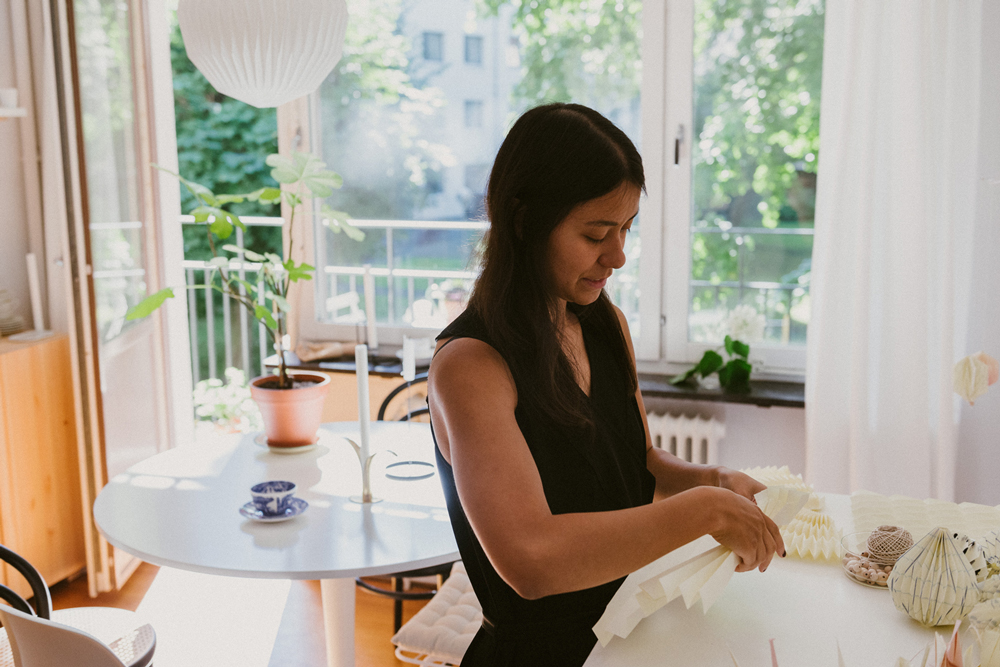 Apart from selling your pieces on your shop, you also work on commissions for different clients. What has been the most exciting commission you've worked on?
The most exciting commission that I've worked on was one where I was asked by paper company Arctic Paper to create different food dishes out of paper in order to promote their food wrapping paper. It was a really challenging, extremely fun and creative paper craft assignment to do. Creating something three-dimensional out of something two-dimensional can be rather complicated. By looking at different things, I could see the way their textures where put together – like a slice of a cucumber for example – and figured out how to create those textures in paper. I made a sandwich, French fries, cup cakes and shrimps among other things. It was very useful to work with paper in a different way than what I normally do, creating asymmetrical shapes, since I usually just work with symmetric shapes when I create my regular origami pieces.
What are Up The Wooden Hills' future plans?
I've been planning for some time to release a new collection of patterns on paper and a few new origami shapes, so that's one part of my future plans that I hope to accomplish. I'm going to start working on a commission for a Swedish paper company in October this year as well, a project that will hopefully continue during next year too. And I also plan to work on a book really soon.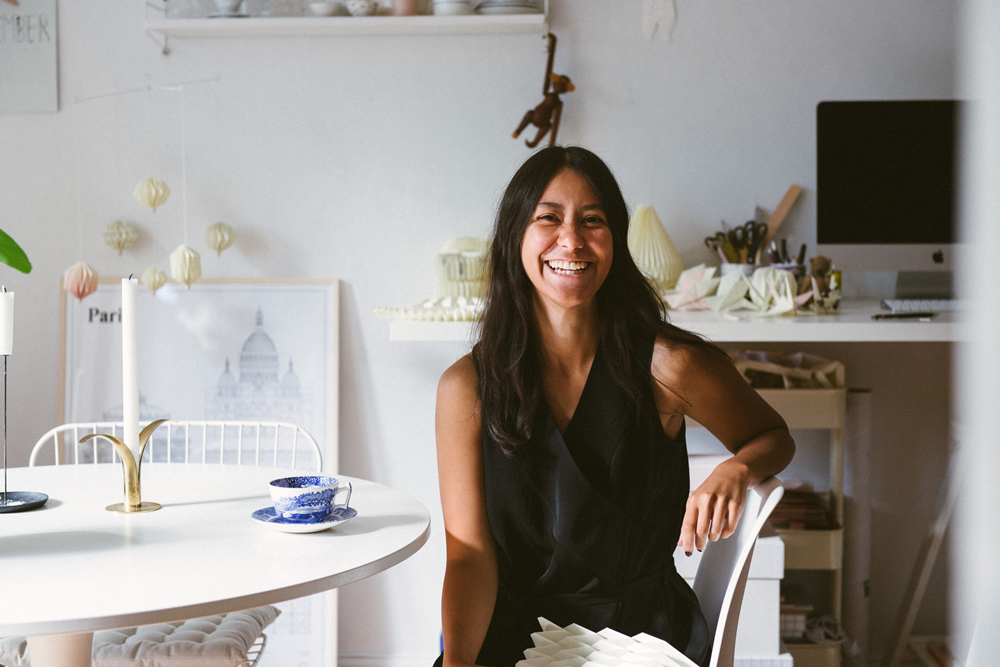 You work from your apartment in Gothenburg, what are some of your favourite places in the city?
Kale'i. A café located in the city centre. The woman who owns this place makes the best coffee and she serves it in beautiful ceramic cups.
The Garden Society. A park in the city centre that includes several beautiful gardens and a palm tree house. It's perfect to wander around any season of the year. In spring, summer and early fall there are about 1200 different types of roses in bloom there.
Artilleriet and Artilleriet The Kitchen. Two beautiful interior design stores that are connected, one with everyday design items and the other one specialised in kitchenware. Both stores have very beautiful, inspiring items and displays.
Holmens Marknad. A flea market located in the outskirts of the city centre, about 10 minutes walk from the grand central station in. It's the perfect place to visit on Sundays and I've found many treasures there.
Fratelli Gridelli. A small Italian restaurant, delicatessen and coffee bar, located about 15 minutes walk from my neighbourhood. It's open during the days and they have great coffee, amazing breakfast and the best pasta in town! The staff is really wonderful and sweet too.
You might also be interested in: