Cliff Leong Kok Kit & Zeejay Wong Zi Jian
The Alphabet Press
Cliff Leong Kok Kit, Zeejay Wong Zi Jian, Fidella Ch'ng Pei Feng and Helios Loo Hoe Tiang are the founders of The Alphabet Press, a letterpress stationery company based in Petaling Jaya, Malaysia. Its founders seek to preserve the heritage of this traditional printing method through their contemporary designs and products.
We chatted with Cliff and Zeejay about the challenges they've faced since they started their business, the limitations of lettepress and its advantages over digital printing.
Photos by Fad Manaf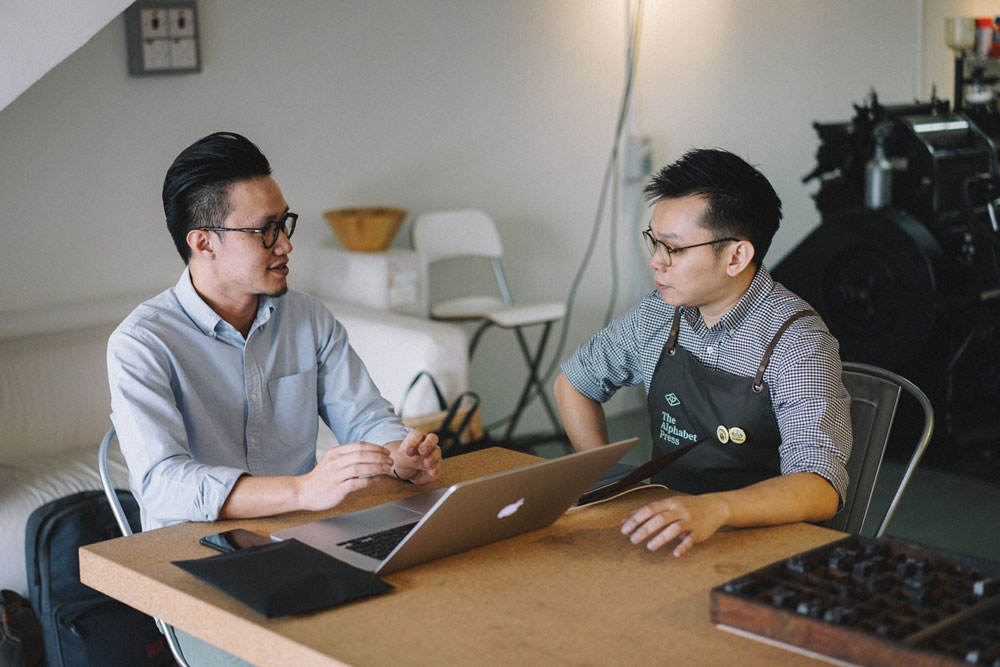 Could you tell us a little bit about your backgrounds and how did you all meet and decided to start The Alphabet Press?
I, Cliff, trained as a web designer and it was my profession for eight years, before I got into the letterpress printing business. Same goes to my three co-founders, both Zeejay (our Printmaker) and Fidella (Design Principal) were web designers while Helios (Lead Innovation) was a commercial photographer.
Shifting from high-speed digital works to something that seems to be technologically backwards was, truly, a transition. I am now full-time Brand Strategist at The Alphabet Press and I enjoy creating products that are made with our own hands, and seeing the products bring joy to other people.
We know each other since university. About five years ago, we were a web design company who set out to look for something special for our business cards. We believe that first impressions are very important because they reflect the taste of the works we do as designers through our own stationery.
We had been looking for a printing technique such as letterpress in Malaysia, but we lacked both the knowledge and resources. And because of our own curiosity (why isn't there anyone doing it here locally?), we decided to fly all the way to Melbourne to learn the craft itself from Carolyn of Idlewild Press. Since then, being intrigued is an understatement to how at awe we are of the attention to detail that goes into letterpress printing. We believe it happened by chance and curiosity.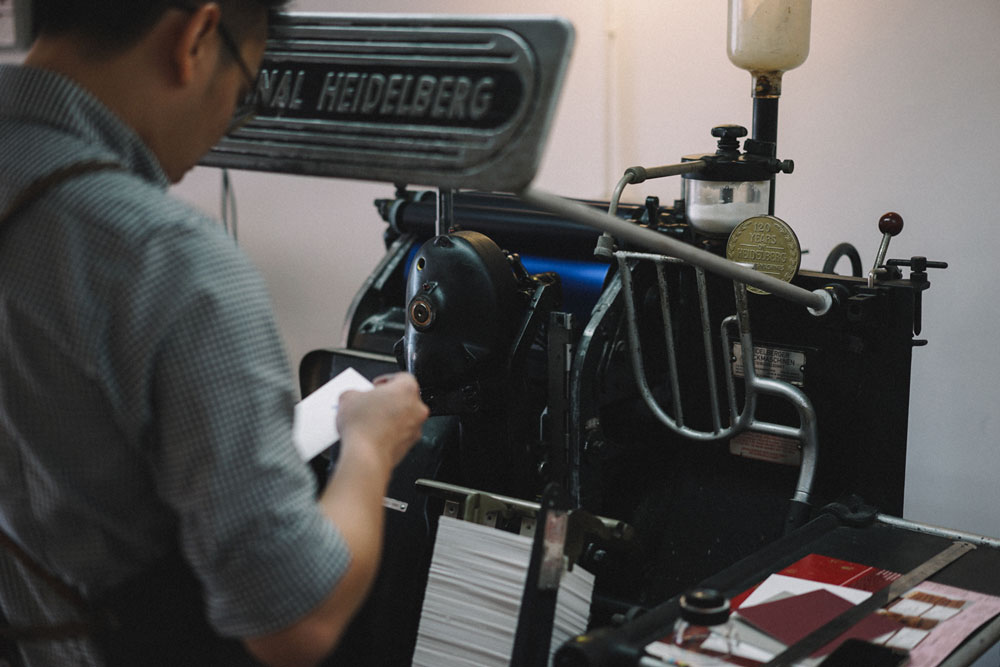 Was there any kind of mission when you started The Alphabet Press?
It is sad how readily printers are these days to let go of the art of letterpress printing, which have long served us well, in exchange for the emergence of offset and digital printing in the new millennium. Many of these stories, craftsmen's skills, and old printing machines and tools will be lost if no one does something about it.
The Alphabet Press began the journey with a purpose — It is to preserve, revive the centuries-old craft of letterpress, and to make it relevant again in the modern society by making it a sustainable business.
Challenged by limited resources, we sought to preserve the heritage, instead of leaving the collection of printing tools and presses in Malaysia to be unused and eventually forgotten. We know something has to be done before all the lead types are dumped or sold as scrap metal.
We constantly educate the public about design responsibility, the printing process and the source of our materials (papers), which is 100% cotton, tree-free, and FSC-certified papers. During our events, we bring the printing process to the public with live demonstrations and hands-on experience making prints.
We hope that more people will learn the history of letterpress printing in Malaysia, through products that we design and produce, and that's how we make traditional craft more accessible to more people.
As of today, The Alphabet Press is a contemporary letterpress stationer that is pioneering the letterpress print renaissance in Malaysia. We enjoy making beautiful paper stationeries and with a mission to revive and spread the love of letterpress.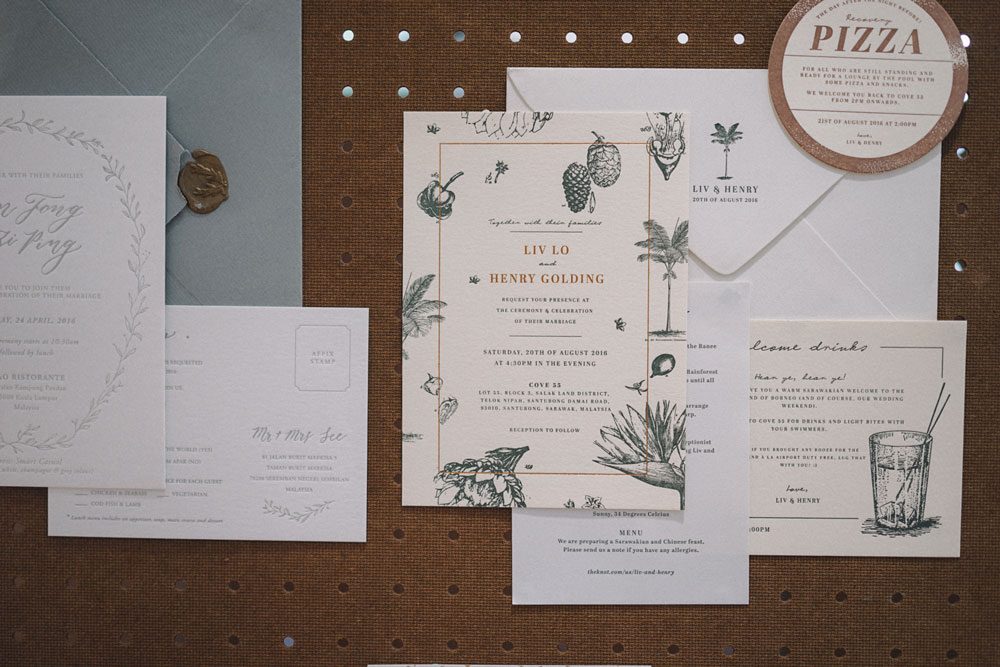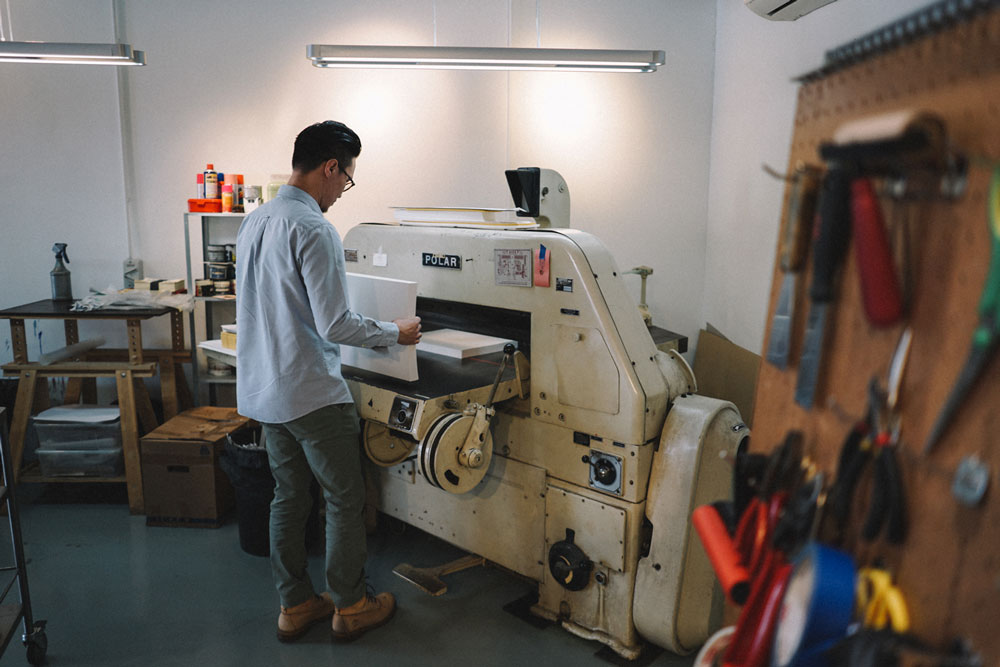 What have been some of the biggest challenges you've faced since starting your business?
Letterpress was a sunset industry, both locally and internationally. Surely, the craftsmanship itself has sufficient substance to withstand the test of time. We have faced many challenges when we first started but out of all, there are two that are significant.
First up, the lack of resources in Malaysia for the craft we were venturing into. Materials like cotton papers, printing tools and the rubber-based inks were imported from different countries, namely U.S., Japan, and Australia. And so, when you have to get all the required tools in order just to make sure our production is up and running, the cost of running the business is much higher.
Secondly, many people hadn't heard about the craft of letterpress in Malaysia. It almost seems like there is no demand in Malaysia because no one is doing what we're trying to do: preserve, revive and make it relevant again into the modern society. But we know education is key to sustain the craftsmanship.
Since opening our doors, we have conducted various types of public events that are primarily focused on educating our audience about the centuries-old craft of letterpress. During the events, we conduct live demonstrations and hands-on experiences for our audience to understand the origin of printing and the importance of keeping this quality craftsmanship alive. All these initiatives have been conducted with the leverage of other creative platforms, such as Kinokuniya Malaysia and Sundays (formerly located at Bangsar Village 2). These public events have created the opportunity for us to introduce this craft to the mass, and the response has been absolutely encouraging.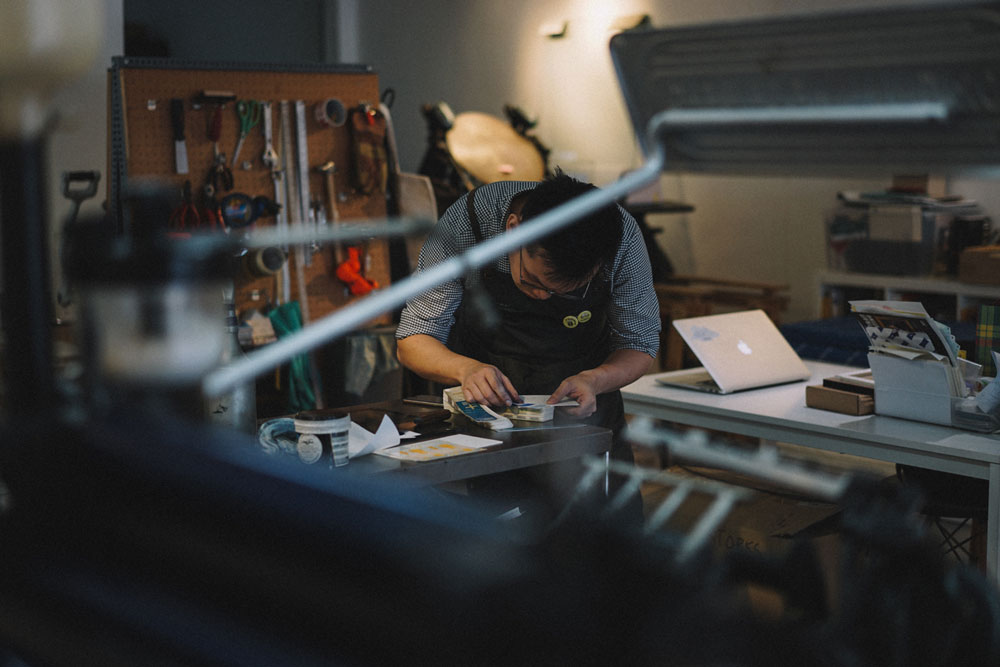 What would you consider to be the advantages of letterpress over digital printing?
In brief, the tactile quality of each print.
Digital printing is an on-demand printing method, where you may make one print at any given time. It's convenient and comparatively low in cost, but the print is flat.
Letterpress, however, has evolved into an art form more than a standard printing practice when deep impression was discovered. It's the bite on paper that saved letterpress. We print on thick cotton paper stocks ranging from 300gsm – 600gsm (or more, sometimes) to create the detailed impression. Although print technology has evolved over the years, the focus of letterpress remains on the delivery of ink to paper and the communication of ideas. It's a straightforward process. The process may have changed (with the introduction of polymer plate), but passion for the craft and meticulous attention to the detail remains.
Letterpress is also able to create crisp, clean lines and bold images; making a deep impression that cannot be reproduced by any modern printing technology. Our prints are printed with high-pigment-level ink, making the graphics and typography sharp (though it's as small as 5pt size). All these handmade, high-quality attributes of letterpress lend a sense of intimacy and craftsmanship to the work.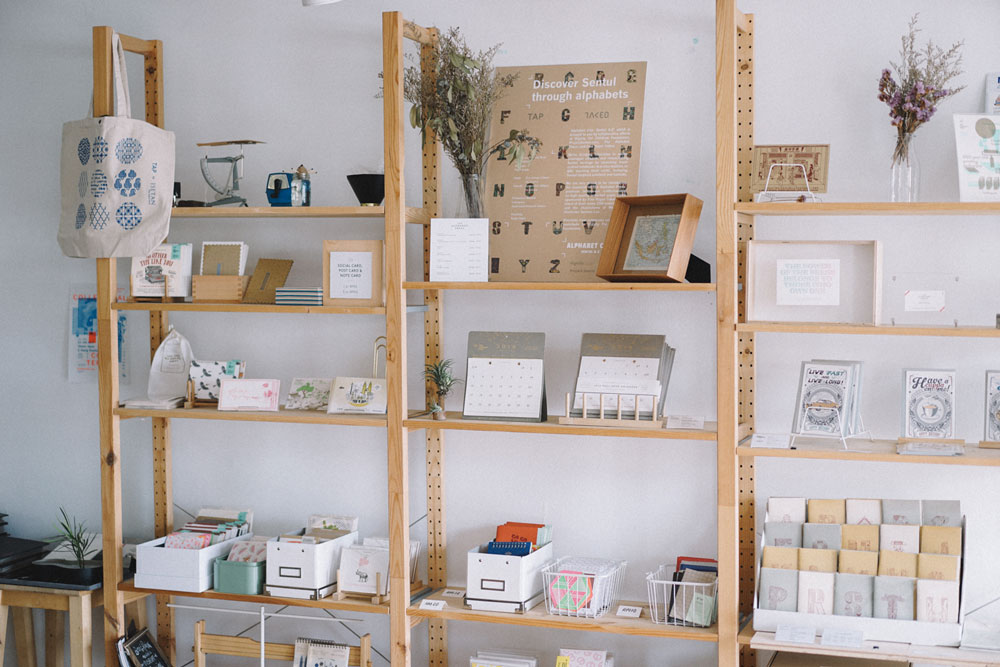 Is your design process constrained or limited in any way by letterpress?
It's limited but it's not constrained.
We have a set of guides when designing in letterpress. It's an old printing method and we can't get away with restrictions. We think it's good — restrictions make us more concentrated in designing. It may be restricted graphically but we extend our creativity into something more tangible. One of the biggest parts of our design process is finding the right paper material to use for each project; be it 15% cotton papers, 35% cotton papers, 100% cotton papers or sometimes colour papers.
Coming from a purely visual background to something more tangible now, it took us a while to get used to the creative process. We believe this is an important process. Understanding the materials plays a big part in the design process. We have become more materials-centred now.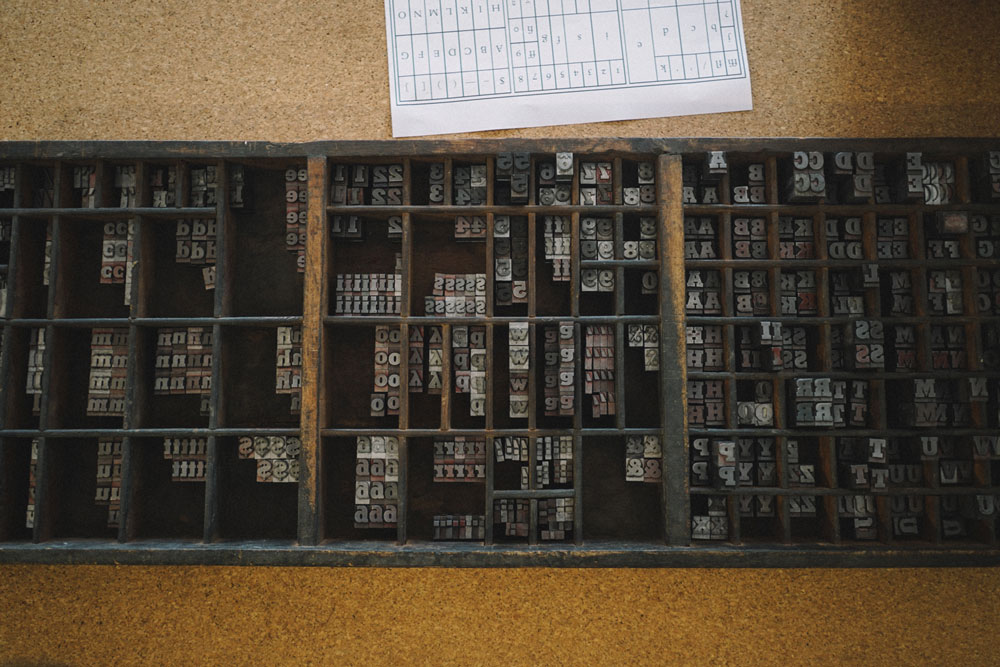 You sell your own range of stationery and also work on commissions, do you approach these in different ways?
Our services are distinctly divided into two: off-the-shelf products and bespoke letterpress services. We aim to engage with our audience with both. From the designs of our off-the-shelf products to our online retail site, we have always focused on creating visual and textual contents that are engaging.
At present, we only operate from our online retail site with heavy reliance on our social media channels to engage with our customers. Coming from web designing backgrounds, we understand the importance of genuine content that can inspire. This is why our online retail strategy is to engage with interactive content that people can easily relate to and also get inspiration from.
As for our bespoke services, our engagement leans more towards educating and sharing all the know-hows that we have on hand about the letterpress processes. For every project that we carry onboard, we offer one-to-one consultations to understand the needs and expectations of our customers. This is to tailor the letterpress experience as fitting as it could be for each and every one of them.
Clearly, the direction for both our services is people-oriented and to take the experience to greater heights we are hoping to introduce more customisation experience in our upcoming retail store. Through customisation and personalisation, we are able to create fully-customised products that would involve our customers in the creation process.
Retail strategies can be dry and methodical. However, we strategise our time and efforts into engaging with customers because it is equally a retail strategy as much as it is a sustainable investment into our branding.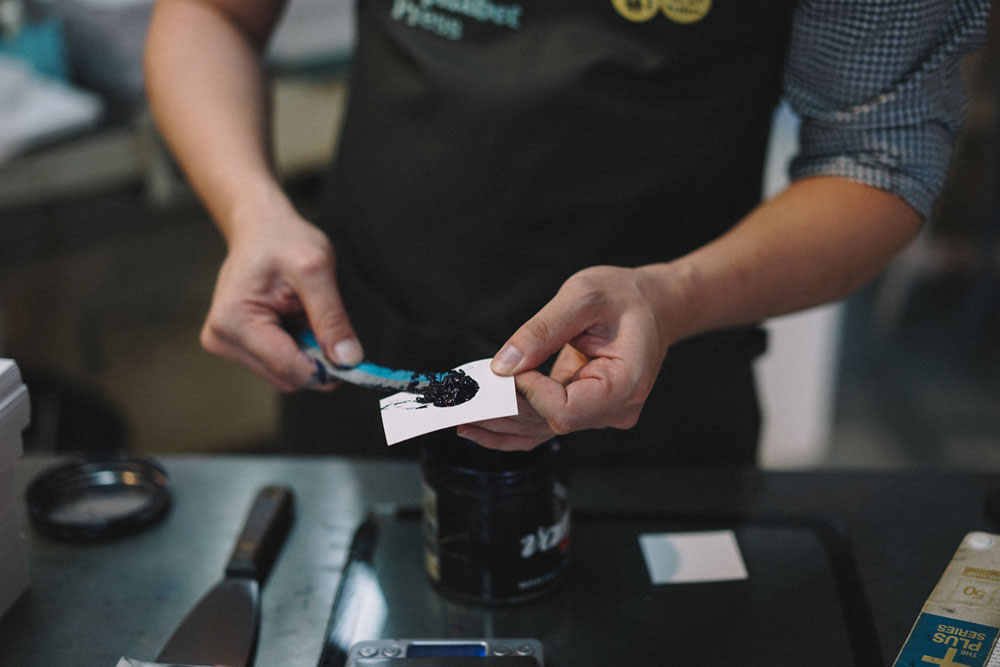 Could you tell us about the machinery you use at your studio?
Heidelberg Windmill was our first printing press after coming back from our letterpress workshop in Melbourne. We bought it from a veteran printer, Mr. Lee (in the midst of retiring) in a place call Brickfields, Kuala Lumpur. It's an area full of printing facilities — printing, foil stamping and other finishing shops. We see less and less of these old printing shops lately when printing technology is advancing as compared to the golden time in the 80s. Fortunately, there are a few of these shops around so we can learn from them and get the resources we need to maintain/fix the printing machine.
It took us couple of months to get the first machine. Even though the retired printer wanted to let go of the printing machine, he was quite reluctant to sell it to us. He mentioned he didn't want to sell it to us because we are young and have no experience in printing. He didn't want to sell it to us knowing that we will have to return it when we give up on printing. So we actually went to meet him almost every week in order to convince him and become friends with him, and we finally gained his trust and bought our first printing machine.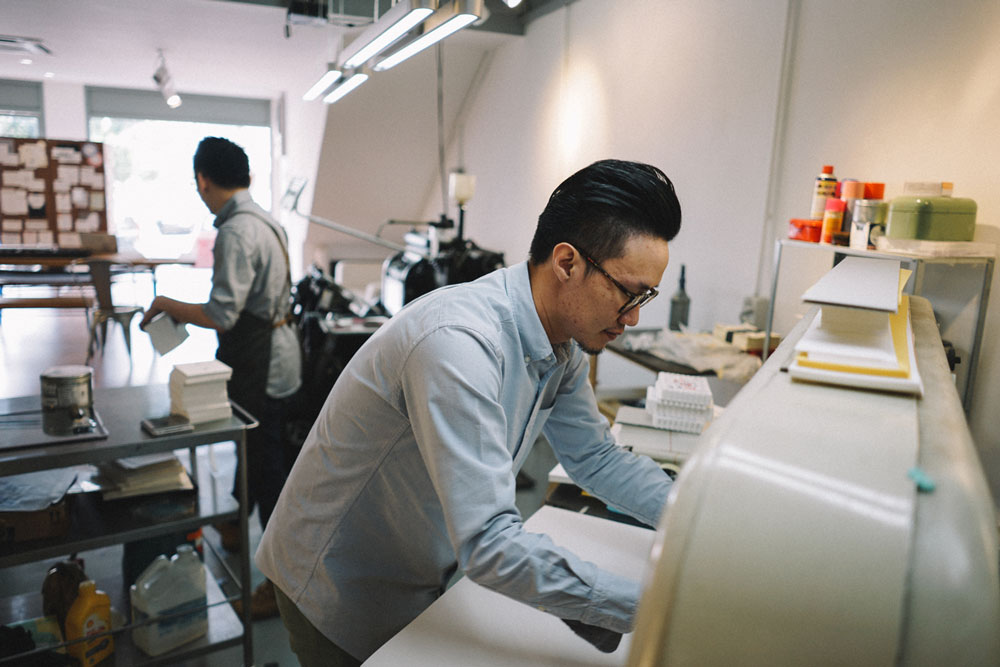 On your website you describe The Alphabet Press as "proudly Malaysian", how do your heritage and culture influence your design aesthetics?
We, as Malaysians, are culturally diverse, individually flavourful, and rich in character.
It's always an advantage for us to live in a country that's so rich in culture. We can utilise this content and make something out of it. It's not only backed with a good solid story, it's also interesting to look into. If we're able to make products using this story and elements, it'll definitely get attention from people outside of Malaysia, who have no idea what Malaysia is all about. Art and design are two very powerful tools to raise the profile of the country.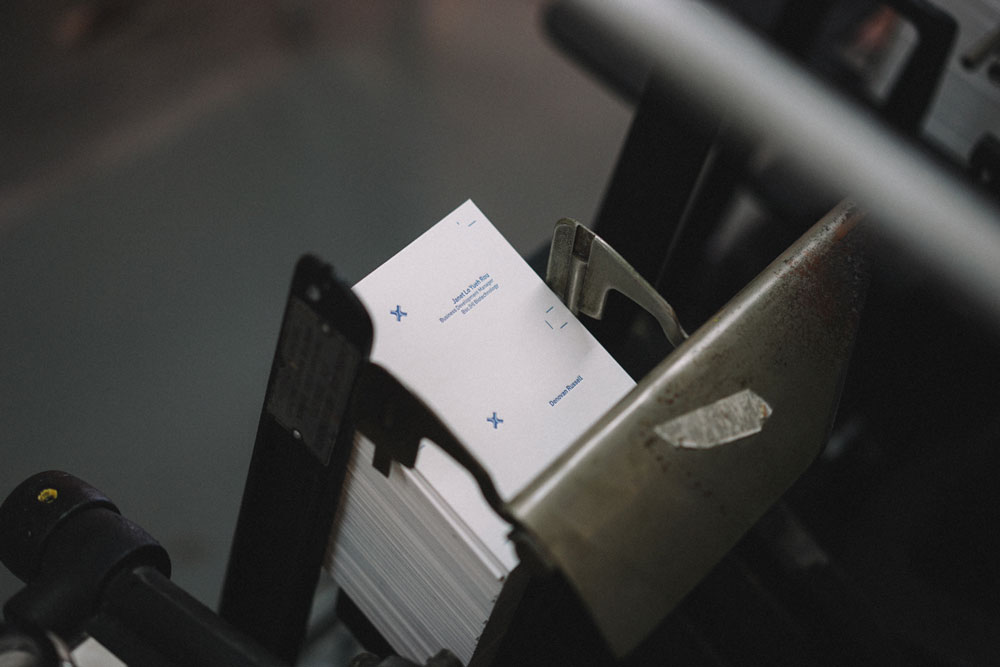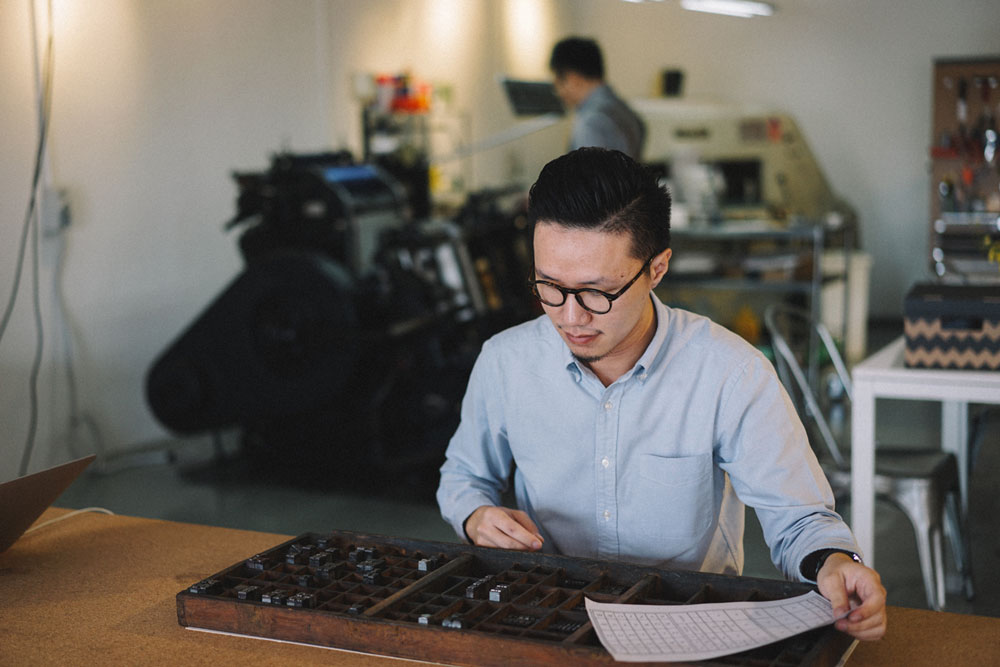 Could you tell us a little bit about the graphic design scene in Malaysia? What are some of the designers we should know about?
We have a lot of talented designers in Malaysia. But due to the lack of support, many of them have chosen not to stay in Malaysia. But still, those who decide to stay, they produce good stuff nonetheless. We have been growing progressively over the years, and we can see that many neighbouring countries are catching up fast. We should keep moving forward as we believe Malaysia deserves to be crown as a design capital in Southeast Asia one day.
Driv Loo from LIE Design & Art Direction is one of the prominent designers not just in Malaysia, but also in Southeast Asia. Driv has worked with recognisable agencies such as Kinetic Singapore and W+K Shanghai. Quirky illustrations are his signature. The duo Kongsi Design has produced solid works we can see around Malaysia. They did a lot of non-commercial projects which changed the public perspective about the value of good design.
We are proud to see that we are surrounded by great people. And we think Malaysia is going towards another wave of change in the design industry, especially when we are seeing more and more young emerging designers who are bold and not afraid to speak up for themselves. And that's what we need; it's the power of design.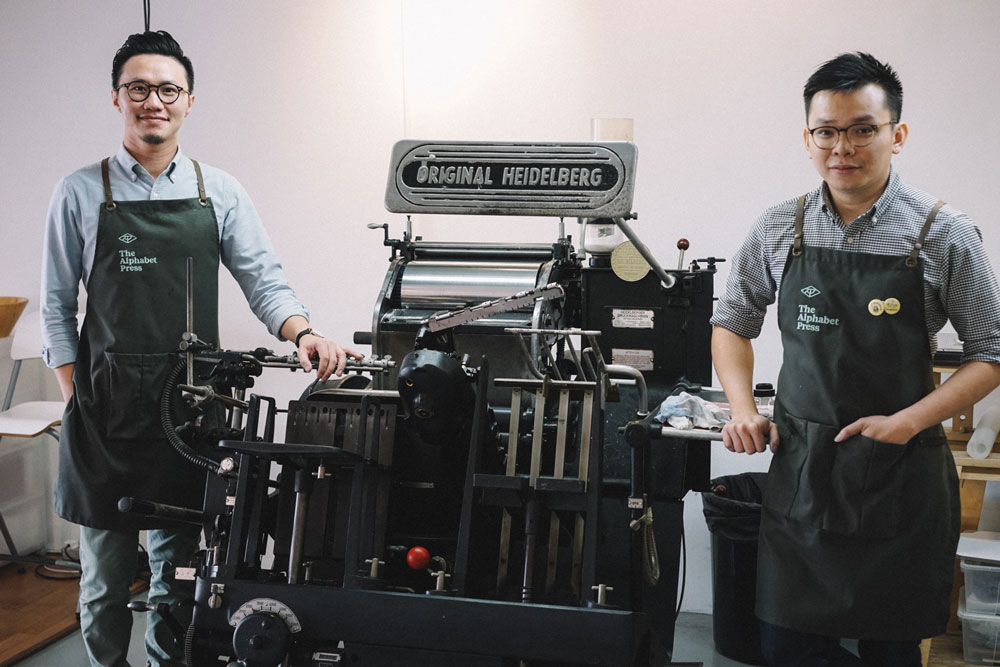 How do you see The Alphabet Press evolving over the new few months?
With the rise of the digital era, there's no doubt the print industry has been affected. But we see the potential on how print is evolving to provide a higher value with better quality and content. At the moment, we're the only contemporary letterpress stationer in Malaysia.
We think what set us apart is that we're driven by making craftsmanship more accessible and also to reach out to more people. That's why we're constantly introducing personalisation services into our products. We engage with our customers and invite them to be a part of the process of creation. It gets so personalised and only through experiencing it you can appreciate its value.
Save
Save
Save
You might also be interested in:
---