Catherine & Matt West
Pottery West
Founded by Goldsmiths graduates Catherine and Matt West, Pottery West specialises in simple, functional ceramic homeware for everyday use, inspired by their love of cuisine, botany, landscape, literature and architecture.
Catherine and Matt chat with us about their beginnings, the challenges they've faced since starting their own business and their design process.
Photos by Helena Marie Fletcher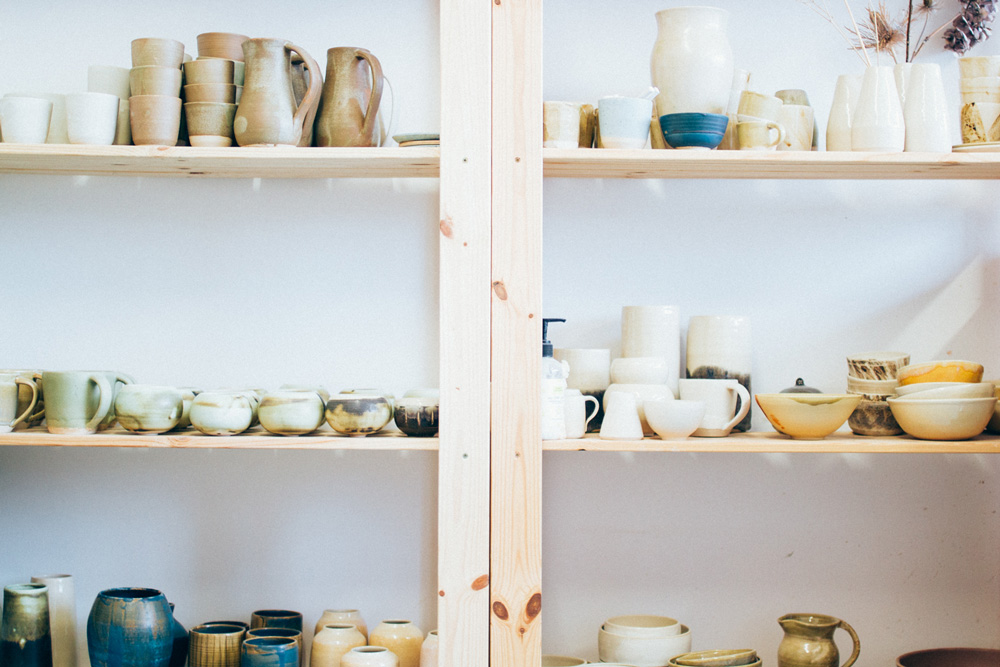 Please tell us about your backgrounds. How did you become interested in ceramics?
Catherine: I studied Fine Art at university where I made drawings, books, collages and short films. It was a very exploratory and valuable time for me and informs the way I think and make ceramics. When I first moved to Sheffield I worked for a start-up called Craft Finder which was based at the Yorkshire Artspace. Here I became friendly with the potter, Penny Withers, and took classes with her. However, I'd say we really became interested in ceramics through collecting pots. I remember we visited the Bill Ismay exhibition at the Hepworth Wakefield which was a bit of a catalyst for us both in terms of collecting and producing.
Matt: After studying design at Goldsmiths and spending a year or so working as a designer I decided to have a shift in profession and began training as a baker in Berlin before moving to Sheffield to work at Seven Hills Bakery. Pottery was something that I never imagined making, having not been taught it at school or university, but alongside Catherine I began taking classes run by Penny Withers and became hooked.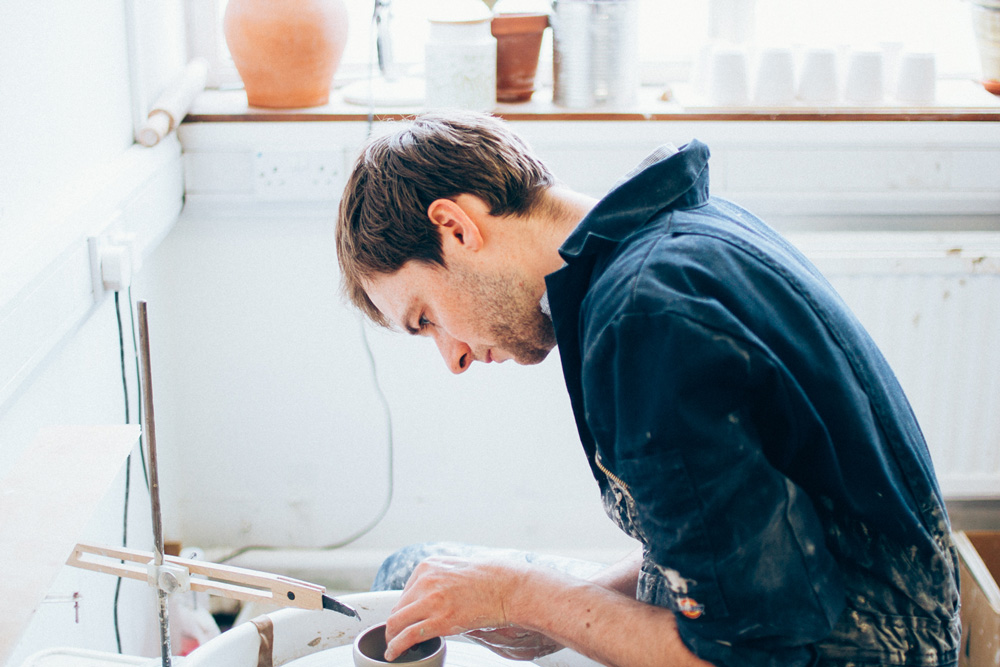 How did you meet and how did you decide to start your business together?
Catherine: Matt is my husband and we met when still at school. We both went to Goldsmiths and are lucky enough to share the same vision and ethos but with quite different skills. Setting up as a business was less a decision and more a natural progression. We went from being enthusiasts to hobbyists to amateurs to obsessives, and then we started to really like what we were making and realised that other people did too – so we became professionals.
Matt: We met whilst working together on our Saturday jobs while at school and have shared many of the same paths since then having both studied at Leeds College of Art, then Goldsmiths. Throughout this time we have worked together on various projects and so when we started making ceramics we naturally did so together.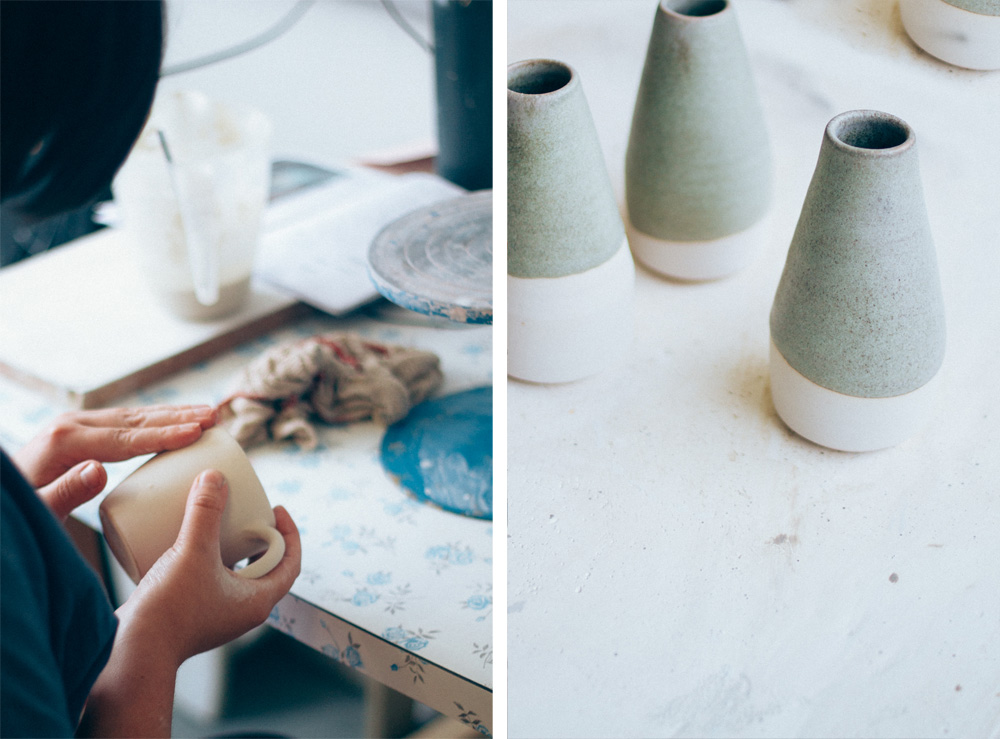 What have been the biggest challenges you've faced so far since founding Pottery West?
Catherine: Neither of us studied ceramics at university or in an apprenticeship and so when we want to do something we look in books, on YouTube, ask other potters, or else we just experiment – this is challenging because we usually find things out the hard way. However it is also a freedom and I think something which has helped us to quickly acquire a distinct aesthetic.
Matt: We started Pottery West because we wanted to make and share our ceramics, but it quickly became a business that we needed to be able to sustain and develop. Many of our challenges come from trying to balance our time developing ideas & techniques in our studio with still being able to carry out the jobs necessary to run a sustainable business.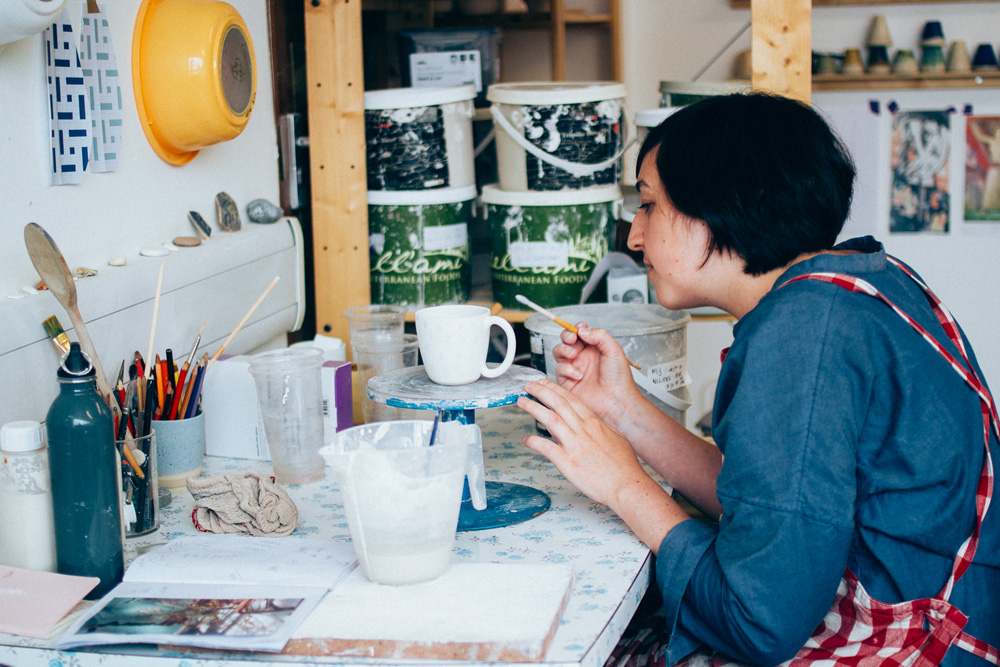 How do you distribute tasks at Pottery West? Do you work on projects individually or do you always work together?
Catherine: We work together on the same pieces but in different ways. It wasn't planned this way but as each part of the production process is so specialist we have found that Matt concentrates on the throwing and forms and I focus on glazing and development.
Matt: Everything we produce has been worked on by both of us. At the moment we are working to our skills so I do the majority of the throwing and Catherine the glazing, but eventually we would like both of us to be able to carry out any part of the production process.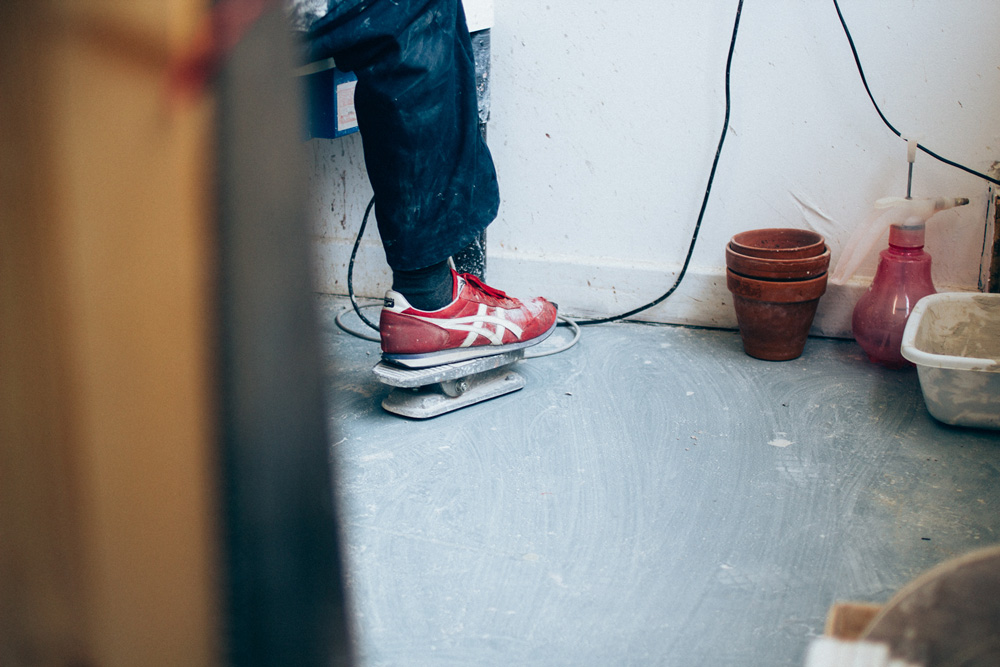 Tell us about your design process. How do you transform an idea into a product?
Catherine: Central to our ideas production is the making process. When designing homeware we often start with a simple form and select a glaze for it, and then have a conversation about how we can adapt it to best balance its character and function. Important to the process is the articulation of ideas in conversation – we try and think of the context people might use our ceramics in, asking the questions "who would use this?", "how could they use this?", "when could they use this?" and "how would they value it".
The process of naming is important to the messages we want to give and helps me to concentrate inspiration. For example, we have begun to create a range of homeware called 'Mariners' – reflecting a notion of simple, honest living that carries the impressions of being made, like a sea weathered artefact.
Matt: Our design process is very much led through making. Initial ideas usually come through forms, textures and colours that we have found married with the functions that we are designing for. A new piece most often starts on the wheel where a batch of varying pieces are produced. Each pot is analysed and we discard some and keep others, this process continues until we have a form that we are happy with. A similar process is used for our glazes, apart from we have to test these more thoroughly as glazes can be quite unpredictable.
Underlying this making process is a continuous conversation about how the object will be used, who will use it and what will it mean to its owner.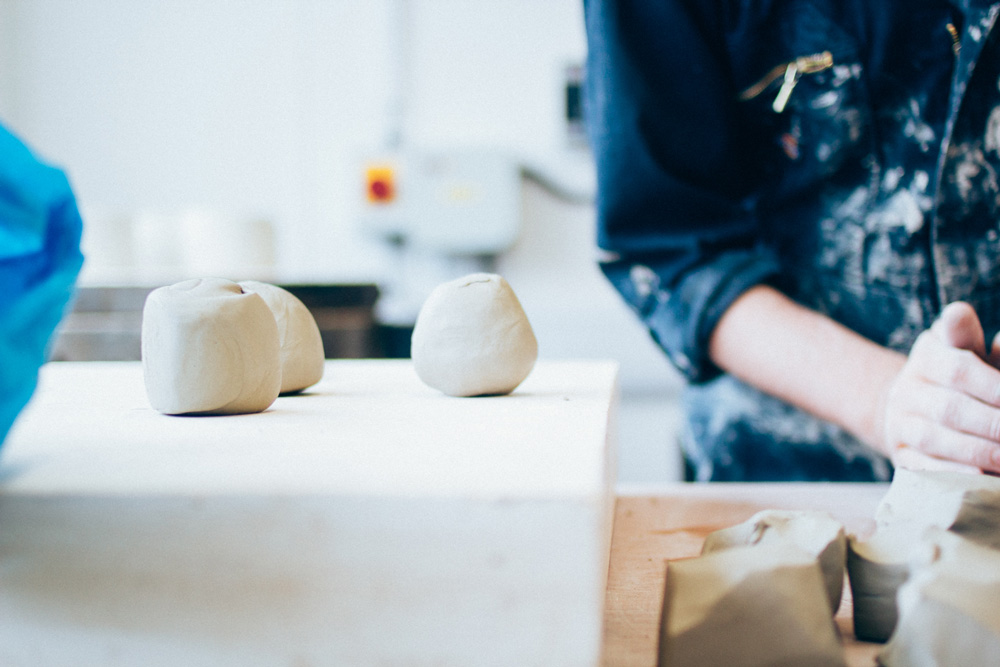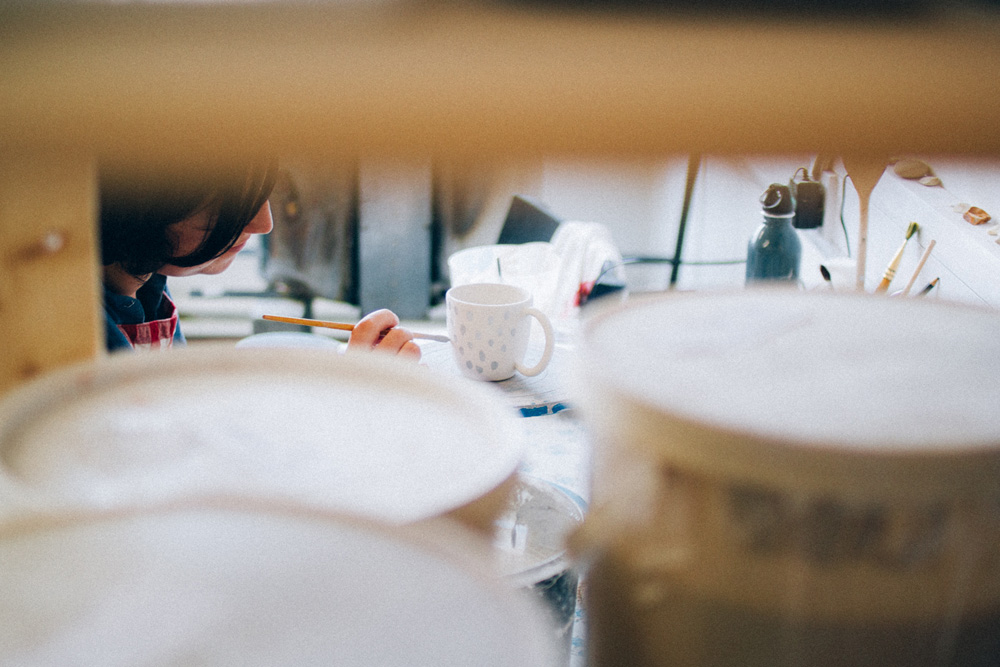 You specialise in homeware but also work on decorative objects – do you approach these two fields in different ways?
Catherine: We have been concentrating on homeware up until now but have just very recently started to work on one-off ornamental pieces. Homeware has to be functional and ergonomic but more ornamental pieces can afford to do something different. For me, functional homeware is about the end user but ornamental pieces can be autonomous. I always think, however, that whenever you create with honesty and integrity, no matter what materials you are using, no matter what your discipline is, be it ceramics, painting, acting, baking – and so on, you are trying to do the same thing – to create the same essence. This is important to me.
Matt: We aim for all of our pieces to be functional – even if the function is to be decorative. There are many similarities in tableware and decorative objects; both must carry out their intended function, be beautiful and show the hand of the maker. The main difference between a piece that is ornamental and a range of tableware is about repetition. The tableware must be made accurately and efficiently in order for it to remain affordable whereas decorative pieces take longer to make.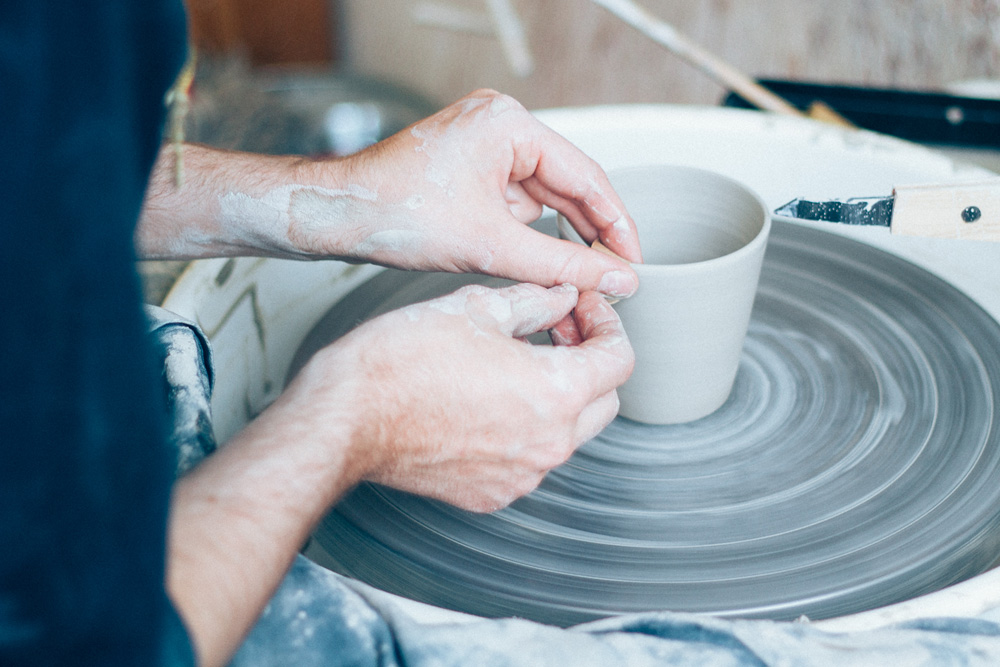 How would you describe your ceramic pieces?
Catherine: Pared down, minimal forms with tactile and textured glazes that give a rustic but contemporary sensibility.
Matt: I hope they are simple, usable and beautiful.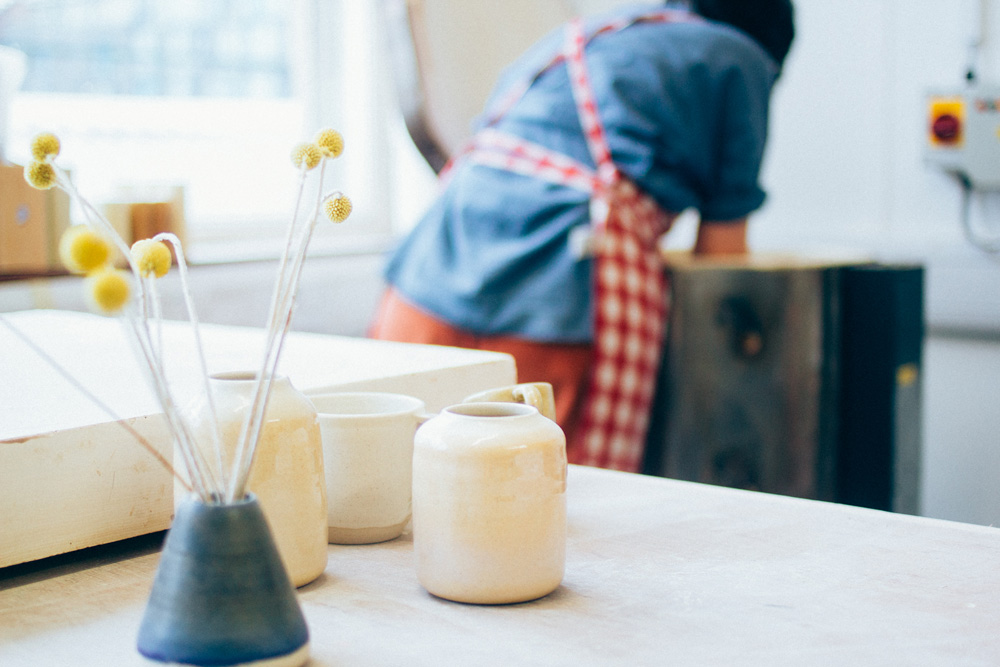 What influences your pieces? Where do you draw inspiration from?
Catherine: Inspiration is often sculptural and painterly in the most elementary ways: texture, tone, light and form.
Although ideas come from familiar forms and practical testing in the studio, inspiration is drawn from all aspects of everyday life – books, philosophies, foods, smells and textures we encounter.
Matt: We try to surround ourselves with the things we like and are. At home we have an ever growing collection of ceramics, pictures, books, plants etc. These are often the things that unconsciously influence what we make.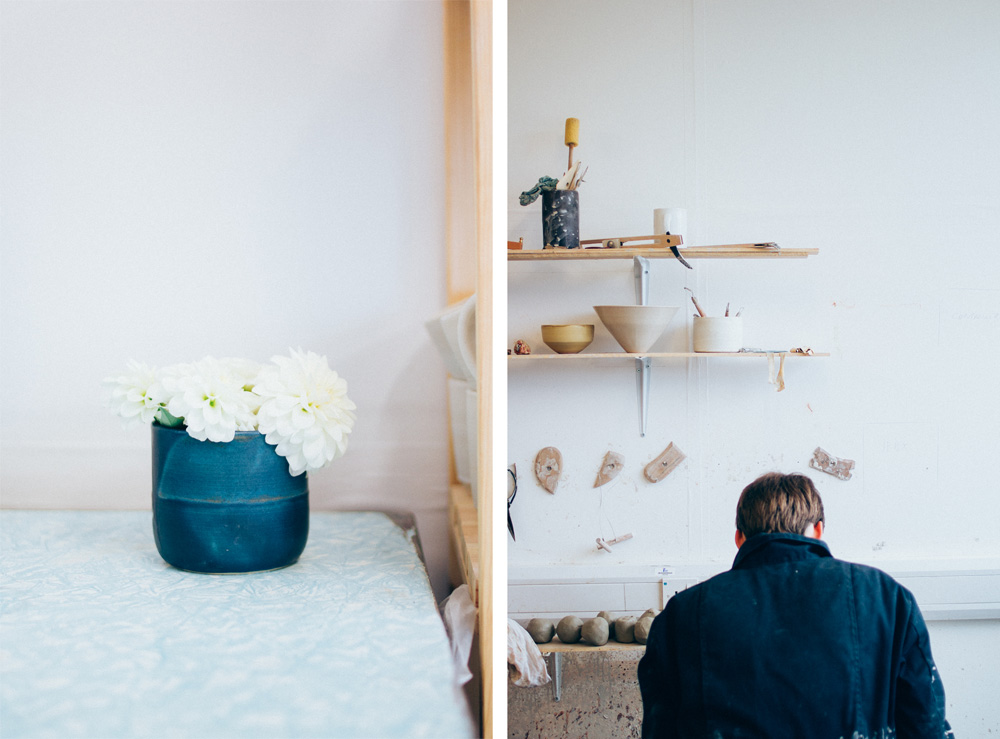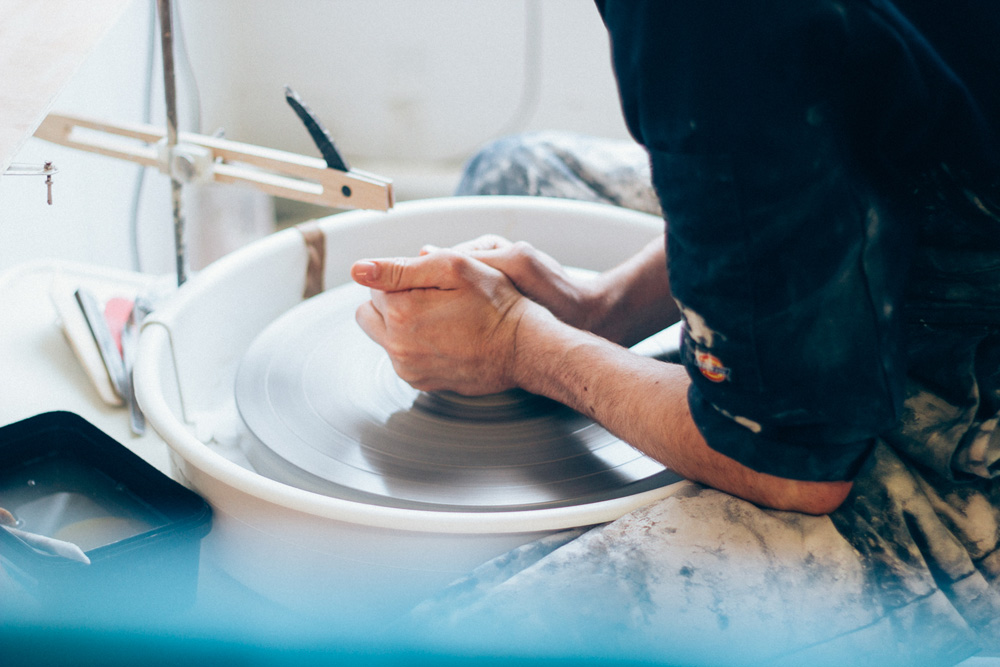 What other ceramic artists or companies do you like?
Catherine: I admire the domestic ware by Svend Bayer. We have two big storage jars of his in our kitchen, they are simple but also intricately patinated due to the wood-fired kiln they have been fired in. I also like a lot of makers we interact with on Instagram. Ceramicists such as Jono Smart, The Cloud Pottery and Jo Walker and artists like Roanna Wells – these people form part of our digital network and give us slices of everyday inspiration and support.
Matt: I am usually drawn to the character of ceramics from a wood-fired kiln. We have a teapot and small bowl made by Richard Batterham that I especially like using. At the other end of the spectrum I really like the precise and beautiful work of Jill Shaddock. She makes precious objects of layered slipcast clay.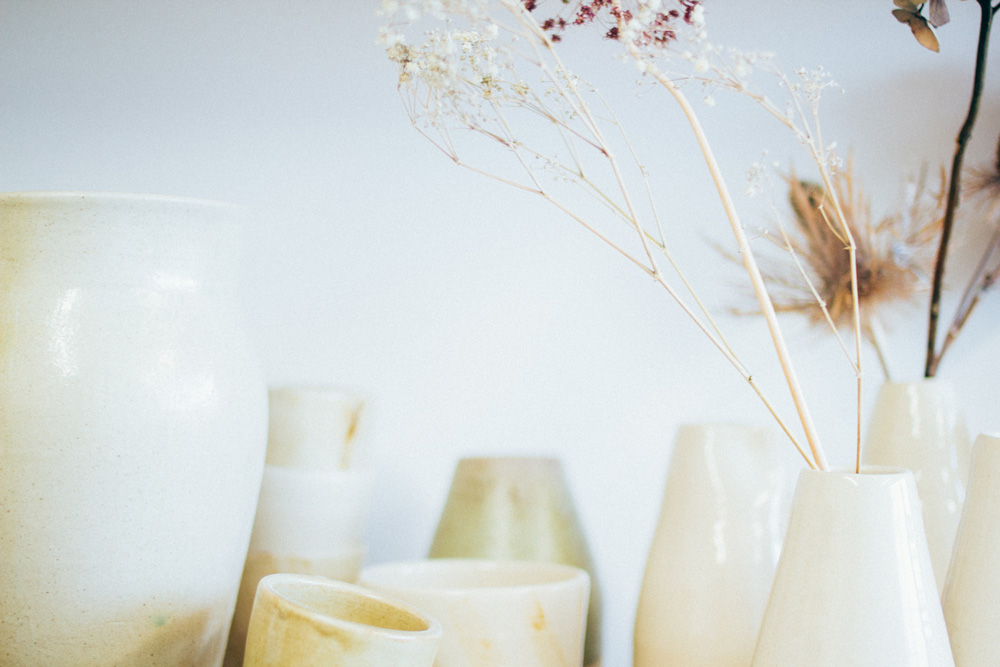 You're based at the Yorkshire Artspace. How do you benefit from sharing a space with other creative people?
Catherine: It is really valuable. Neither of us have ever created products to sell and being surrounded by other makers has helped us to adapt our mind-set and think about the more practical aspects of running a creative business, such as pricing and marketing your business. It's a really supportive community with a mixture of established and emerging makers and artists.
Matt: Being able to talk about all aspects of our work with other makers is really valuable whether it is to talk critically about a piece of work or to share advice and experiences.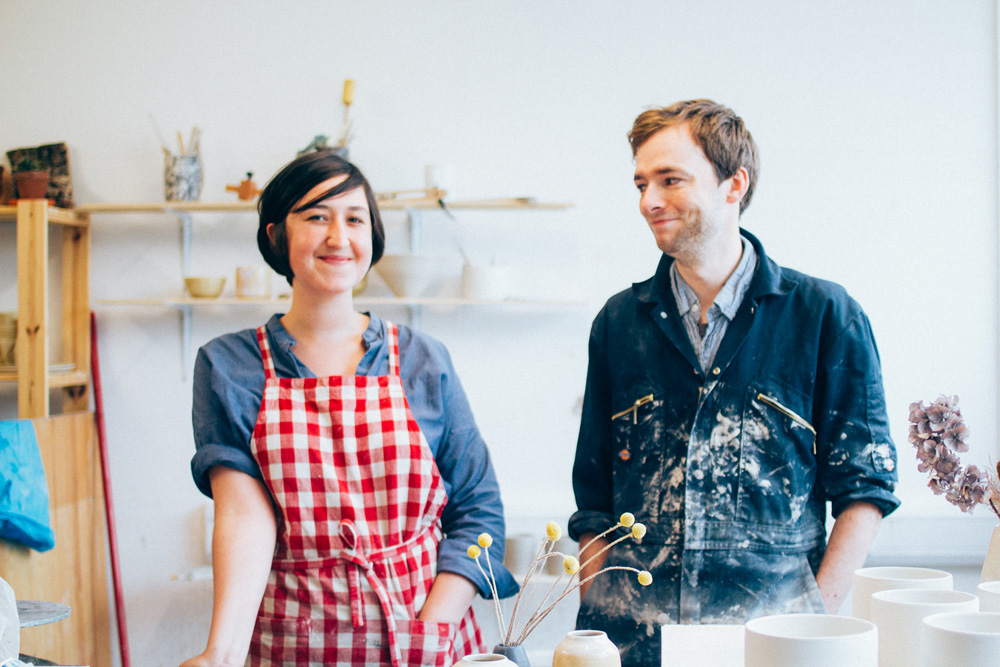 What are your favourite places in Sheffield?
Catherine: We often find ourselves heading out to the Peak District to go to the David Mellor kitchen shop and Hathersage Social Club after a long walk. Seven Hills Bakery is the place to go to for bread, veg and coffee, Two Steps for fish and chips and Rare and Racy for beautiful books and records.
Matt: In the city centre there is a great coffee shop and cafe called Tamper that we often find ouselves sitting in. Sheffield also has some great high streets, Sharrow Vale Road has some great independent food retails; Porter Brook Deli, Starmore Boss wine shop, JH Mann Fishmongers (and Seven Hills Bakery where I also make bread).
Save
You might also be interested in: