Jorge Penadés
Oficina Penadés
Originally from a small fishing village in Málaga, southern Spain, designer Jorge Penadés founded his own studio in Madrid in 2015. Jorge explores non-conventional ideas with the objective of coming up with innovative outcomes and introducing alternative opportunities, often represented as new materials, objects or architectural experiences.
We chatted with Jorge to find out more about his practice, the use of leather leftovers and other discarded materials in his work, and the advice he would give to recent design graduates.
Photos & interview by Future Positive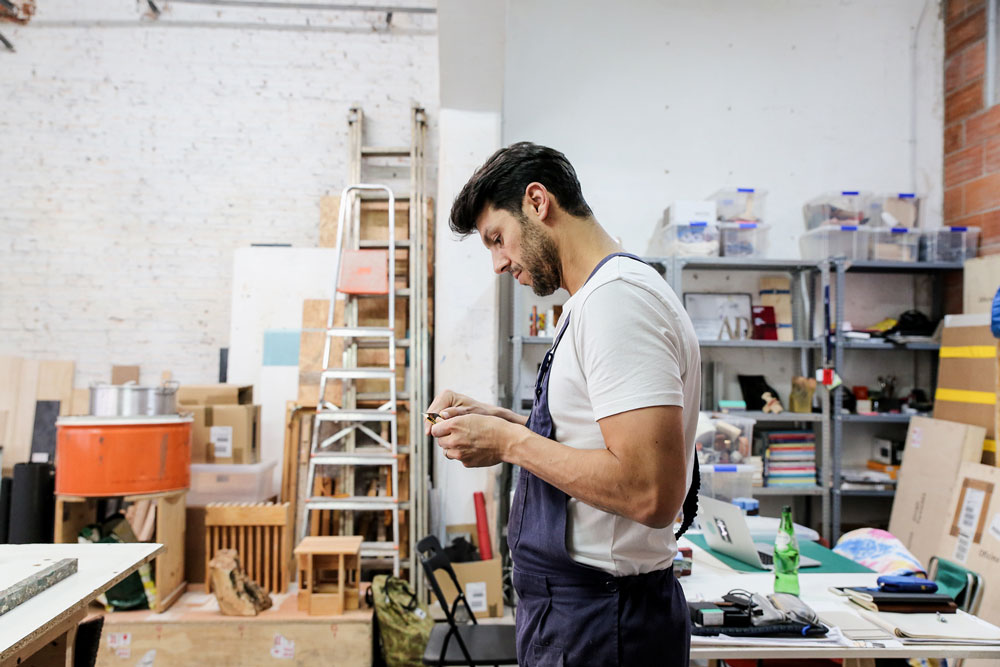 How did you get interested in design? Do you remember the first thing you ever designed?
This is something that has grown organically, but it was definitely when I moved to Eindhoven in 2012 when I realised I wanted to become an independent designer. And the first thing I designed was my education – unconsciously, of course.
Can you tell us about your education and background?
I guess I have sort of a weird profile. I dropped out of high school because I was not interested at all in the sort of traditional education I was receiving and decided to get some work experience in different fields for a few years.
Eventually I ended up working in nightlife with all the subsequent consequences and, at the age of 24, I decided it was enough for me. I then was accepted at university and moved from Málaga to Barcelona to study Interior Design. Right after finishing my Bachelor I got a scholarship to do an MA in Experimental Design at IED Madrid which I completed in December 2014.
Can you tell us about your design process? How does an idea in your head become an object?
I don't believe in fixed methodologies because it really depends on the idea and its context; some ideas are very simple so you just need to develop them but there are much more complex ones that need an in-depth analysis before making any decision – I believe each idea needs an ad-hoc design process.
Most of your pieces are designed using discarded materials – what attracted you to using this type of materials in your designs? What comes first when facing a new project: the material or the design itself?
I was educated during the crisis period so I guess this has informed not just my work, but also a lot of other people's work; this is a very interesting topic because I see a big gap between people that has been trained before and after the crisis.
Pre-crisis design was all about spectacle: very expensive materials, super complex production processes, huge parties to launch the products…Nowadays the criteria has changed completely, we are living in a much more Darwinian reality where just the best ideas survive. I get very frustrated when I walk around all those design fairs and see objects that are made out of high-end materials but look cheap – the interesting thing is the opposite.
A new project always comes from intuition; if this intuition has been around for a few months and I can not get rid of it then I start researching about different topics related to it and I, normally, end up writing a piece of text in order to make sure the idea makes sense not just to me, but to other people as well.
We're interested in knowing more about the use of leather in your designs, can you take us through the manufacturing process?
Structural Skin is a self-produced material made out of leather offcuts. The production process is quite simple actually: I take the leather leftovers and shred them with a paper shredder machine, mix them with bone glue – which is a 100% natural glue made just out of collagen – and then throw them in a mould and compress them by hand with clamps. After a certain period of time I open the moulds and let the leather slats dry.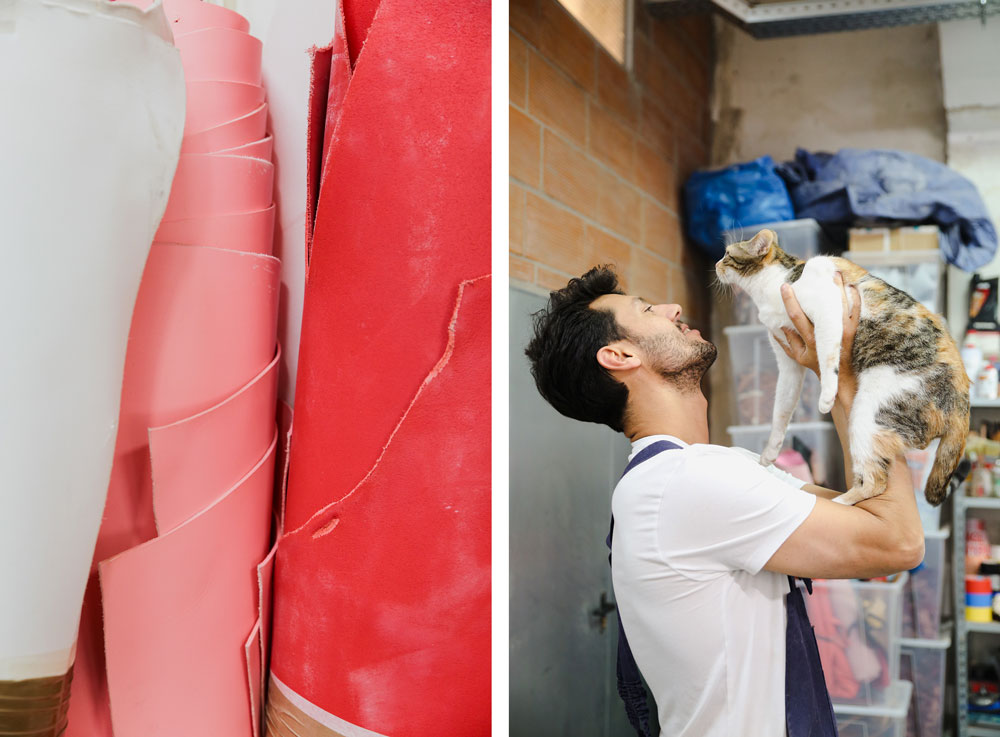 What are some of your favourite projects you've worked on?
I don't have any favorite project but I guess Structural Skin is the one that I love the most because I have spent more time working on it than on anything else.
What are you working on at the moment and what are your plans for the upcoming months?
Most of the things we are currently working on cannot be announced yet, but what I can reveal is a project that we started last year about the olive oil industry in Mediterranean countries. Spain is the world's largest olive oil producer and this is great but also has side effects. We are trying to figure out how those consequences can be transformed into new business opportunities. Actually, this is our main objective at the office, we try to explore new directions and open up new possibilities that no one has thought about before.
You're also currently a teacher at Istituto Europeo di Design (IED) in Madrid. What's your advice for a design student graduating in 2018?
I always give them the same advice: there are people that will have more talent, more economic resources or more contacts than you do but the only thing that does not depend on 3rd parties is your working capacity – you decide how many hours you want to put on your work. This will make a huge impact in your career.
It looks like design has become more popular and, somehow, mainstream in Spain over the past years. What are your views on the current design landscape in Spain?
Spain has changed dramatically in the past 4-5 years and this is due, not just, to the economic situation but to the social and political atmosphere as well; it seems that cities like Madrid or Barcelona are much more open to welcome new ideas and this is very important for the creative industry.
For example last year I worked as a member of the advisory committee on the first edition of Madrid Design Festival, the very first international design event in Spain that took place last February in this city and was a huge success: more than 100 institutions and brands were involved with 320 designers in more than 200 activities and brought 163.000 people to the city to experience the festival first hand during one week.
The impact of this festival goes way beyond the economic profit of hotels or restaurants; international media came to cover the festival and were exposed to our culture, CEOs from many companies came to discover new design talent but also local people got exposed for the first time to design, identifying many opportunities in this field. This is just an example but I have the feeling that in our country there are finally serious people doing things properly.
Can you share with us some other design and creative projects happening in Madrid we should know about? What are some of your favourite places in the city?
Álvaro Catalan de Ocón is a great example. He has created a very successful company called PET lamps which makes not just very beautiful objects but also deals with social aspects in different countries around the world; he has an amazing studio in this area of the city that you should definitely go and check out.
Regarding design galleries I highly recommend Machado-Muñoz: it is the only contemporary design gallery in Spain, plus the owners, Mafalda and Gonzalo, are probably the most design-educated people that I've met so far.
In terms of cafés my favourite place is Toma Café, I discovered it back in 2014 and I have being going there for breakfast every single weekend ever since.
You might also be interested in:
---