Laura Spring
From her studio in Glasgow, textile designer and maker Laura Spring creates bold graphic print designs that are later transformed into homeware, fashion accessories and stationery through screen and digital printing.
We visited Laura Spring to document her design practice for Local Heroes, an exhibition and pop-up shop celebrating Scottish design that took place at Edinburgh Airport during Edinburgh Festival in August 2016.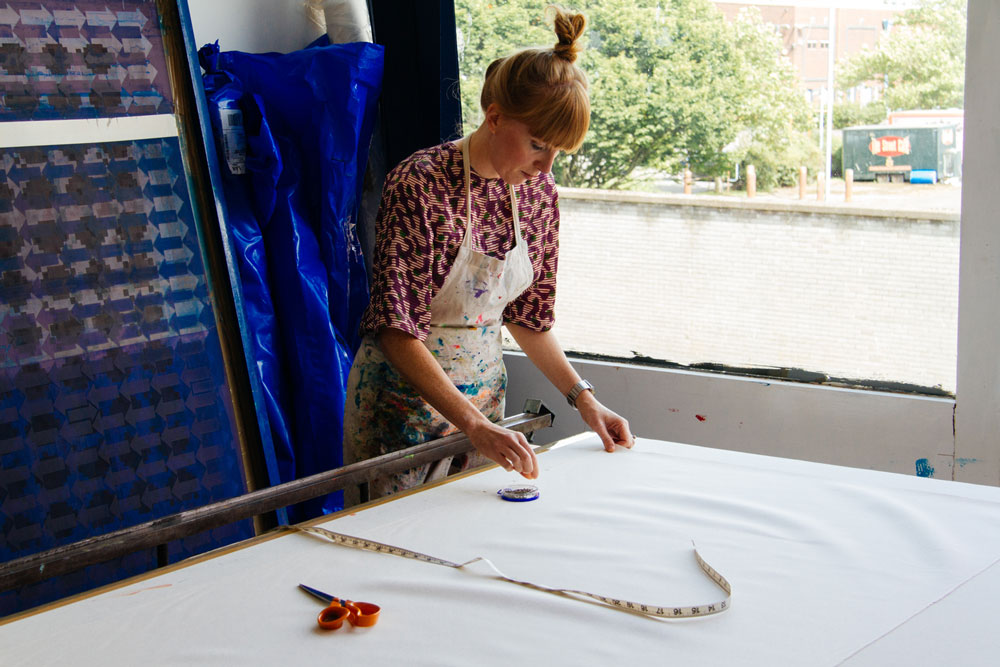 Could you please introduce yourself and tell us a little bit about your background and education?
I'm originally from Staffordshire and came up to Glasgow in 1999 to study Visual Communication at Glasgow School of Art. After graduating from the course I jumped straight into working in the theatre and doing various placements – one of which was at interior design firm Timorous Beasties back in 2002.
I thoroughly enjoyed my time studying at the Art School, I just knew I didn't want to be a graphic designer when I left as I really wanted to use my hands to make work. This led me to work in the theatre for several years in the costume department on various operas, ballets and short films. I continued to maintain an interest in screen printing (this began in my fourth year at art school) and eventually put my two loves of fabric and printing together and began my own label in 2011.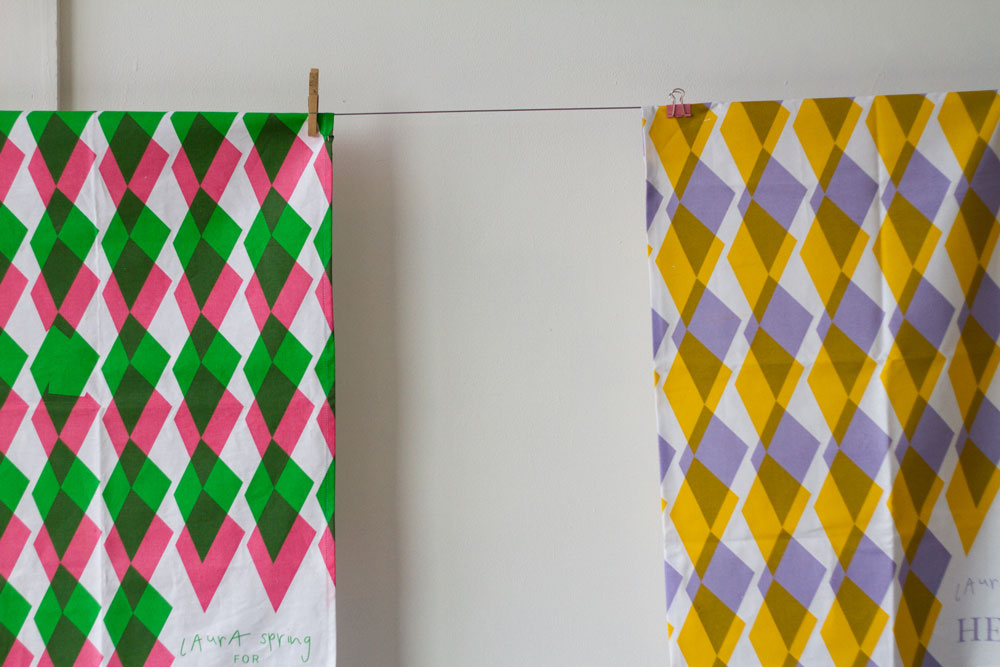 Could you take us through your design process? How does an idea for a print transform into a final product?
Ideas come from many sources. I've always been a curious person – anyone that knows me will know I love asking questions, collecting things that catch my eye (from packaging on a butter wrapper to old weavings) and travelling to new places. I also have a huge love for nature and am in constant awe of how clever and resilient it is. I love learning about why a butterfly has spots on its wings for example (this inspired my eyespot print of last year).
Once the seed of an idea is there, I'll try and gather as much source material as possible (first hand if I can), read up on it, probably become a bit obsessed with it and then start pulling ideas together in my sketchbook – this is more writing down thoughts, things I've noticed, colours etc. I'll also use Pinterest to perhaps start gathering a colour wall and images together. If time allows, I like to play around with paper stencils and ideas on the print table but sometimes if it's a tight deadline, I need to get working straight away on Illustrator. Being a maker first and foremost, I find this frustrating sometimes as I like to work to scale and with my hands, but it's not always possible. I always have the product in mind when designing so think about the scale of the print, how and where seams might fall and how that might work?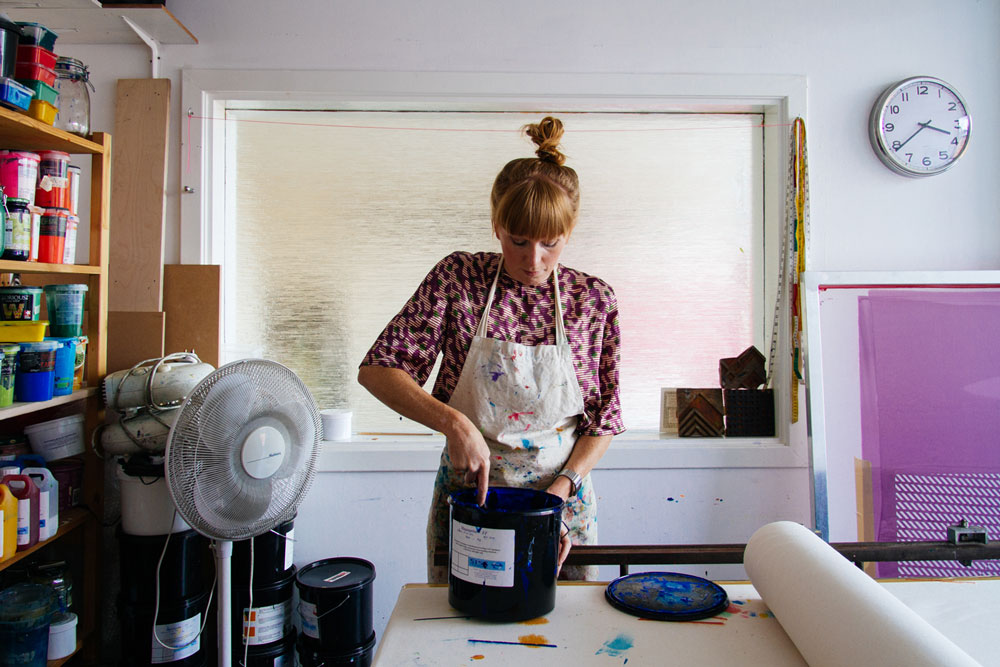 Your products are very diverse, from bags and accessories to stationery and kitchenware. Do you approach the design of these products in different ways?
Some of my early designs were created with the intention of being applied to specific products. It's how my label began – I wanted to create a series of prints that relate to the function of the object they were to be used on so I designed a series of weather prints for suitcases. My designs often start quite large in scale so I have to think carefully about how these translate onto smaller products. This season I have made two versions of the same print – one large, one small – to allow for the different scale of accessories. It's important that a print works well with the intended product so I always spend a lot of time making sure that the two work side by side.
You work both with screen and digital printing. What are the main advantages from each of these processes?
Screen printing is great because my set up allows for small, bespoke runs of colour ways or designs, so it's easy for me to try out a new idea quite quickly. It also really suits my style of design – big, bold, flat areas of colour. You can also use fluorescent pigments which you can't with digital. Digital though has other benefits, the main one for me being that I can scale up my production and not have to be involved in every aspect of creating my work – I can leave the screen printing for limited editions, commissions etc. But digital allows for multiple colours to be used and not add huge amounts to the price per metre whereas screen printing gets more expensive the more colours you use because each colour requires its own screen and time on the print table.
Your inspiration changes from collection to collection, but what are some of the elements you would consider characteristic of your work?
I think a strong sense of colour and bold, graphic pattern can always be seen in my work no matter where the inspiration comes from.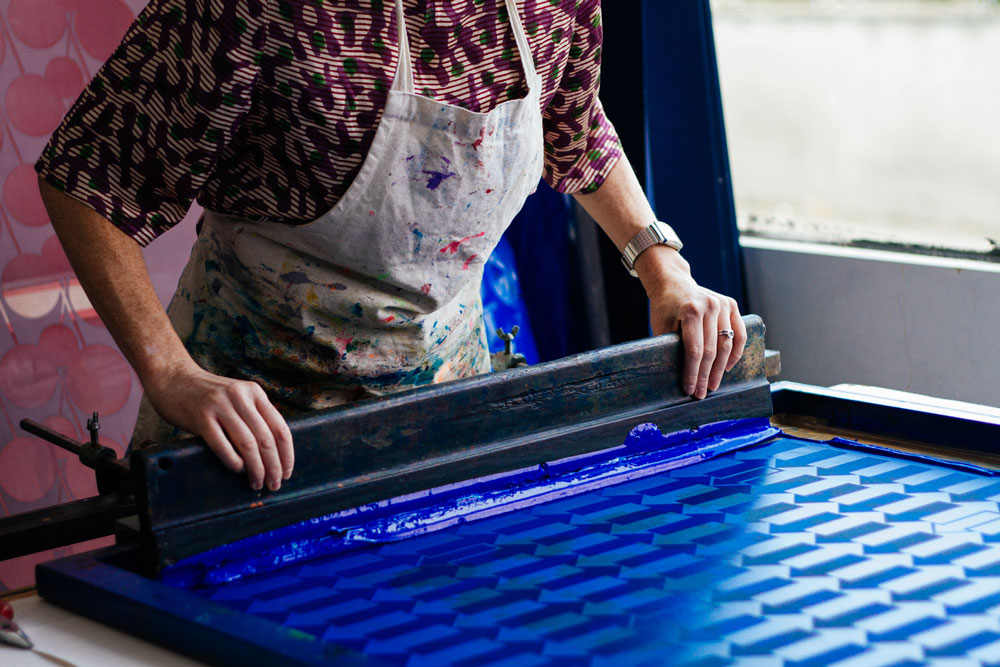 You're committed to keep your manufacturing process as sustainable as possible. Could you please tell us about the different suppliers you source materials from and the manufacturers you work with?
I've always believed in trying to create a business that uses local suppliers and manufacturers where possible. I think it's important to try and be part of my local economy and keep 'making' skills alive. As a maker myself and someone intent on keeping some of the production in-house, it didn't ever fit with my company ethos to try and send production abroad, plus I like that I know all my manufacturers and have built up relationships with them over the years on a face to face basis.
I think it's really important to work closely with the people you use to create your work and to remember that they often have years and years of knowledge and experience that you can use to get the best out of what you're trying to do. It's much easier to resolve production issues too when people are on your doorstop. Of course this isn't always possible, so on the occasion I have used suppliers from abroad (such as blank tote bags for bakery47 and Lush Cosmetic commissions) I've ensured that these items are all sourced from certified fair-trade suppliers.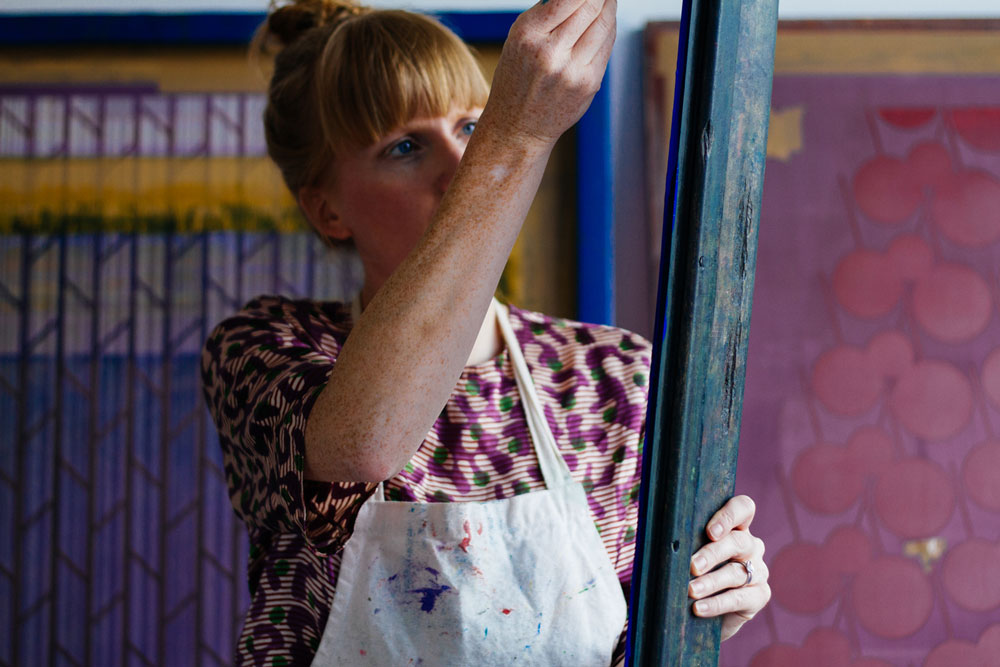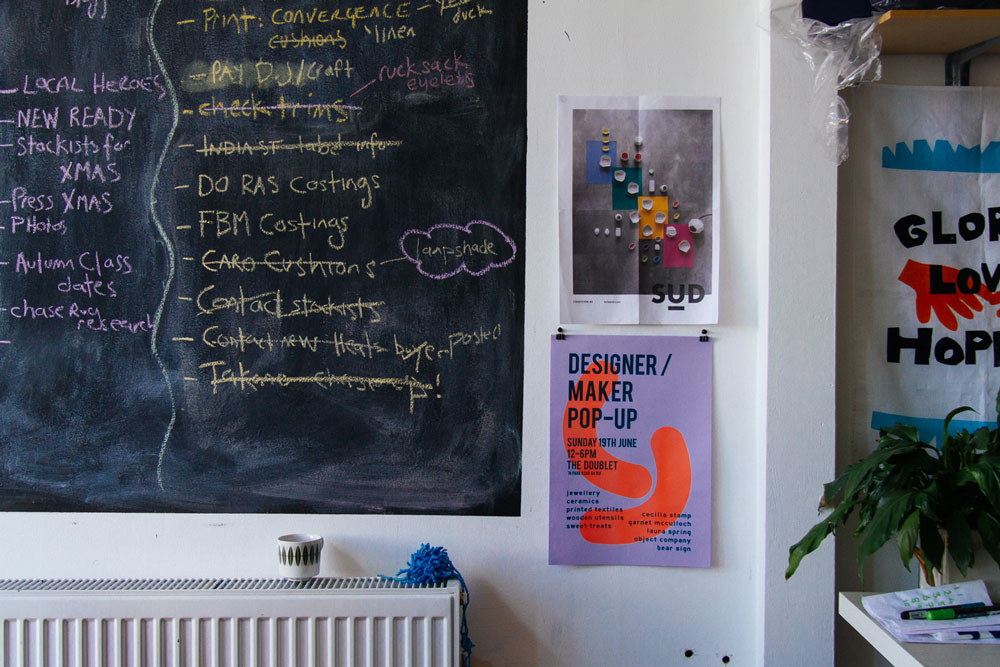 Apart from creating your own products, you also work on special commissions and collaborations. Could you tell us about some of your favourite projects you've worked on?
I think I've been really lucky the past couple of years to be involved in some incredible projects. It was great to be involved in Local Heroes this summer as it was such a well designed project – Stacey Hunter's, the curator of the project, attention to detail was amazing and the level of interest the project received was overwhelming! It was a great idea to curate a design show involving a group of Scottish designers during Edinburgh's busiest month at the airport! It was amazing to be invited to be involved, especially as the other designers are all people whose work I admire immensely.
I also feel incredibly proud of the work that's gone into India Street over the past couple of years. Curated by Katy West, this project was a bit of a dream for me really as part of the project involved being taken to India for two weeks to learn the art of block printing and other traditional craft processes such as Batik. Visiting print studios out in the rural countryside of Gujrat was amazing and all the hands-on techniques we got to try. Bringing that knowledge back to Glasgow and being asked to develop work from this research was also amazing and I think Katy did a brilliant job of pulling the project together in a beautifully designed show at Tramway gallery this summer.
I think projects really help to push my creative development – quite often they take me out of my comfort zone and I really like this. It's a privilege to be given the opportunity to explore new techniques, products and outcomes for my work and I feel it all feeds back into my collections eventually.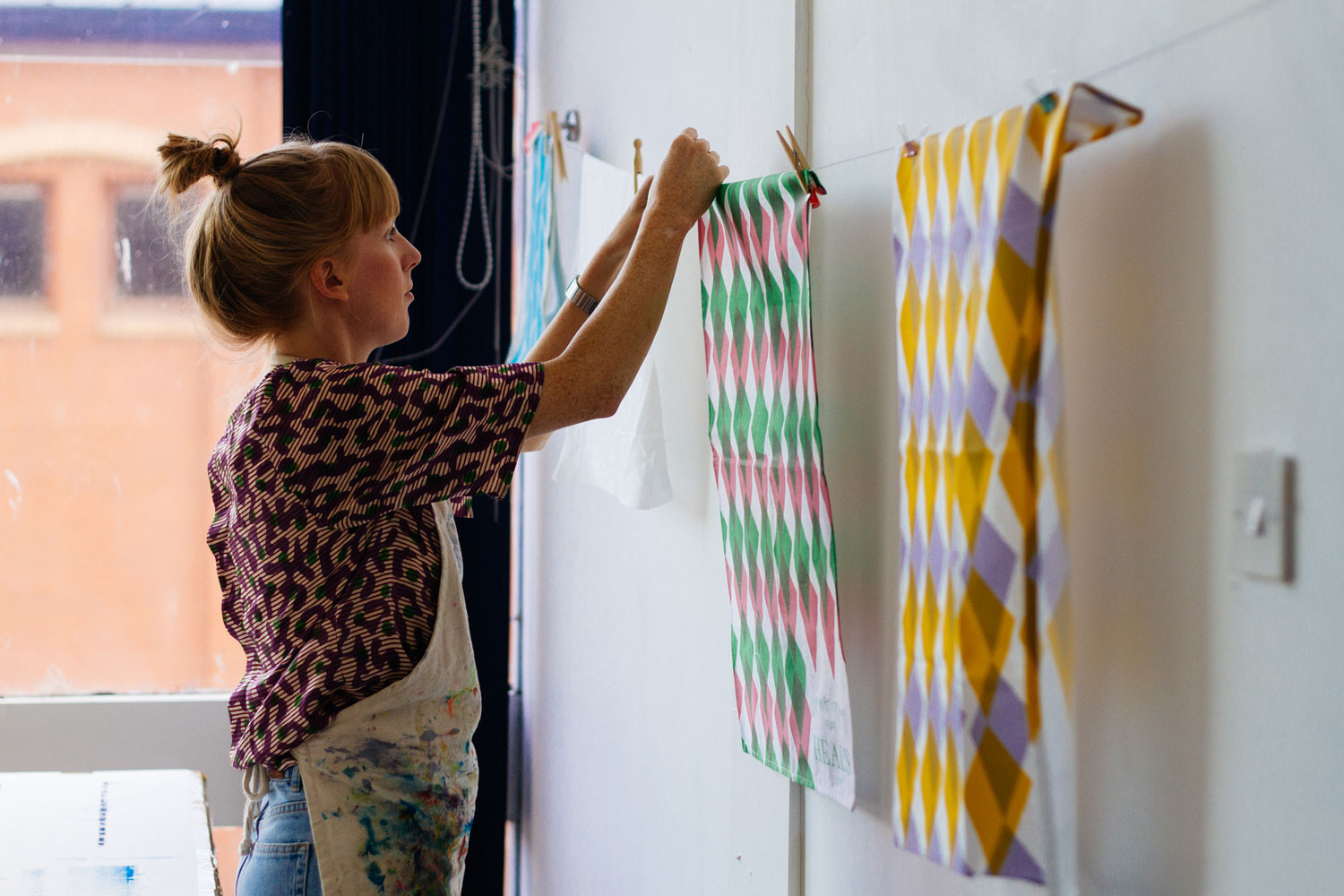 Can you tell a little bit about the print classes you run from your studio, what can participants learn?
The print classes are usually held once a month and allow participants to learn all the basics of screen printing onto textiles. We offer two different kinds of classes currently – a lampshade printing and making class and a tote bag printing class. The tote bag class teaches participants how to work with emulsion as their screen creating method, whereas the lampshade class uses the paper stencil technique. Both classes are aimed at giving people the skills they would need to maybe go forward with the technique and to play around with printing and colour overlays as much as possible during the time available. I always really enjoy the classes, as it's great to be able to share my love of screen printing to others and getting my hands dirty.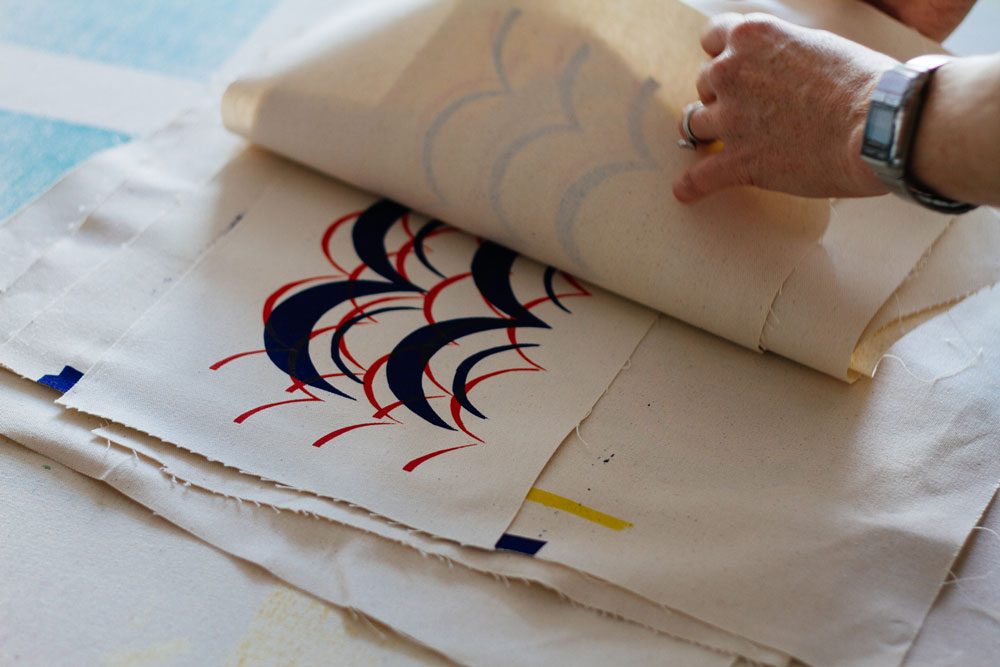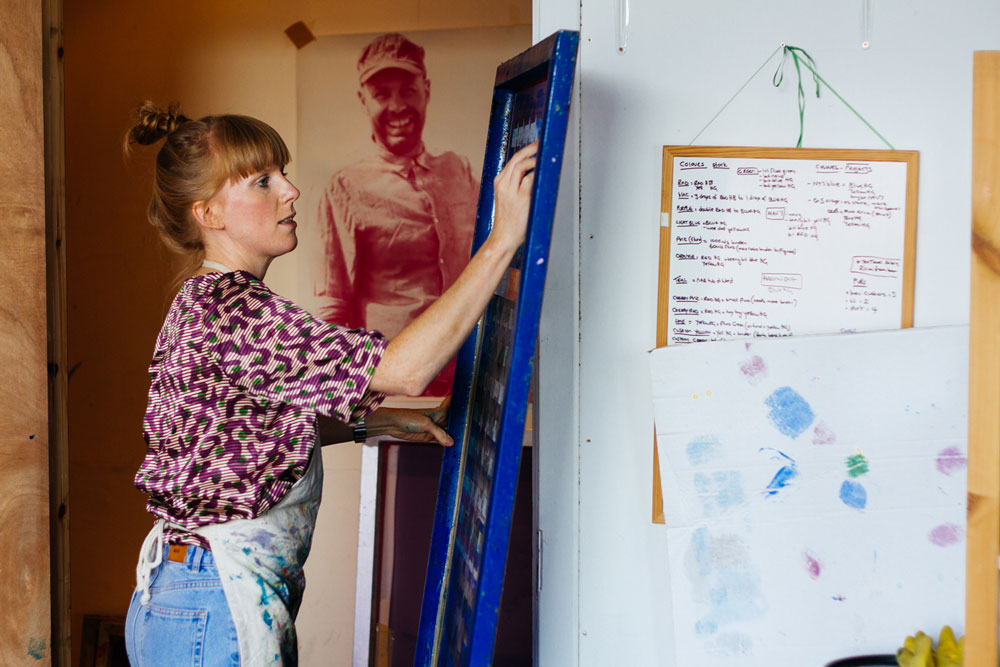 Could you share with us your plans for the upcoming months?
This time of year is pretty much all about Christmas so there's a lot of planning for Christmas markets/events we've got coming up. We now host one every year at Grey Wolf Studios (where I'm based in Glasgow) and it's always a lot of fun! There's usually around 6- 8 local makers each working in a different medium and I like to invite a local baker along too to make sure there's festive sweet treats to keep everyone fed during the event. It has a really nice atmosphere and always gets me feeling Christmassy!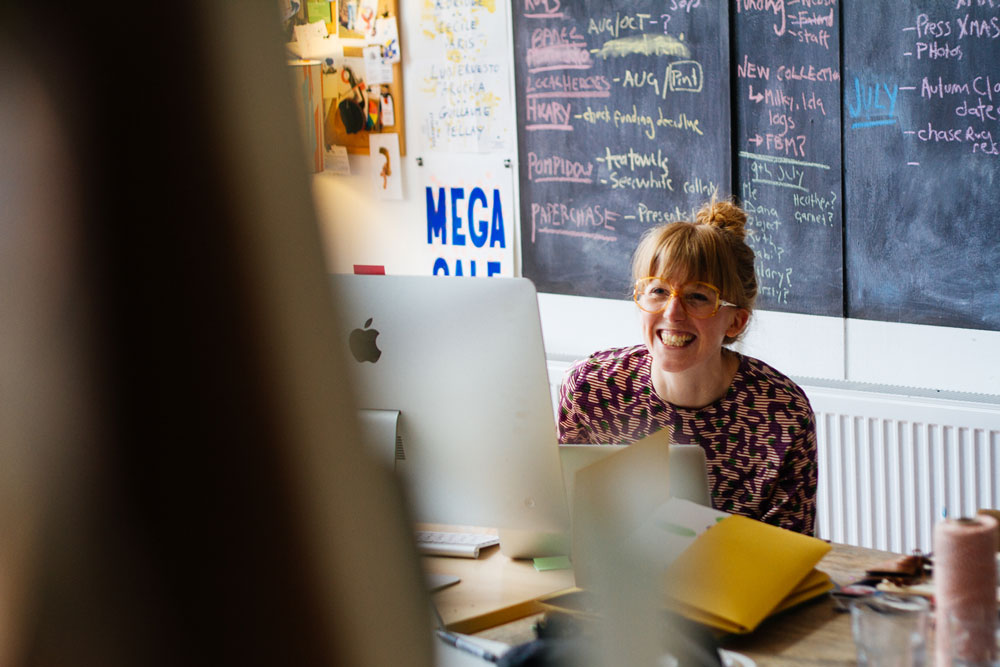 What artists and designers based in Glasgow we should know about?
I have a lot of love for Cecilia Stamp's jewellery, but she's not only a talented jeweller she also has a great eye for graphic design, textile design and has incredible musical talents too. She has helped out part-time in my studio for the past couple of years and it's been amazing to watch her work develop. I'm excited to see how things move forward with her jewellery.
Other designers I admire in Glasgow are Emlyn Firth who runs A Visual Agency. He also is involved in the India Street project and created the visual identity for it which can be seen on all the product packaging – it's really beautiful design work! I also love Gabriella Marcella DiTano's work which you're aware of from Local Heroes, but her use of colour is a delight on the eyes I think!
In terms of artists, I'm lucky to share my studio with many incredible talents but I have to say that Laura Aldridge is always an inspiration. Her latest work involves exploring natural dyes on cloth and can be seen at the Koppe Astner Gallery in Glasgow. The glass eyes are just beautiful. Laura has an amazing curiosity for different mediums and processes and I love the way she embraces any new technique with joy and determination! Her solo show at Tramway in January 2015 was stunning!
Save
Save
Save
You might also be interested in:
---