Brendan Megannety
Explorer's Press
Explorer's Press was founded in 2012 by artist and designer Brendan Megannety. This Vancouver-based print, apparel and accessories brand takes inspiration from 70's through 90's souvenir pieces and has become a platform for emerging artists to turn their designs into tangible goods.
We spoke with Brendan about the beginnings of Explorer's Press, his love for patches and pins and how independent designers can protect themselves against appropriation from clothing chains.
Photos by Michael Gabriana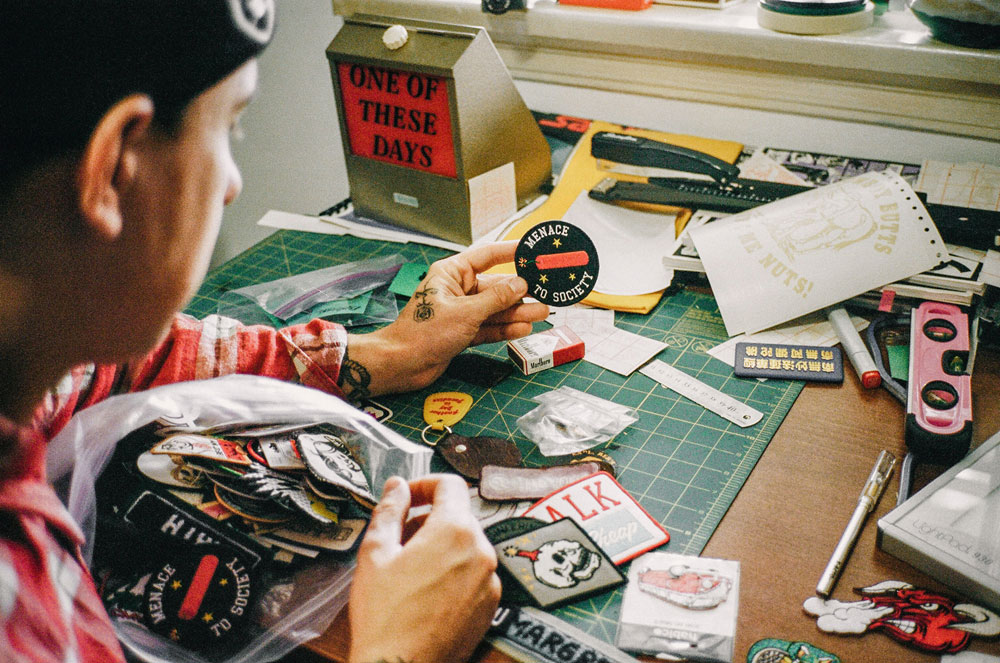 Could you tell us about what made you start Explorer's Press?
I never really wanted to have a clothing and accessories brand – it just sort of happened organically. I was working as a screen printer and was involved in the Toronto art and zine scene. I was making prints and zines on my own time, and just ended up making a few patches and t-shirts to give away or sell at art shows or with zines. I guess the whole idea was about making some of the ideas behind my art accessible. That's why all the small items have always been $5 – I just want everyone to be able to enjoy them. I never really planned on making money off of this or it becoming my full time job, but it grew really fast and it just ended up happening that way.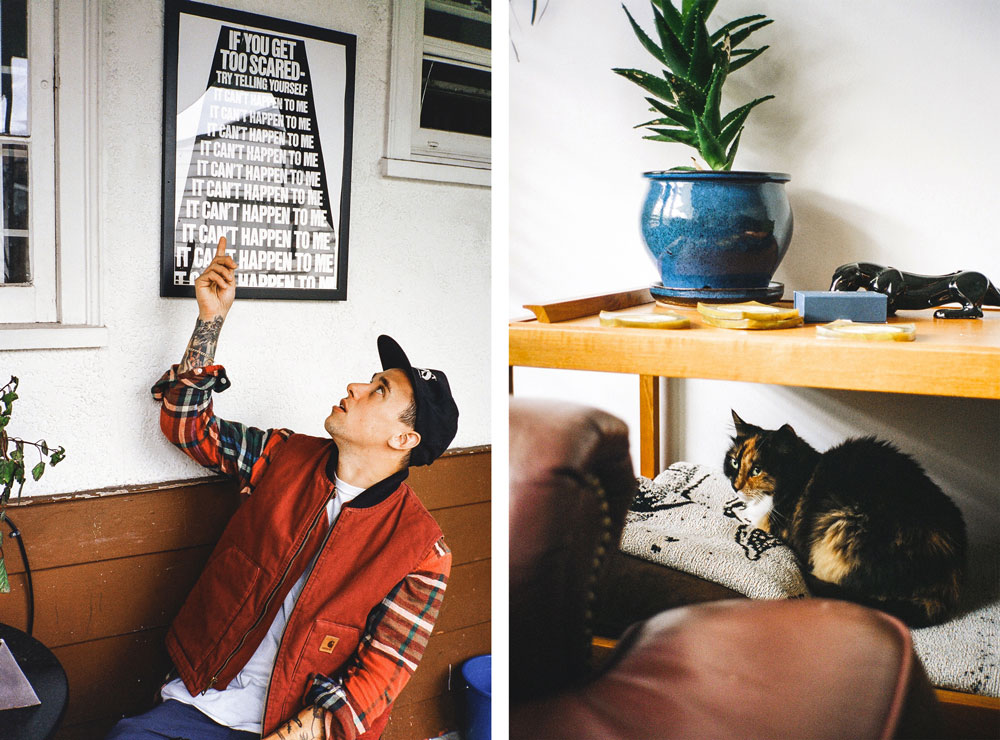 Why did you decide to focus on small accessories such as pins and patches?
I like the small items because they are so simple – your design is completely limited by the process of embroidery or die casting. I love simple, slogan based to the point designs, and I think that pins and patches really lend to that. When I started making them, not that many places were really doing pins and patches so a lot of people got interested. I've been collecting these kinds of items since I was a kid and I love souvenir style stuff. The low barrier to entry on these kinds of products meant it was easy to get the brand off the ground without a huge financial commitment. Over the 3+ years I've been doing this we have evolved from just doing small accessories to lots of apparel, stationery, and cut and sew products like backpacks and toiletry kits.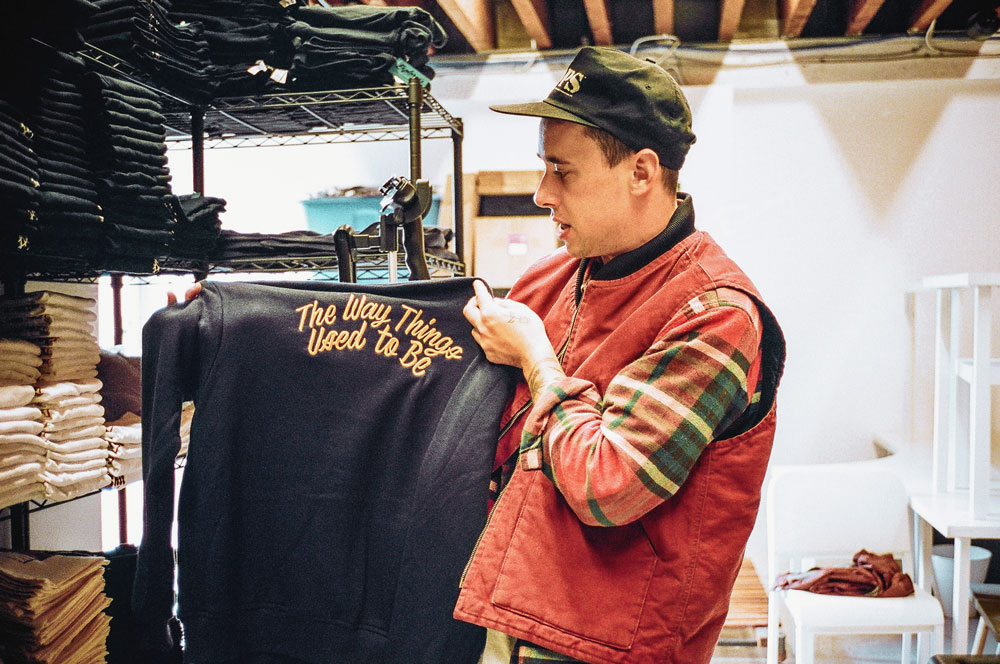 Apart from creating your own designs, you also work with established and emerging artists. Could you tell us a little bit about how you choose these collaborators and how you develop products with them?
Just like the brand, a lot of our collaborative stuff just happens organically. My favourite collaborative piece we did is with Jenna Bouma (@slowerblack). Her and I met in Toronto through mutual friends, right around the time I started making products under the Explorer's name. We kept in touch and a few months later I thought it would be cool to do something with her so I just reached out. That particular collaboration really nails the original concept of the brand for me; not everyone can travel to go get tattooed by Jenna but for $10 they can own something with her art on it and support her.
A few other artists have just reached out and I liked their work, or I have contacted them. We don't really do calls for submissions or anything. Our "Campout" tee was designed by a Toronto artist named Johnathon Lovett who actually sent a few of his illustrations over with his resume when he applied for a shipping job with us, and I really liked them so we worked out a collaboration.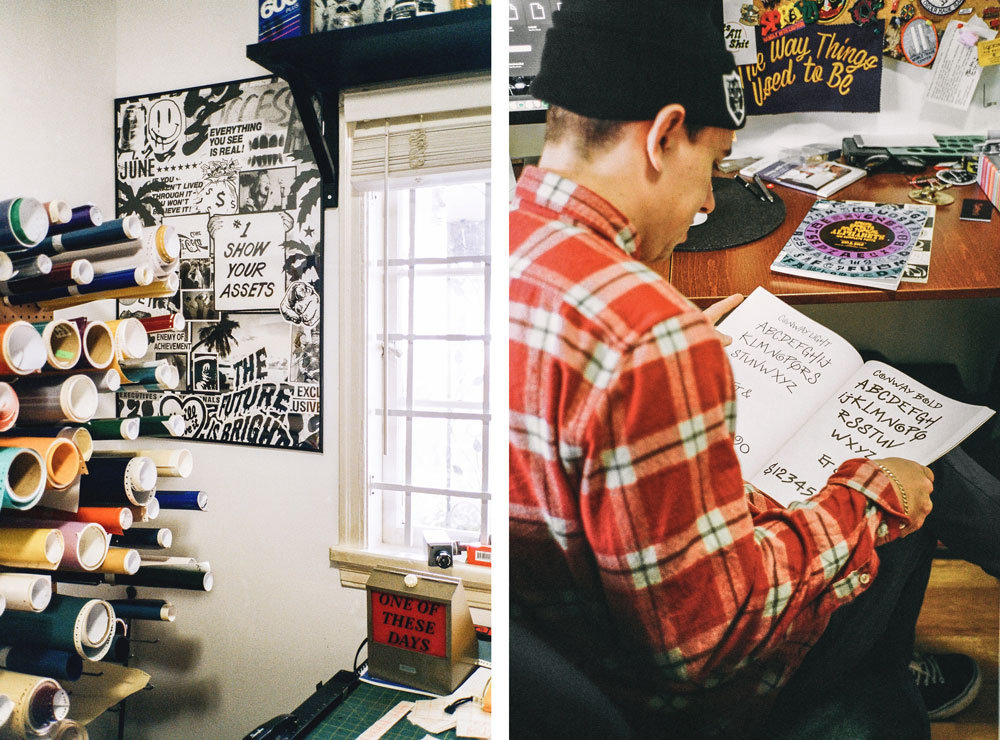 Your inspiration comes from 70's through 90's souvenir pieces, what makes you attracted to these decades and aesthetic?
Honestly, I just think graphic design in that time frame was kind of horrible, but in the most endearing way. Particularly in the 80's and 90's. The overuse and distortion of the font Cooper Black in the 70's and early 80's is borderline abusive. And then I just think things really went south in the late 80's when graphic design software became readily accessible. Suddenly, you didn't actually have to be a competent draftsman to lay something out for your weird bumper sticker company. Kind of feels like what is happening now in the pin and patch scene, to be honest!
Could you tell us about some of your favourite products or designs you have created since you started Explorer's Press?
Hmm, that is kind of a tough question. There isn't a particular design that stands out for me, but with our last release (FW16) we really focused on soft goods. We did 3 hats, 3 t-shirts, a varsity jacket, and just a few small items. I really am trying to move away from the small products. I will always love the "SET NO PATH – NEVER LOSE YOUR WAY" patch. It was the very first product for Explorer's and it really does feel like a motto for the brand.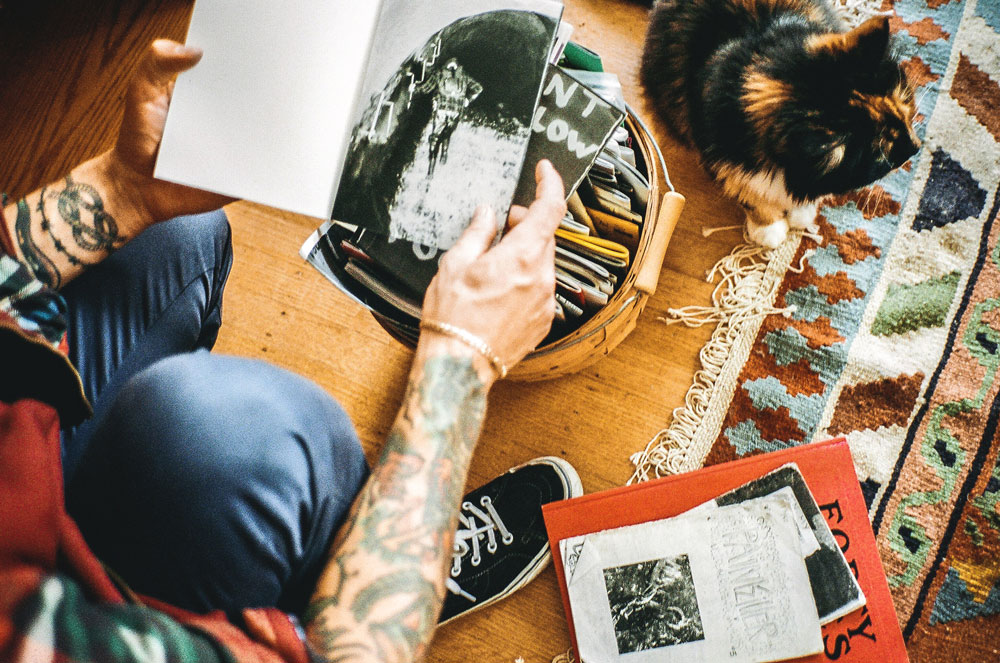 Is there any type of product you'd like to develop in the future?
I really would like to focus on cut and sew engineered garments. A really good work shirt would be awesome, and it would be great if we could have them produced locally as well. High quality practical clothing is something that really interests me, and we have had really great response with our cut and sew products in the past.
When I was younger, I always thought that "DIY/punk" and "cheap" were synonymous. Now, the idea of buying something once and having it last for years is really appealing to me. I do a lot of work around the house, and spend a lot of time working on my cars, so having clothing that won't self destruct is a must. I'd like to aim these kind of products at people like myself who still want something that has a nice fit and looks good, don't need the overbuilt Carthartt or Ben Davis level of durability, and care about ethical and sustainable processes for their clothing.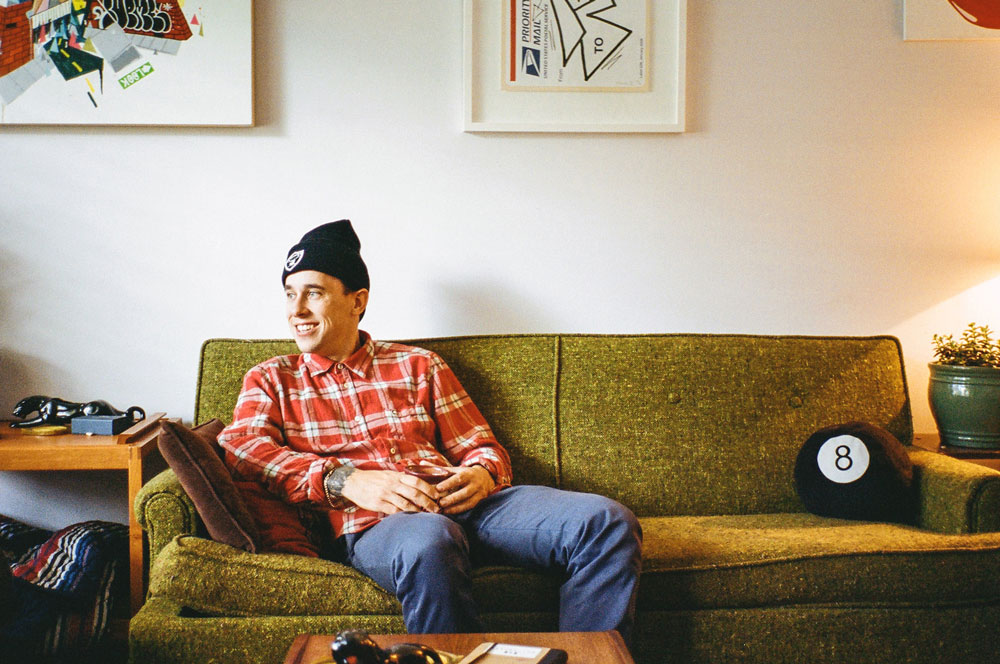 How would you describe the Explorer's Press customer?
Intelligent, extremely physically attractive, with great taste, hahaha. Honestly, I think our products appeal to a wide range of people, since the theme and visual content of the brand is pretty loose. I think our customers are people that just "get" the idea of the brand. I've never taken anything to do with Explorer's too seriously. I just do what ever feels right. Sometimes, focusing on personal life and slowing things down with the brand is what feels right. I never feel pressured to churn out 200 products a year because that is what people expect and it will make me a ton of money.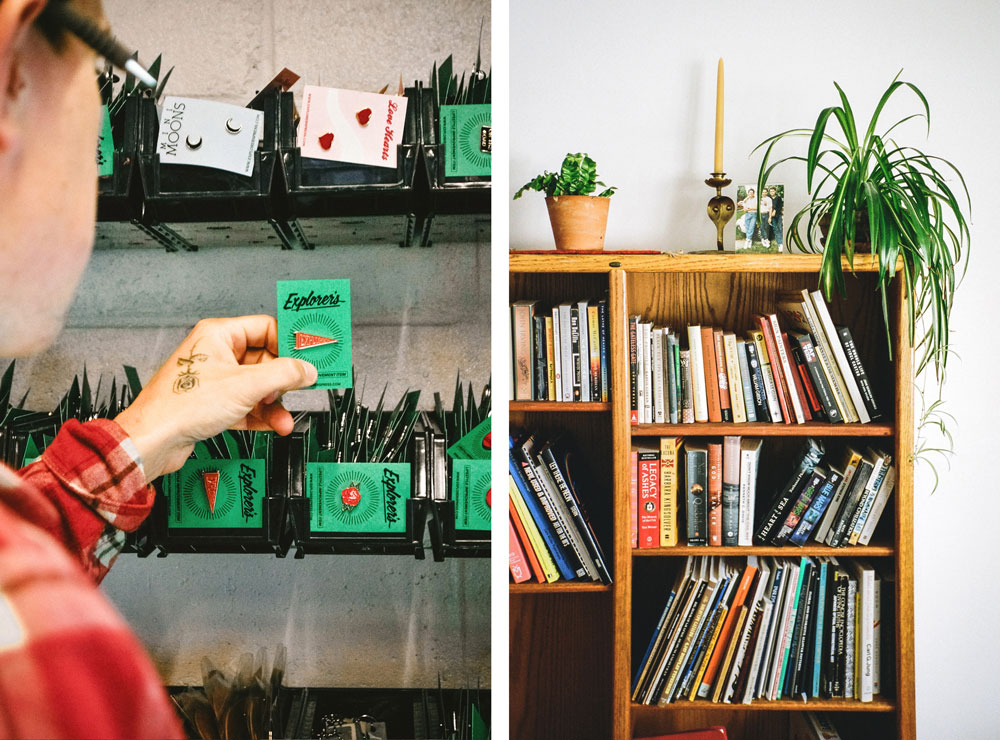 With clothing chains appropriating designs from artists and independent businesses, how can a brand like yours act and protect themselves against this?
There isn't much independent brands can do to prevent this sort of thing from happening, but generally making people aware that this sort of thing is happening constantly and that it isn't OK is the best course of action. We just try and talk about it on social media and do a bit of virtual finger wagging at the offending companies.
What are Explorer's Press' plans for the upcoming months?
The Holiday season is always a little crazy around here, so we're just going to try and survive that and keep on working on the product designs for spring. Since we are doing a lot more soft goods, the lead times are a lot longer so things are getting finalized for our Spring release right now.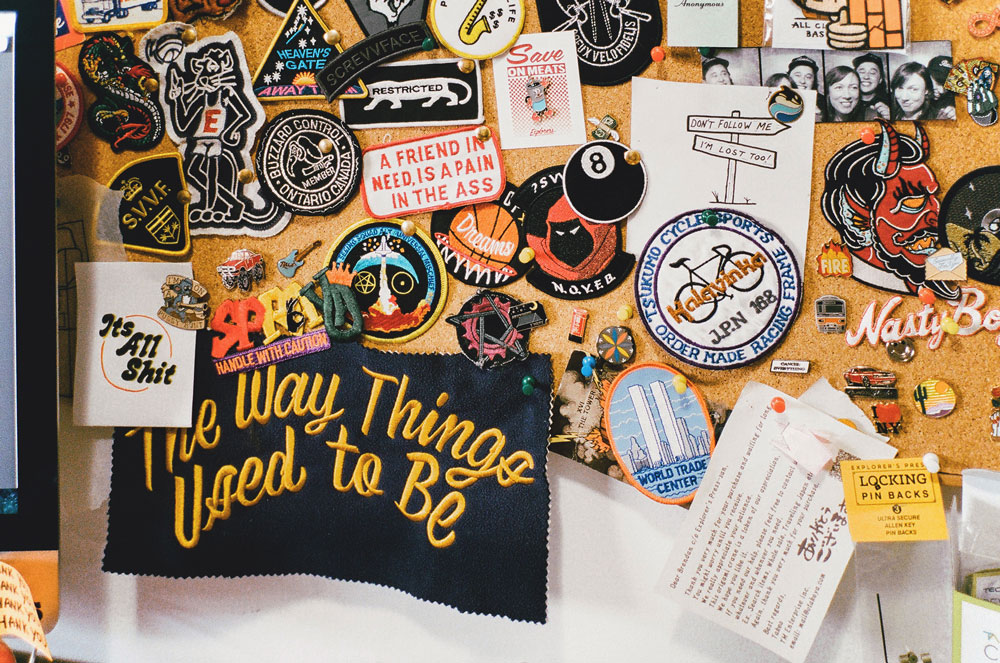 On your website you mention nature and exploration are central themes to Explorer's Press. How does living in the West Coast influence your brand and your own lifestyle?
Nature is very accessible out here in Vancouver. I can drive for 20 minutes and feel completely removed from civilization, or ride my bike for 20 minutes and be on trails in a beautiful old growth forest. I used to be heavily involved in exploring abandoned buildings and drainage tunnels in Toronto, but now that I'm in Vancouver, I'm really digging getting back in to cycling, off roading, hiking and camping. I'm feeling a bit less nomadic these days and I think that shows in the brand. Maybe I'm just getting old!
What other creative businesses or artists based in Vancouver should we know about?
The girls at @ourwildabandon are making some amazing images while travelling through the USA. They are originally from Vancouver but have since migrated South. I always love seeing what they are up to. @eastsideflea has recently opened their permanent location in the Ellis building on Main, and I love going to see what their vendors have. It is an awesome community space, and my girlfriend Andrea (@longbranch_) is putting on some floral workshops over the holiday season. We did some collaborative signet rings with @alimunn and she is really talented, creative and funny as well. Also, our studio is located in the back of @littlemtnshop which is an awesome, diverse pop-up space and we get to do some cool projects with them.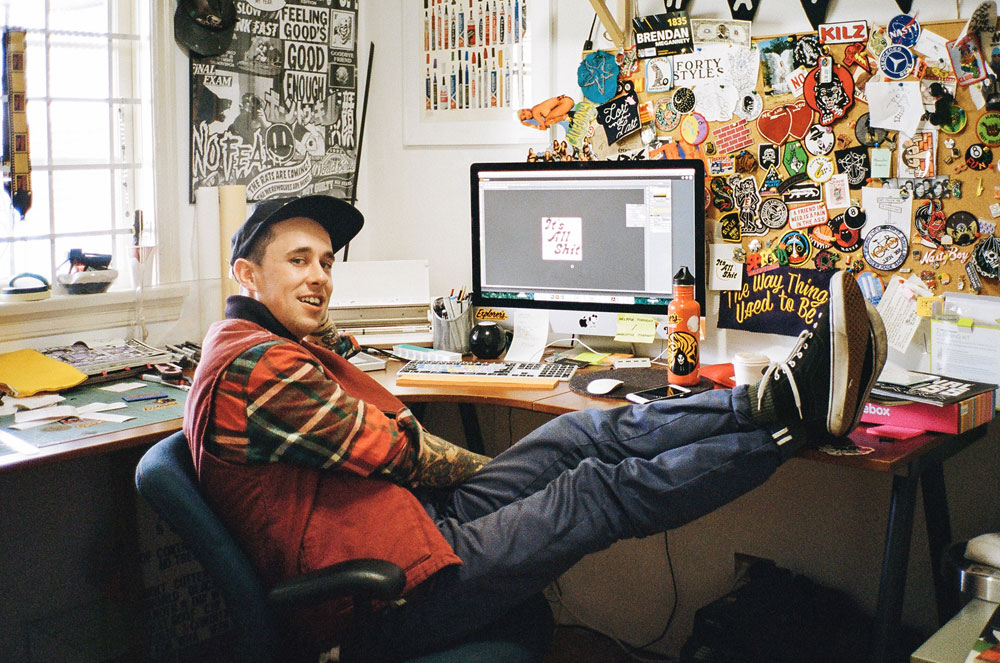 What are some of your favourite places in Vancouver?
I think the endowment lands out by UBC are a really special place. I also love Queen Elizabeth park, up by my house on Main and 33rd. It is actually the highest point in the city so you can get a great view of the mountains when it is clear out. I go down to Chinatown/Gastown a lot, and I like the vibe down there even though it can get overrun by tourists in the warmer months. Nuba is must for food down there, and I really dig the coffee from The Birds and Beets. It technically isn't in Vancouver, but I love going out to Deep Cove in North Van for coffee and a donut. I ride out there on my bike a lot and the road hugs the water pretty much the whole way. I grew up here and have been back for two years, and I am still discovering new spots all the time.
Save
Save
Save
You might also be interested in:
---