Choi Kyung Joo & Lee Dong Youl
Artist Proof
Choi Kyung Joo and Lee Dong Youl are the wife and husband behind Seoul-based printing label Artist Proof. After a few 9 to 5  jobs which left little time for creativity, they started working together and now Dong is in charge of running their new shop whilst Joo works on her screen printed goods and mixed media pieces.
We talked with Joo and Dong to find a little more about how they met, their inspirations and their favourite Korean artists and designers.
Photos by Alex Finch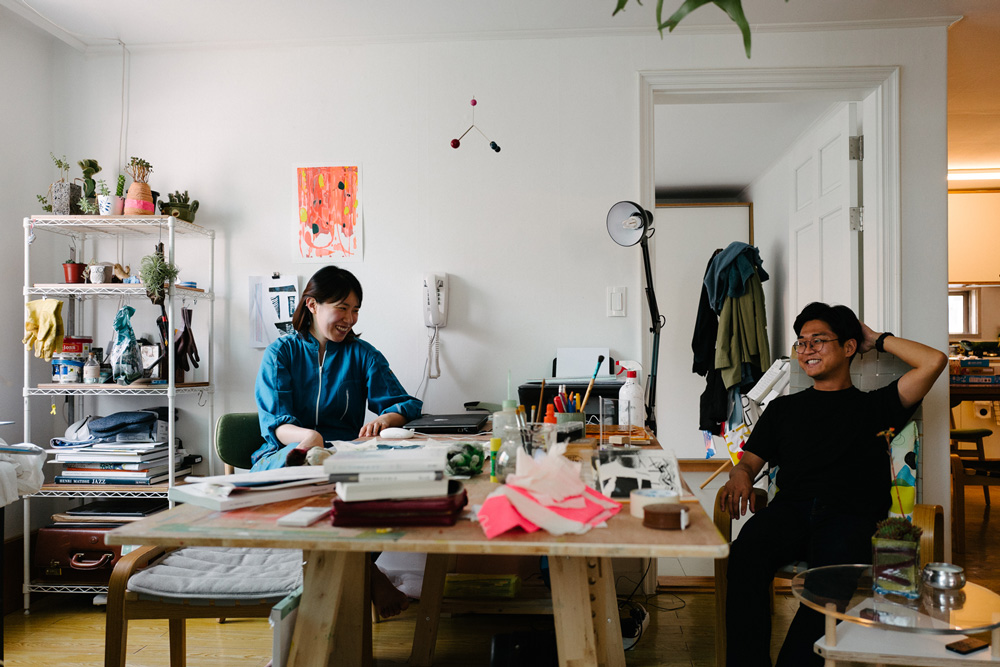 Please introduce yourselves and tell us a little bit about your education.
Dong: I studied graphic design at university and I'm also a trumpet player. I wasn't actually interested in design at that time and I became friends with some people who wanted to start a band. I started playing the trumpet because of a simple reason: the sound was attractive. I now keep on playing the trumpet and I'm also the co-founder of Artist Proof Shop (AP Shop).
Joo: I graduated from university with a degree in fine arts and I worked as an overseas sales representative for a lens company for one year. During that time, I realised that I wanted to create some art again so I decided to study printing. I currently keep on working with mixed media, including printing.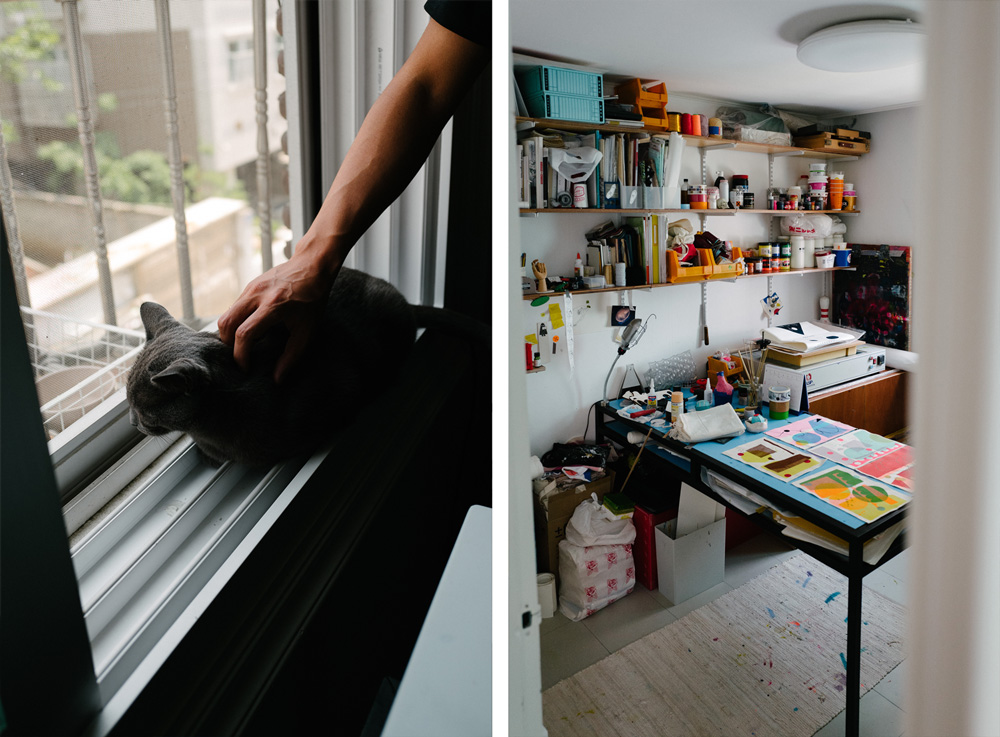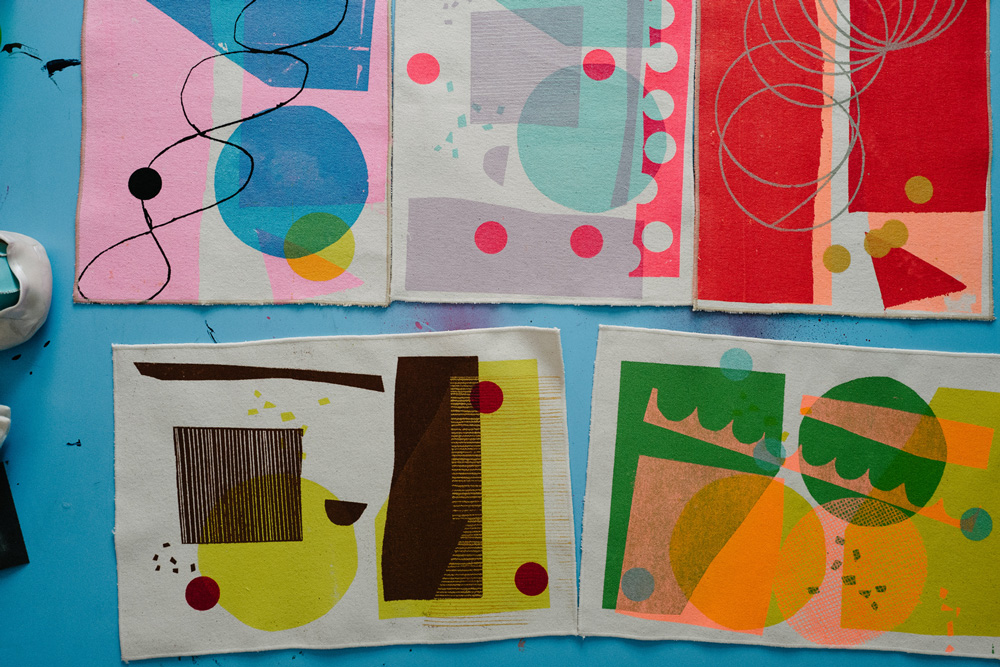 How did you meet and when did you decide to start working together?
Dong: We first met at a gallery opening and I later proposed to Joo and we got married in 2012. I worked as a vendor for a fashion export company for 2 years and as an activist at a youth society hub for 3 years. During those 5 years I was working at a 9 to 5 job just for the money. I guess Joo saw that I wasn't enjoying it and she encouraged me to quit my job and do something together.
Joo: It was hard for me to see Dong doing something unfulfilling. Back then I had already started Artist Proof and was hoping Dong could join me so I asked him about working together. Dong currently manages the AP Shop, which is Artist Proof's showroom and where we also display collaborative projects with other artists.
Artist Proof and AP Shop are evolving and growing organically – we're looking forward to seeing the change in 1, 5, 10 years and so on.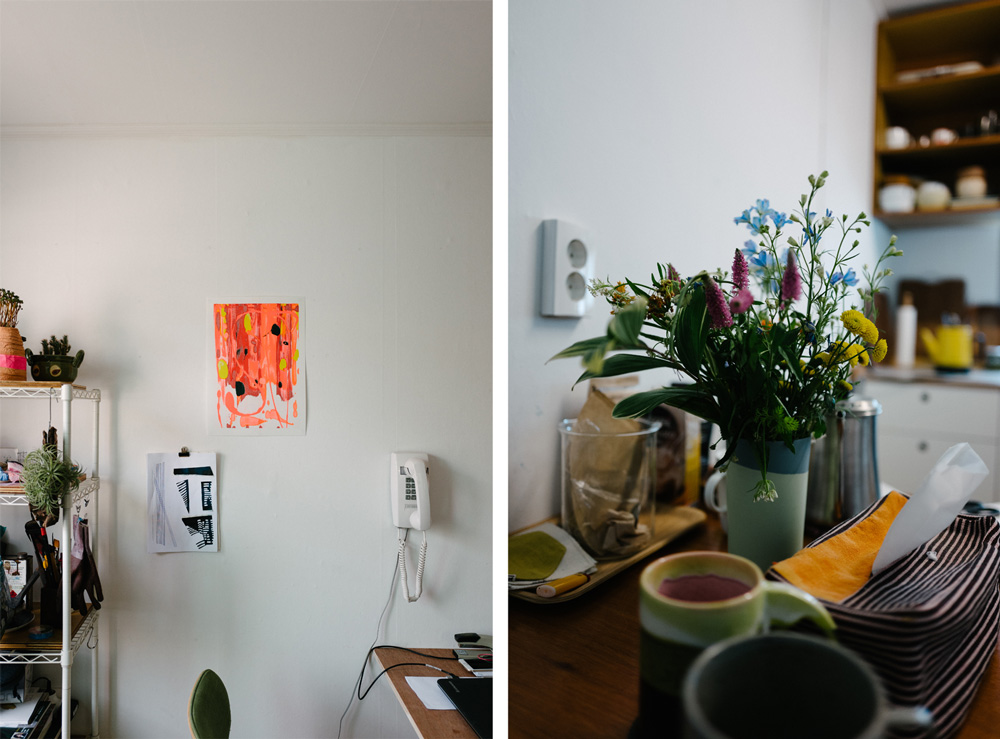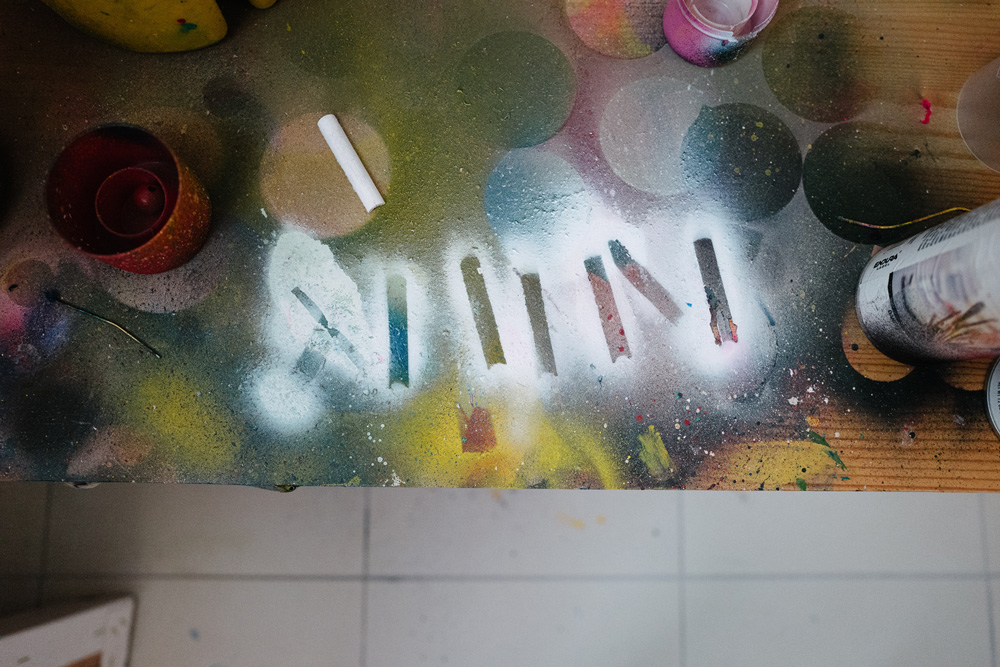 Please tell us a little bit more about Artist Proof and the work you do.
Joo: Artist Proof is a printing label based on fine arts. I first launched it in 2014 at a small book store called 'The Book Society'. I make things that fall somewhere in between my own artwork and objects that make people feel something. Dong and I are currently thinking about more ways in which we can share those emotions with more people.
You recently opened AP Shop. Could you tell us a bit more about the store and what people can find there?
Joo: After Dong quit his job, we looked for a place to create our own work. We imagined a quiet place like an oasis in the middle of the crowded city, and we found it faster than we expected.
We created this space with two main requirements in mind. The first one was for me to be able showcase different works and the second one, for Dong, to provide good music with a comfortable mood. Those were our two main goals before we started AP Shop.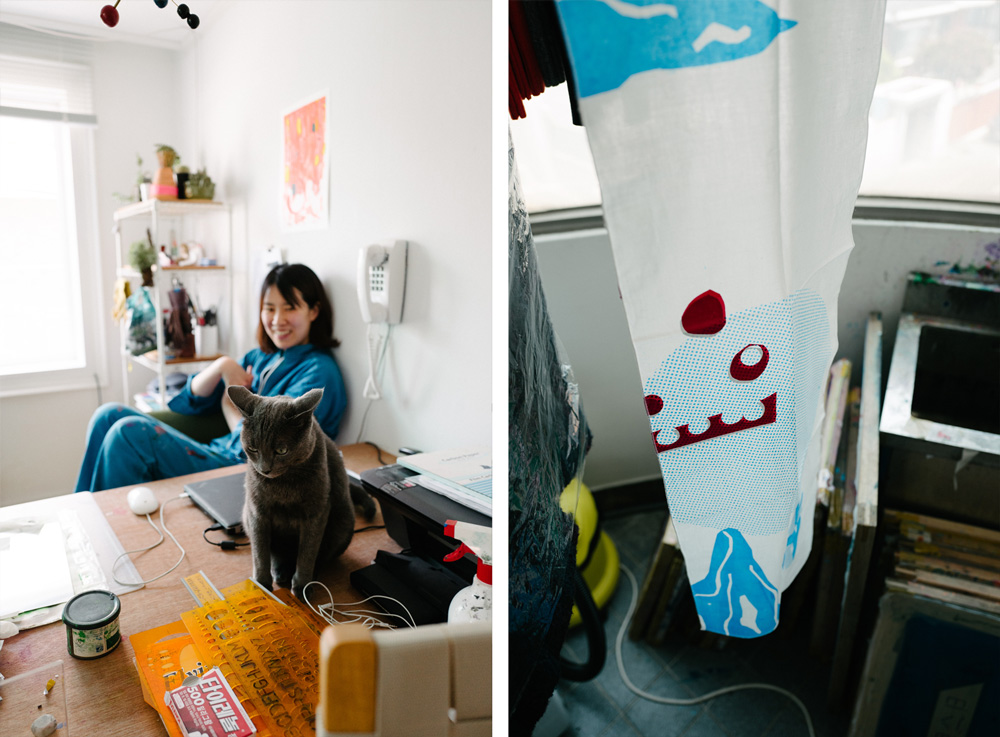 Why did you decide to focus on print and not other discipline?
Joo: I think I was first attracted to print because it is not a straightforward process and, therefore, the result can be quite unexpected. Printing is also efficient in terms of allowing me to create any number of editions I want. Even though I focus on print, I still continue working with mixed media.
Tell us a little bit more about your object and mobile projects. How did you decide to go from something two dimensional like paper to a 3-D object?
Joo: It happened because some of my friends and Dong encouraged me to try it. A friend asked me to make a mobile to hang at her chocolate shop and that was my first time working on a mobile. After that, another friend asked me to make a vase for some flowers so I decided to create a vase in my own style. If someone else decides to ask me to create something new, I will also give it a try :).
What are some of your biggest influences and where do you draw inspiration from?
Joo: Dong is my muse. Also Julian, my 4 year-old cat, and we recently got a new family member, Ari. We adopted Julian 2 years ago and after that Dong rescued Ari near our home – she became my new muse.
I find most of my inspiration at my studio, especially from the plants and the shapes that sunlight and shadows form on the walls throughout the day.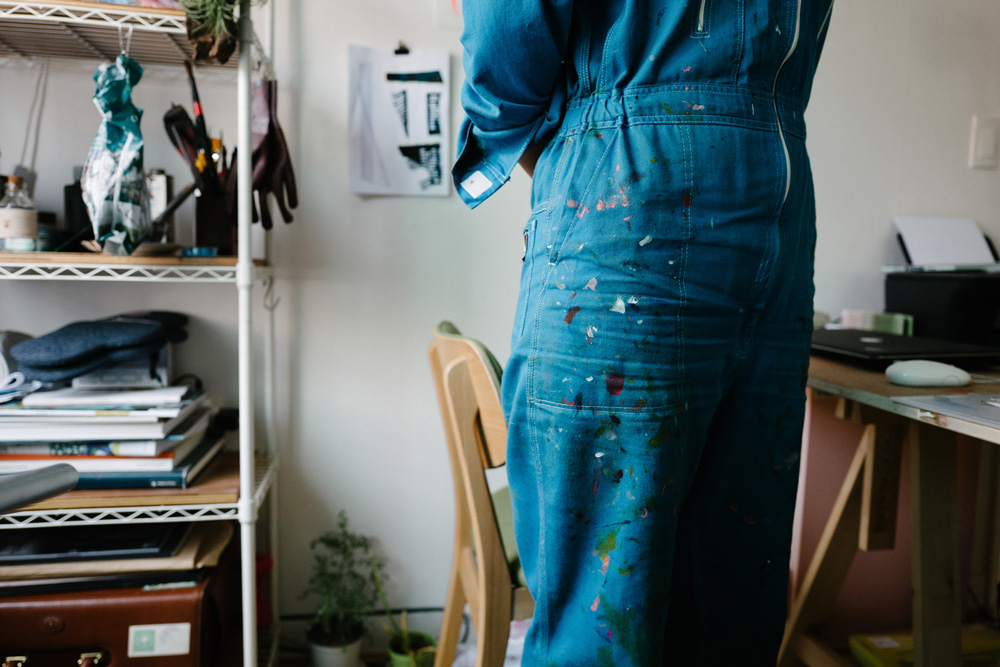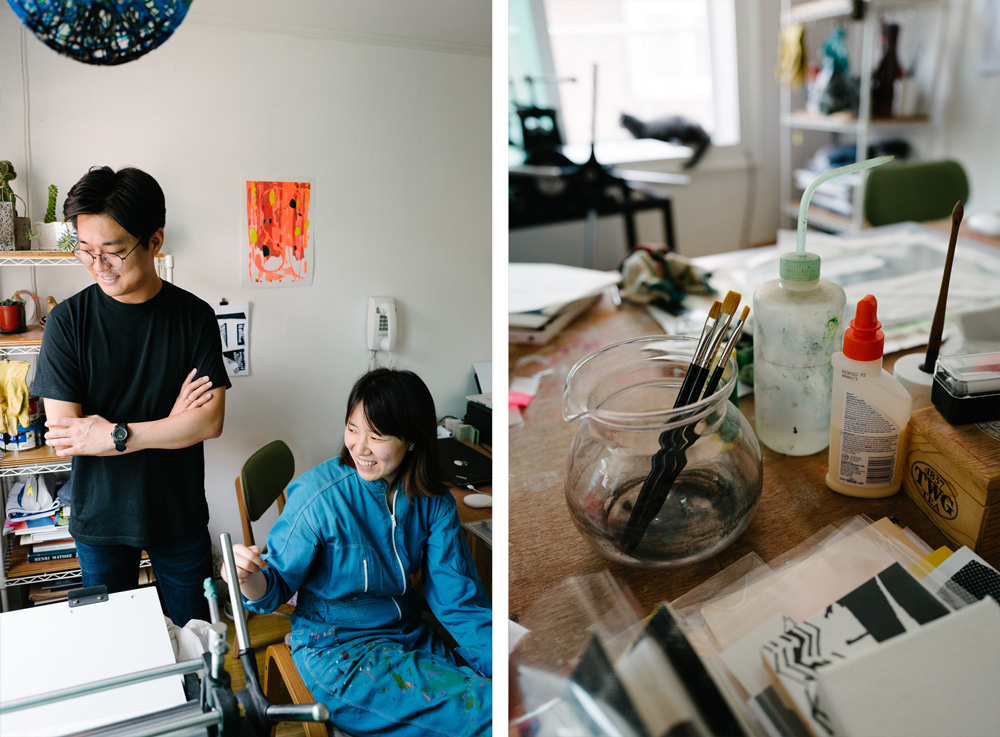 What are some of your favourite projects you've worked on?
Joo: Good collaborations make me feel motivated to keep on creating more work. Recently, I collaborated with Dutch designer Timon. He stayed in Seoul for an arts residency and I helped him print the work for his exhibition. We also worked together on an object and Timon designed a new logo for Artist Proof. We ended up displaying our work at his exhibition and it was a great experience.
I'm currently working on a collaboration for a department store. I'm making artworks for the packaging of Thanksgiving Day VIP presents. I didn't really expect to do a commercial collaboration like this one so I am very excited to see the final result.
Dong: I'm preparing a series of small monthly gigs in the AP Shop. We call this project 'AP SHOP LIVE'. I'm working on the musicians list and Joo is in charge of the visuals. We are trying to create a special mood for the small audience and we are looking forward to it.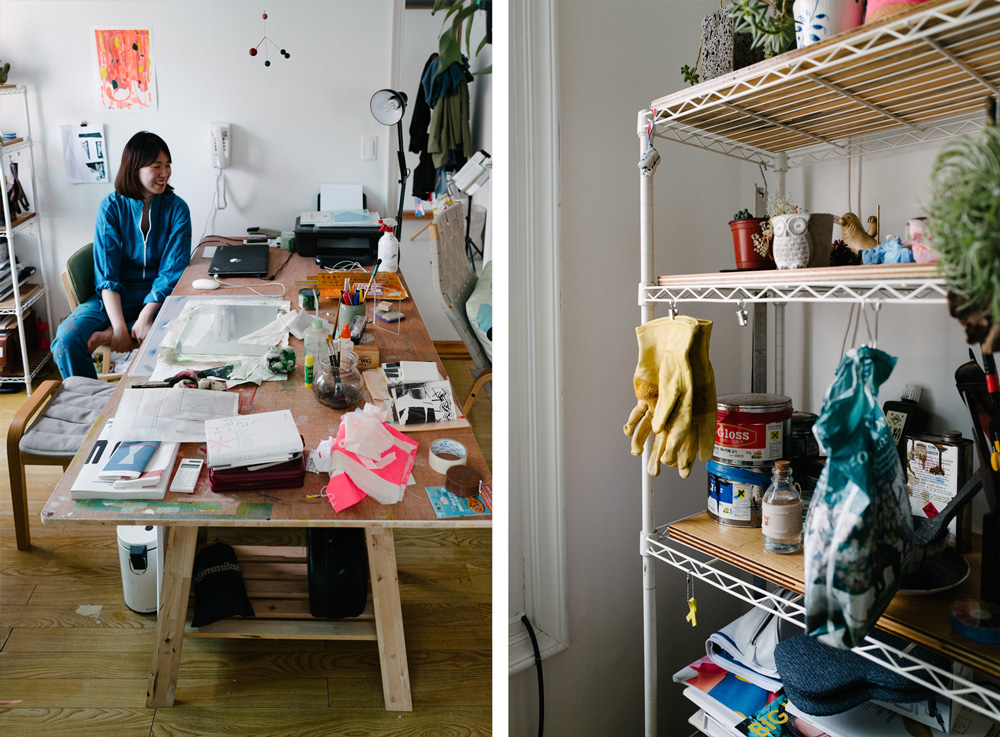 Could you recommend us some Korean artists and designers we should know about?
Dong: We would like to recommend 'CORNERS', a design studio working with riso printing. They currently have an exhibition called 'field trip' focusing on the processes and materials at their studio.
Designer O'hezin from studio 'OYE'. Her works are really good and she has also collaborated with us creating the logo for the AP Shop.
Finally, interiors studio 'COM'. Their works are almost like installations rather than traditional interiors.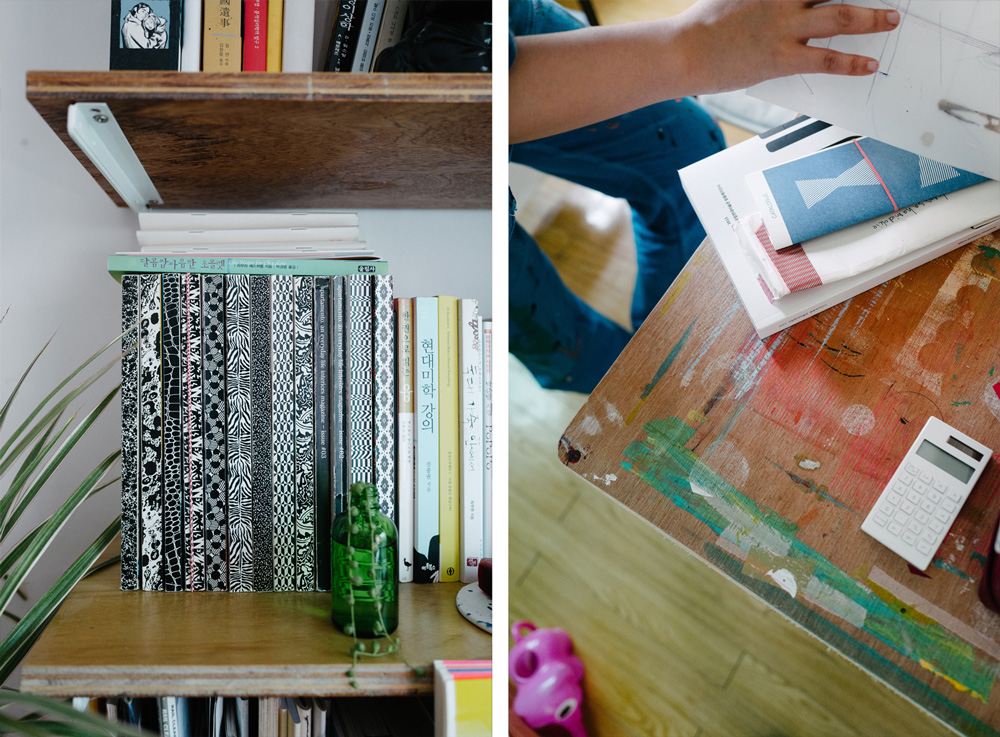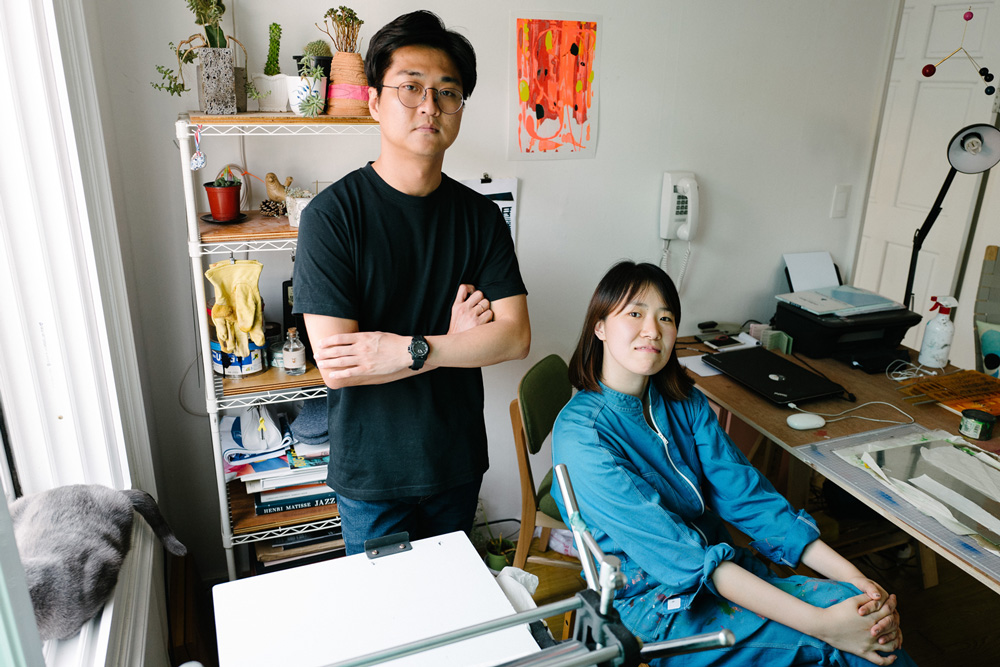 What are some of your favourite places in Seoul?
Joo: 'The Book Society' book shop – they stock so many interesting books and they run a publishing and art project called 'Media Bus'. They also have just designed an exhibition with ROMA publication at the MMCA (National Museum of Modern and Contemporary Art).
Joo: We also like going to 'chocolat dj' chocolate shop after working on a big project, and eating at 'Home Ground' – we first knew about her because of her catering services and we felt in love with her food, it's something more than just food.
Save
You might also be interested in:
---
---