---
PORTO CITY GUIDE
Porto has recently become a popular destination for those wanting to slow down and discover a city where traditional Portuguese culture meets innovation and the latest trends, but in a much more relaxed and laid-back atmosphere than in other larger European cities.
Explore the cobbled streets of the Ribeira neighbourhood, watch the sunset over the Douro river while you drink a Porto Tónico and visit a unique example of art deco architecture at Serralves. Here are some of our recommendations to enjoy your time in Porto.
---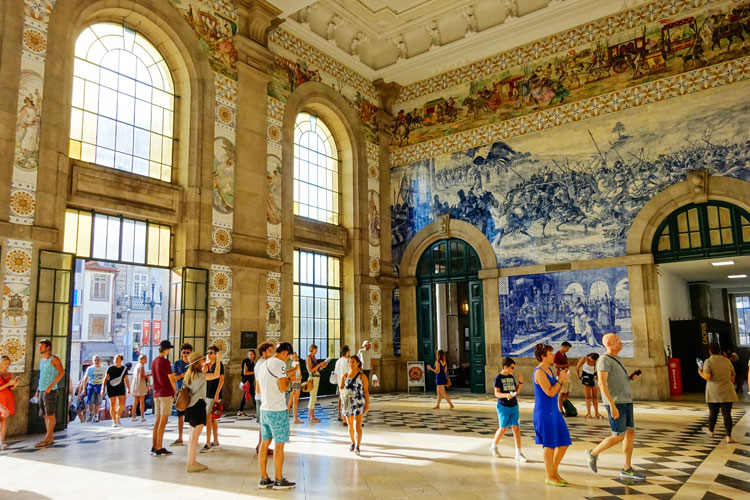 ---
EAT & DRINK
Café Candelabro
A popular spot in the heart of the city, Café Candelabro is a former bookshop now transformed into a cosy café and bar with a great atmosphere. You can still find a nice selection of art and vintage books on its shelves that you can enjoy while having a glass of wine, a beer or a cocktail.
The sitting area outside is popular amongst locals and visitors, and it can get quite crowded in the evenings so we recommend going earlier in order to guarantee a table.
Café Candelabro – R. da Conceição 3


Pisca
Located in the Cantareira area, just by the Douro river, Pisca is a tapas restaurant taking inspiration from Basque cuisine and Portuguese flavours. The rustic and minimalist interiors act as the perfect background for the traditional food with a modern take served at Pisca. During the warmer months, the front terrace becomes the perfect spot to have a drink and share some dishes whilst relaxing and enjoying the promenade and Douro views.
Pisca – R. do Passeio Alegre 294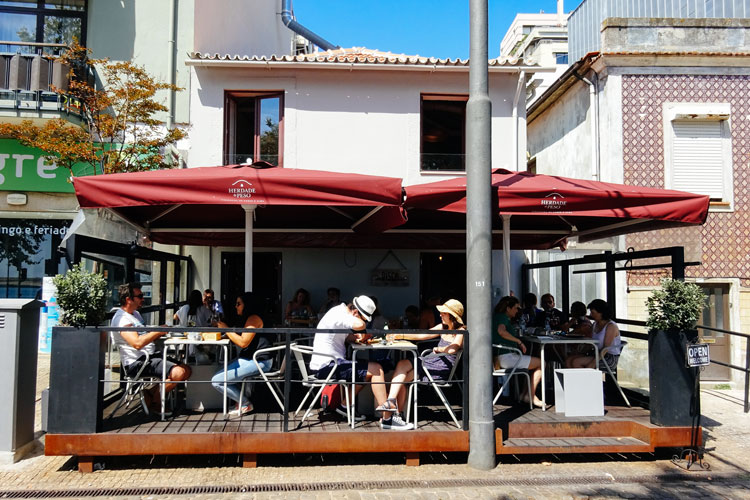 BOP Café

BOP Café instantly became one of our favourite eateries and bars in Porto right after our first visit. This café takes inspiration from American diners and is open all day, serving specialty coffee, a great variety of drinks and amazing food – the burgers are some of the best we've ever tried.
Music is also an essential part of BOP Café, its walls are filled with vynils and there are even individual listening points where you can choose the music you want to listen to.
BOP Café – R. da Firmeza 575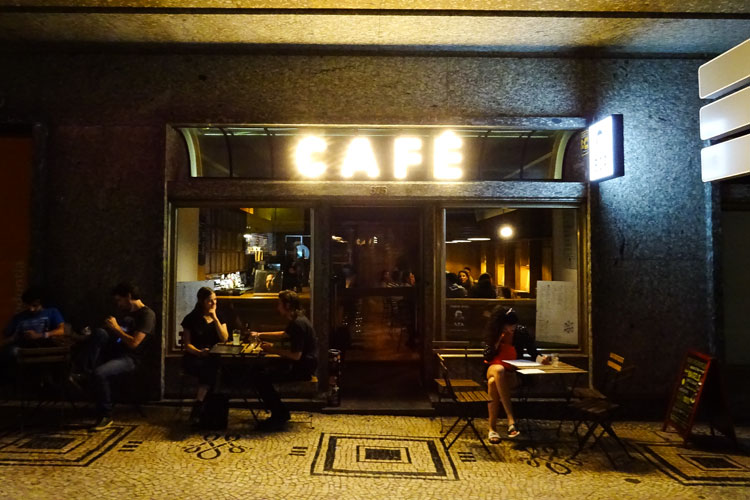 Ó Maria

If you're looking for an affordable restaurant or a light bite, Ó Maria is a great option in the city centre. This eatery is famous for its delicious small sandwiches called 'mariazinhas', combining Portuguese flavours and ingredients, and served with homemade crisps. You can also enjoy tasty fresh juices, cocktails and other drinks.
Ó Maria – R. da Conceição 106
www.facebook.com/o.maria.baixa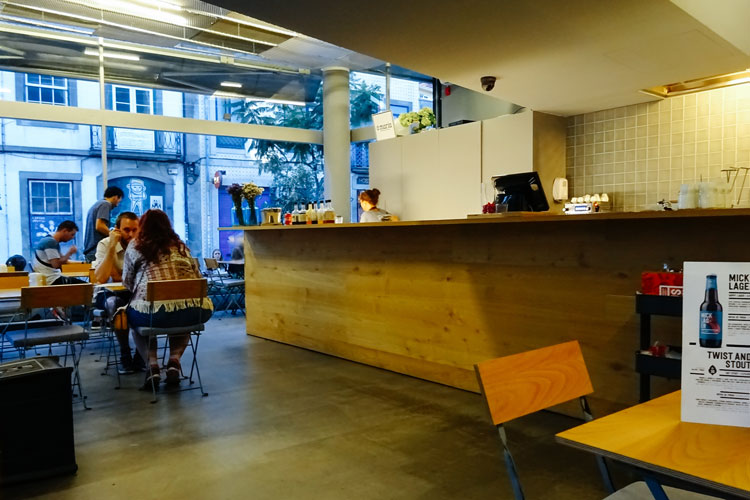 Negra Café

Negra Café is a new café in the Baixa area (downtown) with different spaces nicely decorated with a retro vibe, creating a relaxing atmosphere in which you can drink great coffee and cocktails and also enjoy salads, toasts and other tasty dishes depending on the time of the day.
Negra Café – R. Guedes de Azevedo 117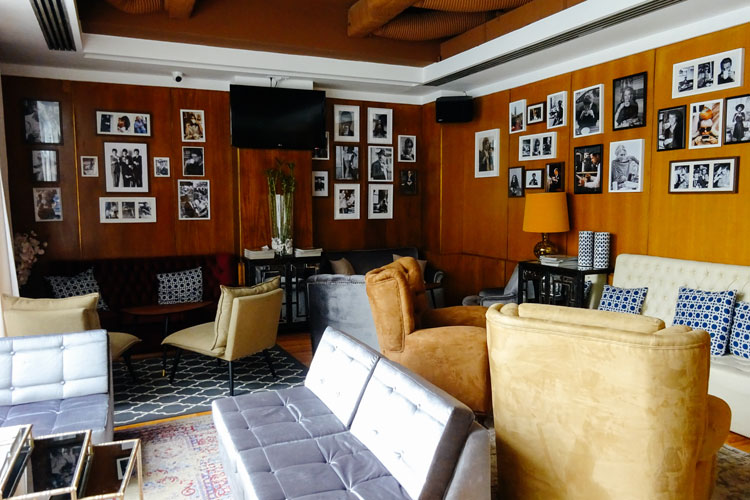 Zázá

Another cosy space in Porto's city centre in which to relax and grab a drink or some food. Zázá's menu is inspired by Portuguese cuisine, offering simple but tasty dishes and small bites using fresh and local ingredients. The drinks selection is also great, with a nice variety of wines, beers and cocktails – try the Porto Tónico, a refreshing, local cocktail consisting of white Porto wine and tonic water perfect for the summer months.
Zázá – R. de Ramalho Ortigão 43
www.facebook.com/zaza.sandwiches.bar
---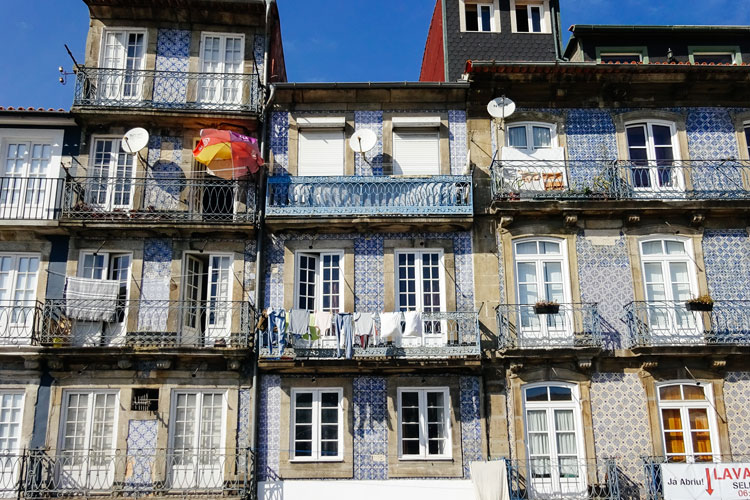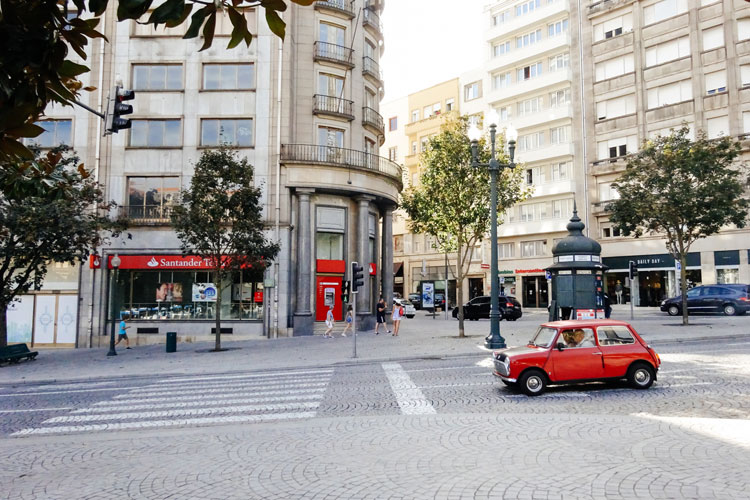 ---
SHOP
Coração Alecrim
Coração Alecrim is a store stocking a beautiful selection of Portuguese and international clothing brands, homeware, vintage objects, magazines, plants and other nice things.
The founders of Coração Alecrim, Filipa Alves and Rita Dixo, consider their shop their home and have created a relaxed space to showcase the kind of products they believe in: handmade, sustainable and local.
Coração Alecrim – Tv. de Cedofeita 28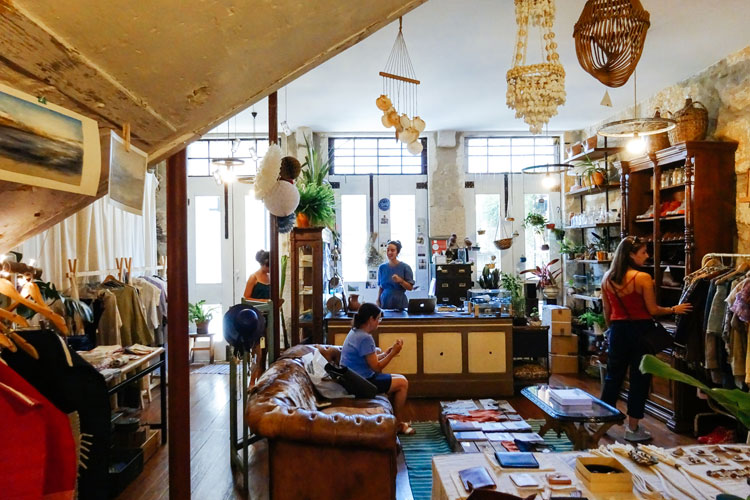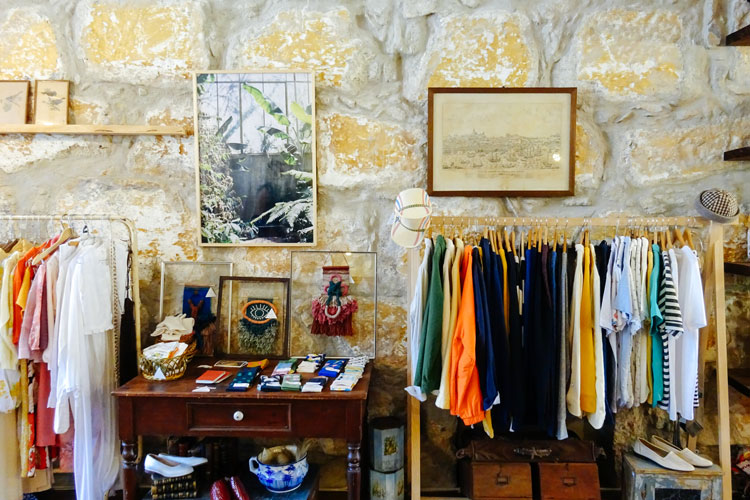 Daily Day

Daily Day is a concept store selling emerging Portuguese clothing brands like La Paz, Wolf & Son, Portuguese Flannel and SAYMYNAME. What's unique about Daily Day is that the store owners choose the brands and items they stock based on their daily observations of Porto and its people and culture.
Daily Day is also a place for experimentation – the shop organises exhibitions and different events throughout the year.
Daily Day – Praça Gen. Humberto Delgado 263
www.facebook.com/dailydayporto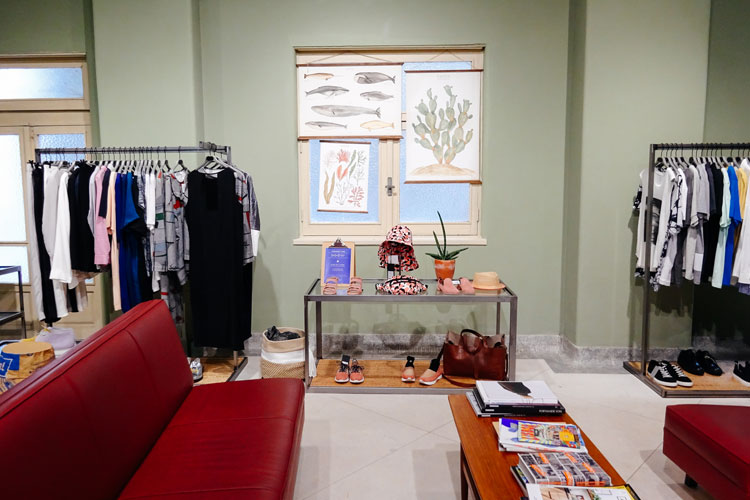 Ó! Galeria

If you love illustration, you can't leave Porto without paying a visit to Ó! Galeria, a gallery and shop located on R. de Miguel Bombarda, a street known for its numerous art galleries.
The mission behind Ó! Galeria is to showcase the work of illustration artists from all around the world, selling their prints, books, zines, postcards and other works.
Ó! Galeria – R. de Miguel Bombarda 61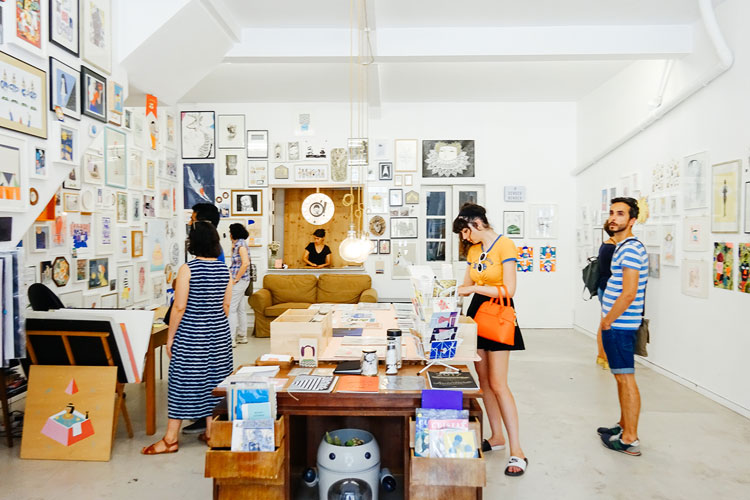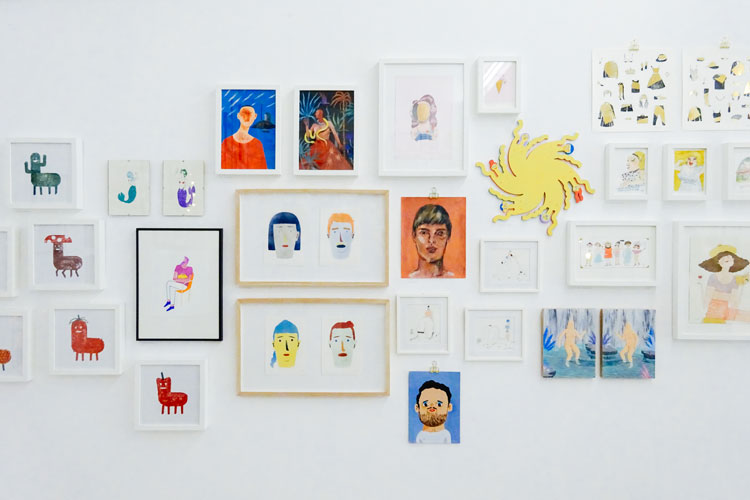 Armazém

Inside Armazém, by the Douro river, can find different spaces: from antiques and clothing stores to a gallery and a bar. The prices are a little bit higher than traditional flea markets or other shops in the city but it's worth a visit to explore the shops and building, which used to be a wine warehouse.
Armazém – R. de Miragaia 93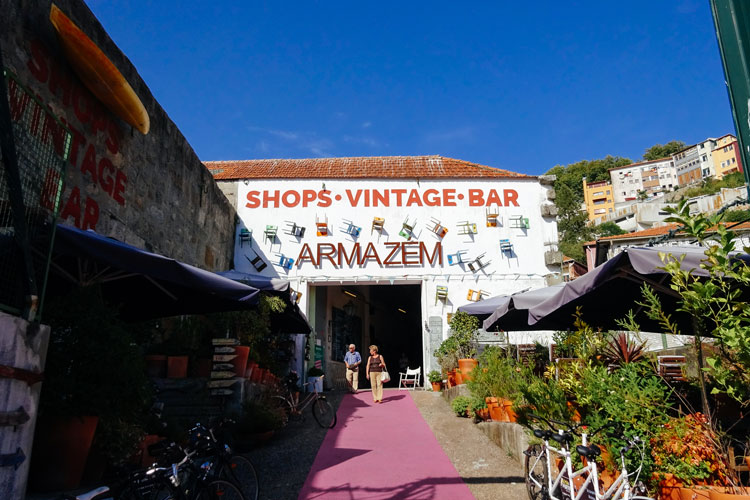 Galerias Lumière

This former cinema and shopping centre from the 70s was refurbished in 2014 to serve as space for local businesses centred around fashion, design, art and food. Galerias Lumière is now home to shops like Out to Lunch (innovative clothing and accessories) and Wise (magazines and books), and restaurants like Namban Oporto Kitchen Café (Japanese food).
Galerias Lumière – R. de José Falcão 167

www.facebook.com/galerias.lumiere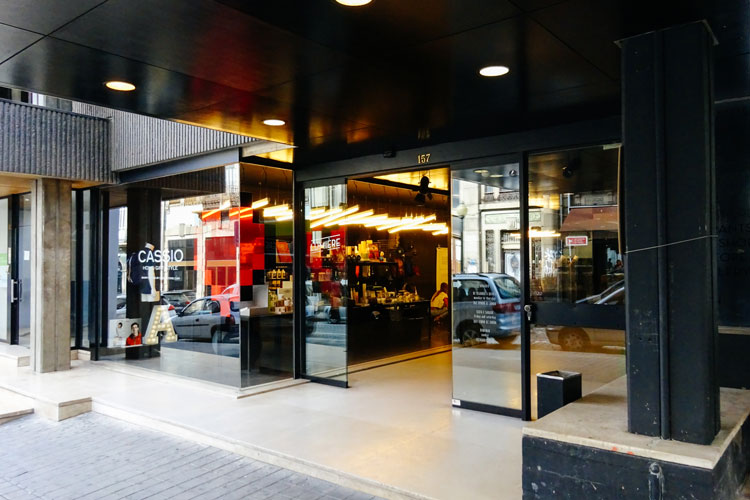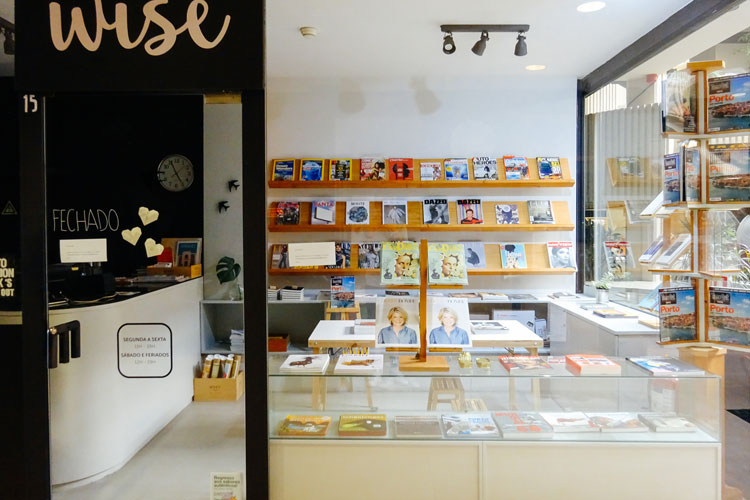 The Feeting Room

The Feeting Room is a store dedicated to shoes, although you can also find a nice selection of clothing and accessories for men and women with a focus on Portuguese designers. The ground floor of the shop is dedicated to womenswear and on the top floor you can find menswear and The Coffee Room, a café area which opened in 2016 serving specialty coffee and nibbles.

The Feeting Room – Largo dos Lóios 86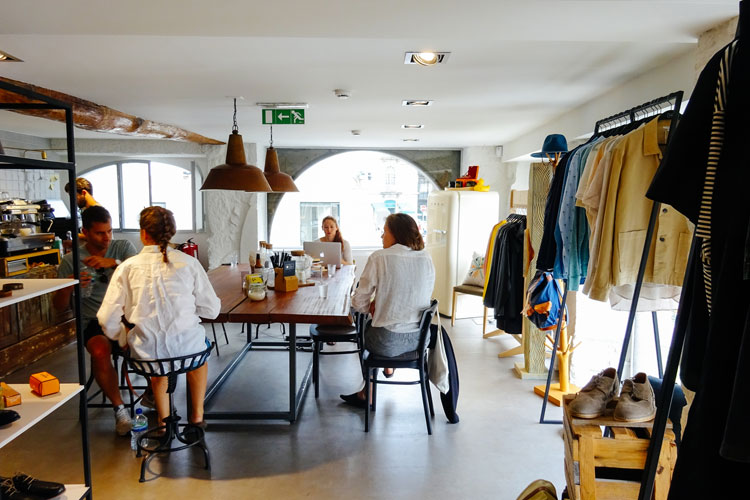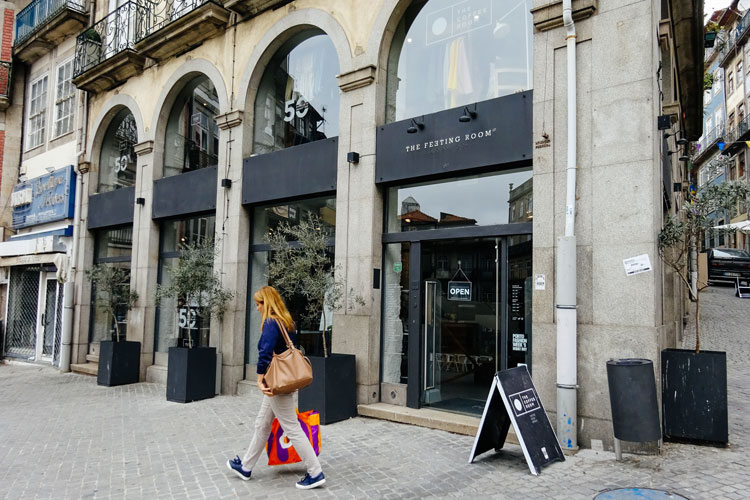 ---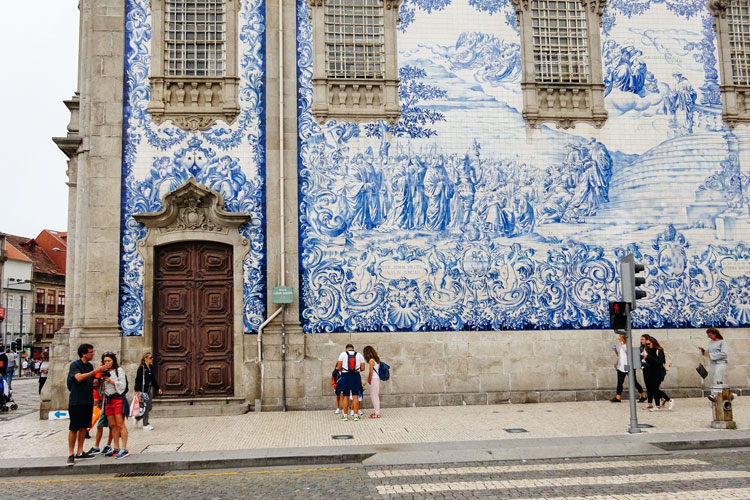 ---
VISIT
Serralves
This cultural institution comprises a contemporary art museum, an extensive park and a beautiful art deco villa.
The museum, designed by architect Álvaro Siza, opened in 1999 and is currently the most visited contemporary art museum in Portugal. Serralves Museum is home to more than 4300 works from the 1960s to the present day, part of which are shown in its permanent collection inside the main building and throughout the park.
The impressive park includes gardens designed by iconic French landscape architect Jacques Gréber and is the perfect background for both the museum and the Serralves Villa, a pink art deco building constructed between 1925 and 1944 that now houses temporary exhibitions.
Serralves is one of the highlights from our Porto trip and we definitely recommend spending a few hours visiting the buildings and park. The park entrance is 5€ and the museum entrance is 10€ and includes access to the park and villa.
Serralves – R. Dom João de Castro 210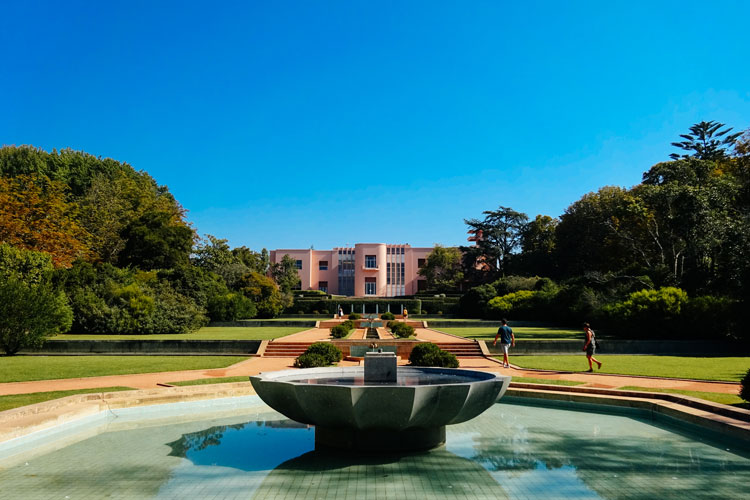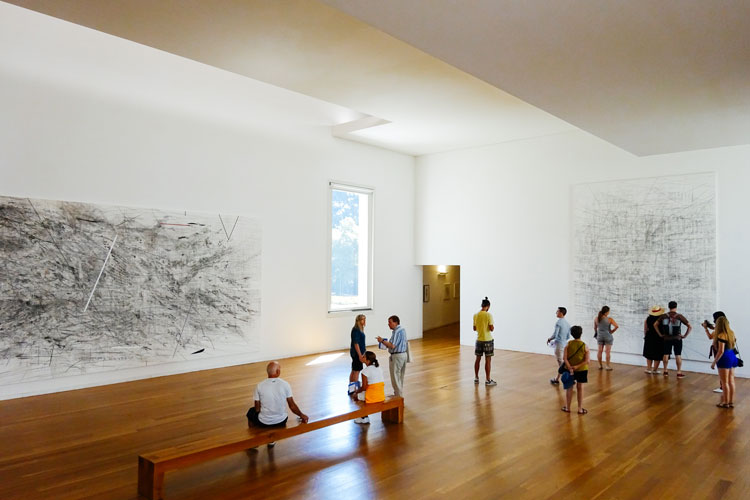 Capela das Almas
Capela das Almas (Chapel of Souls) is one of the most visited – and Instagrammed – churches in Porto. The façade is covered with over 15,000 blue and white azulejos (tiles), painted by artist Eduardo Leite in 1925, that depict scenes from the lives of various saints.
Capela das Almas – R. de Santa Catarina 428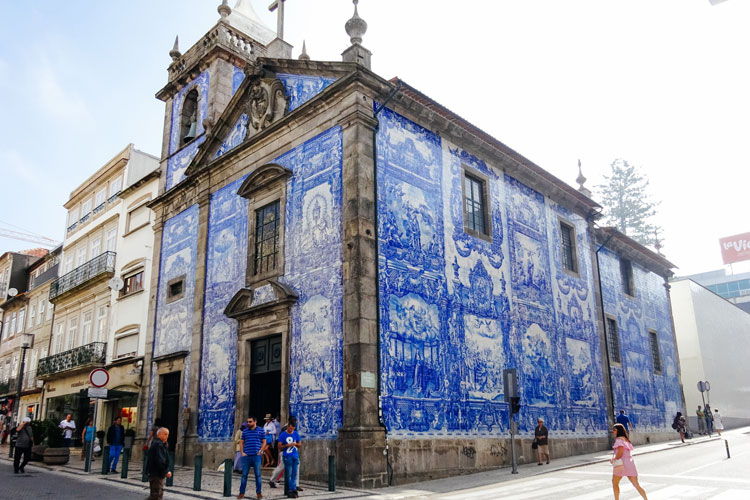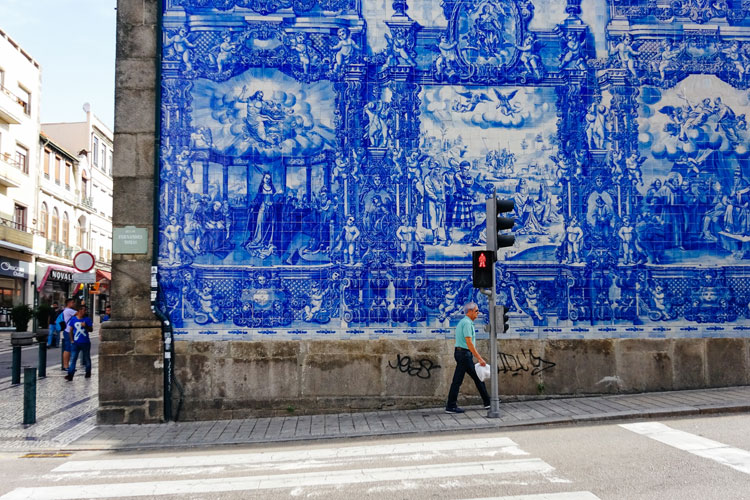 Mercado do Bolhão

In front of Capela das Almas you can find Mercado de Bolhão, dating back to 1850 and featuring a neoclassic exterior and an interior with two floors where you can buy fresh Portuguese produce – from fish and meat to vegetables and flowers. This market was classified as a place of public interest in 2006 and attracts crowds of tourists that mix with locals doing their daily shopping.
Mercado do Bolhão – R. Formosa 214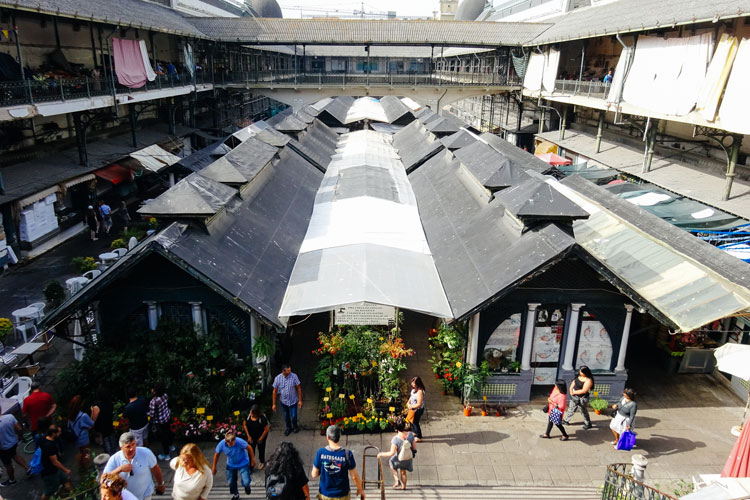 Centro Português de Fotografia

Housed in a former 18th century prison, the Centro Português de Fotografia exhibits works by Portuguese and international artists since 1996. The permanent exhibition is dedicated to the history of photography, showcasing equipment from its beginnings to the present day, and the temporary exhibitions show work by emerging and established photographers, as well as students. Entrance to the Centro Português de Fotografia is free.

Centro Português de Fotografia – Campo Mártires da Pátria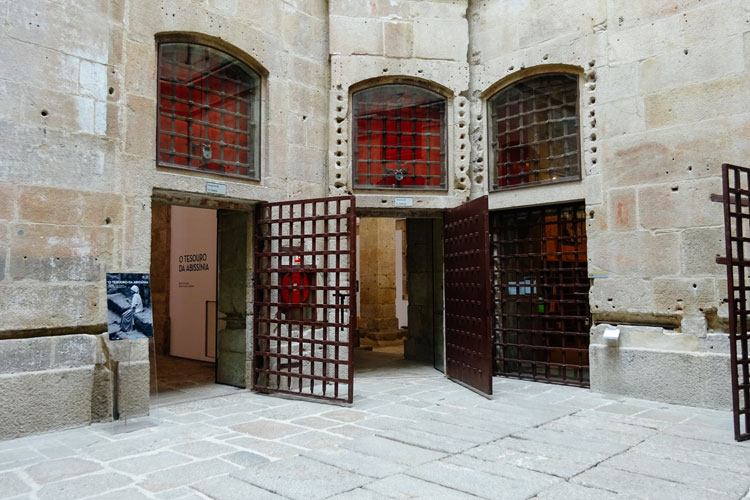 Casa da Música

Designed by Dutch architect Rem Koolhas and built in the early 2000s as part of Porto European Capital of Culture in 2001, Casa da Música is an impressive concert hall located in the Boavista neighbourhood. This modern concrete building has two main auditoriums, a restaurant, a café and other spaces that can visited daily on guided tours focusing on the architecture, the building's functionalities and its artistic programme.
Casa da Música – Av. da Boavista 604-610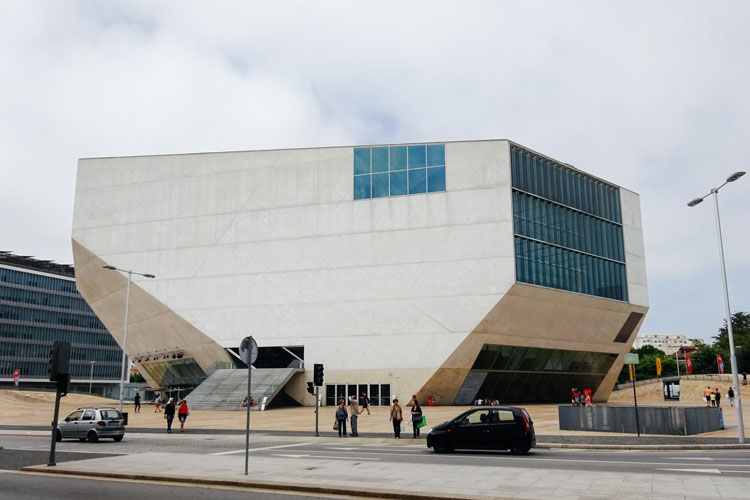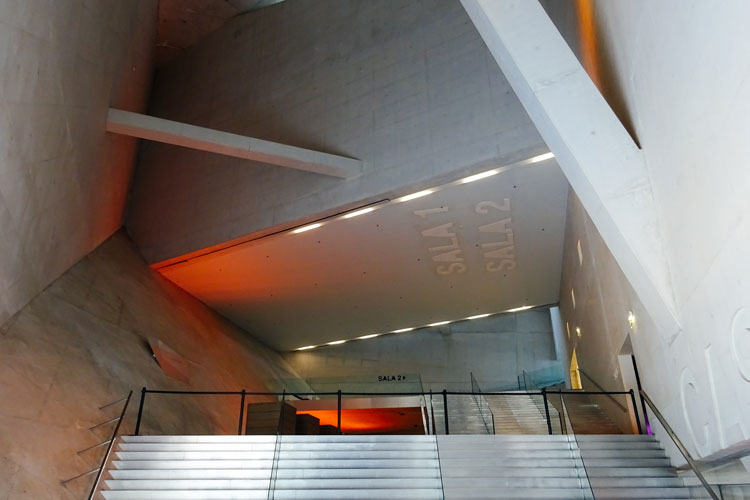 Jardins do Palácio de Cristal

The Jardins do Palácio de Cristal were built for the Porto International Exhibition in 1865 and included a 'Glass Palace' that was destroyed in 1950 and replaced later by a modern dom complex. These beautiful gardens, located on a hill overlooking the Douro river, are a popular spot amongst locals and visitors that want to relax exploring the different areas with numerous flower and tree species, and enjoying the spectacular views.
Jardins do Palácio de Cristal – R. de Entre-Quintas 20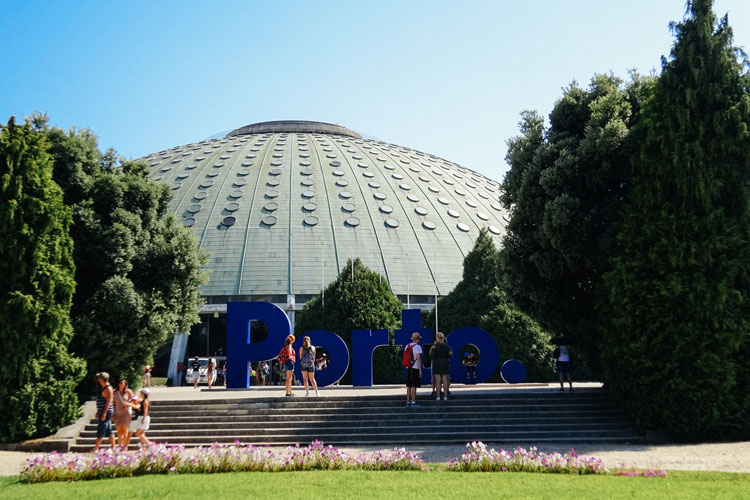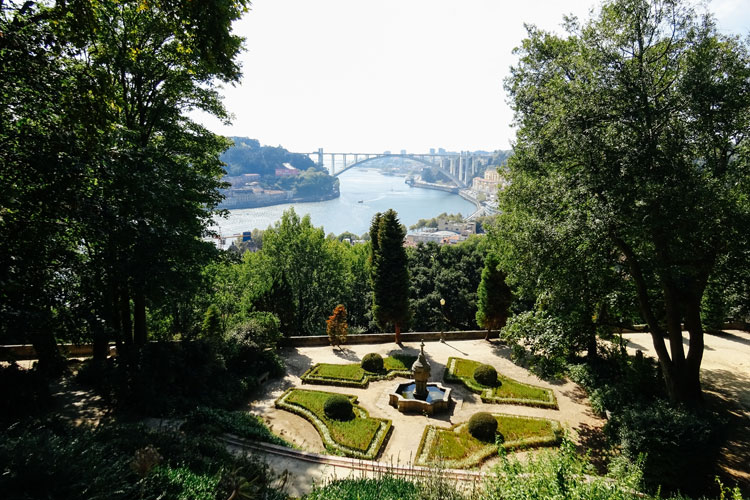 ---
MAP
If you'd like to advertise your business in this guide, have any recommendations in Porto or updates about this guide, you can contact us at hello@thefuturepositive.com
---
You might also be interested in:
---
---