---
EXPLORING GHENT WITH LOCALS
The beautiful historical centre, the peaceful canals, the contrast between old and modern architecture, the bustling cultural scene… there are many reasons to visit Ghent and we've tried to collect them all in our new city guide.
This time we've asked two local creatives, artist Joëlle Dubois and stylist Charlotte Everaert, to show us around their neighbourhoods and their favourite places in the city and to also tell us about how Ghent inspires their work. As usual, at the end of the guide you will also find a selection of hand-picked personal recommendations on cafés, restaurants, shops and other places you shouldn't miss!
Thanks to Visit Flanders and Visit Ghent.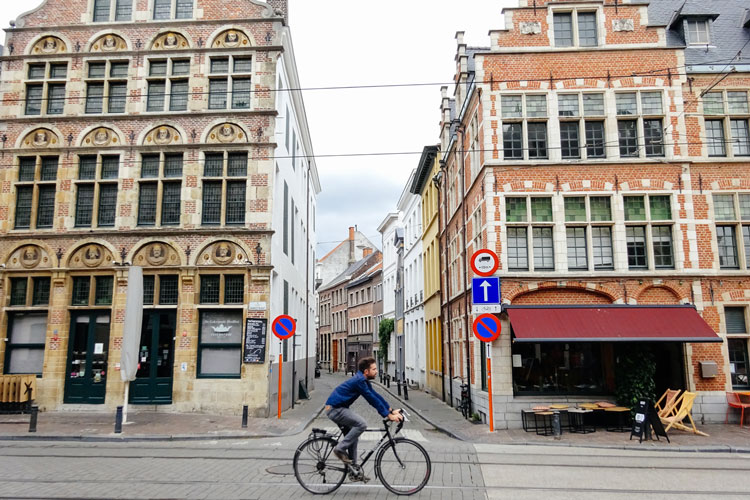 ---
JOËLLE DUBOIS – ARTIST
House & Studio
Joëlle Dubois is an illustrator and visual artist born in Ghent. In her work, Joëlle examines the impact of social media confronting the viewer with explicit scenes of private life inspired by the constant stream of photos and clips on the internet.
We visited Joëlle's studio and flat in the Dampoort area to find out more about her work, and also asked her to show us around her neighbourhood and her favourite places in the city.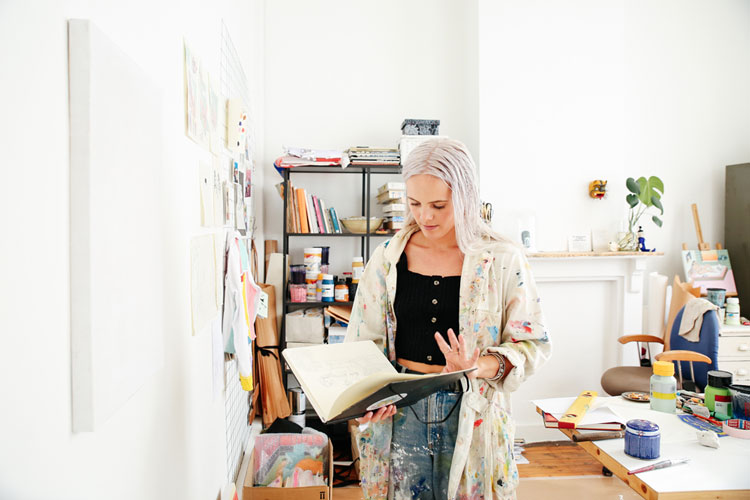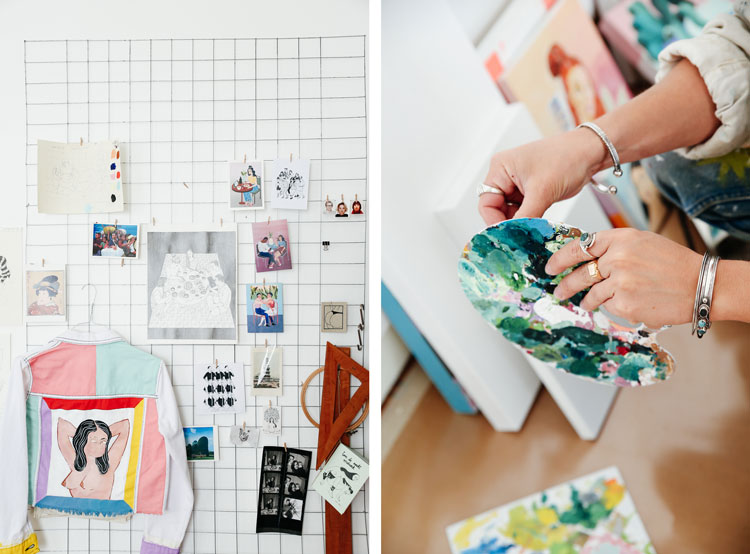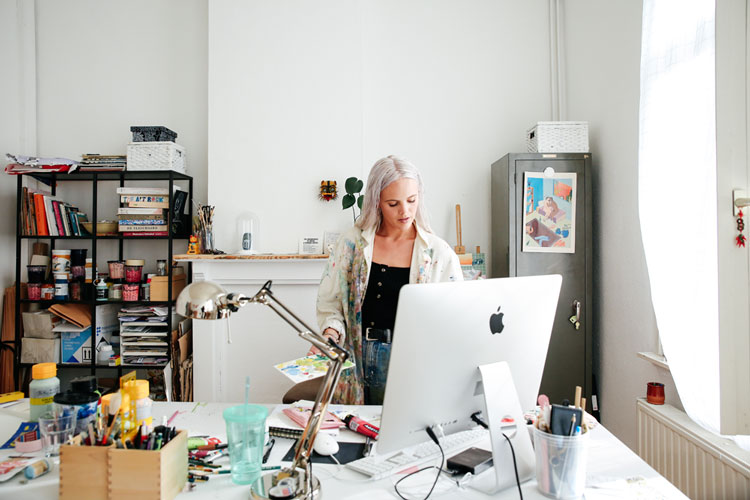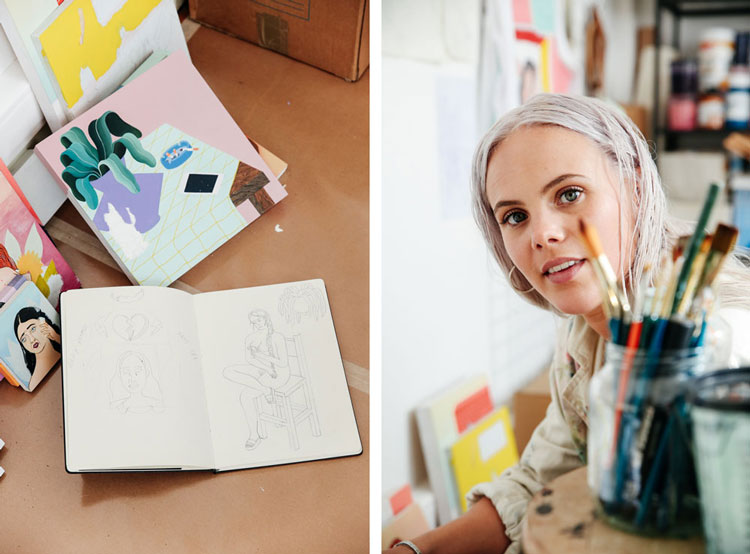 The Neighbourhood

Joëlle has recently moved to the Dampoort area of Ghent-Sint-Amandsberg, a neighbourhood that she describes as "an up-and-coming district and the typical 'station' neighbourhood — people come and go, it's really a junction of public transportation where different routes come together creating an interesting mix of people and cultures between the centre and city border."
Over the past couple of years Dampoort has become a popular area with young families and young adults where local businesses like supermarkets, lunch and coffee bars, bakeries and even a fish market bring life to the neighbourhood. "This all is quite new and I love that the neighbourhood is still rough and raw, but here and there you can find some nice hip and trendy places — you just have to know where they are located. Everybody seems to get along in this area as well. My street even organized a clean-up and we had a (bring your own) drink at the corner with all the neighbours, which was really fun."
Joëlle also points out the numerous green areas and its proximity to the city centre as two of the benefits of living in Dampoort: "There are parks and quiet places where you're completely surrounded by nature, little getaways from the city. I like that I do not always have the feeling of living in a city here, even though the centre is only a 5 to 10 minutes ride with my bike."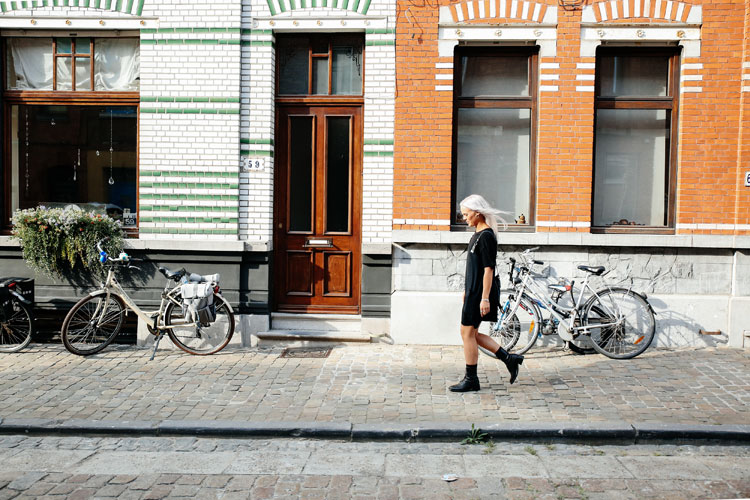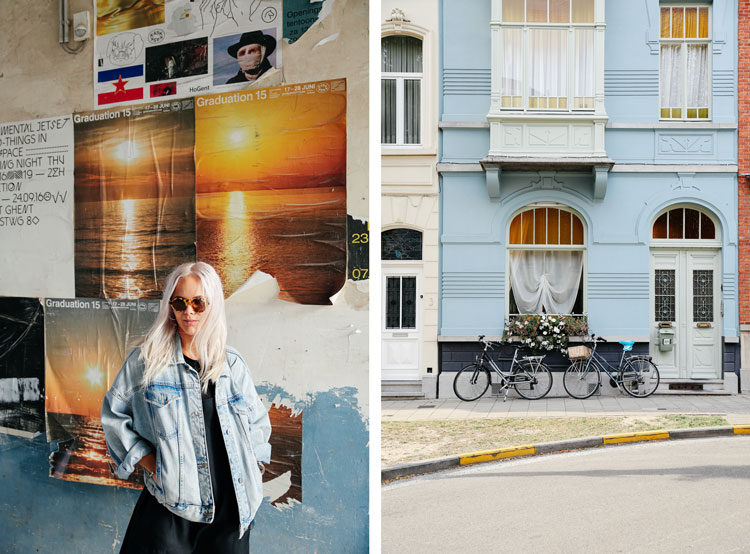 Working in Ghent

Joëlle finds inspiration in Ghent to create her artworks, especially in the parks and green areas that locals can find across the city: "Ghent inspires me the most with its pockets of green that offer quiet places to rest and reflect. Plants are very precious to me — they're always present in every piece of art I create. We live in such a digital age, we sometimes forget how important nature actually is. Now everything tends to become more industrial, that's why I like to contrast new-media related topics with the use of nature and that's one of the reasons why I love my city. Ghent almost forces me to slow down."
Joëlle's interpretation of social media and technology in her paintings often comes from observing different city scenes: "Every time I walk on the street, take the bus, go out for dinner, go shopping, when I am riding my bike or enjoying the sun on a terrace, I am surrounded by people being very busy on their smartphones. The current technology use amazes me, the interaction with each other seems to become more superficial, fleeting, impersonal and anonymous. When I am walking on the street I try to catch people's gaze sometimes and smile, but when I do, people often look at me like I'm weird. I'm not claiming I am immune to social media, I'm also entangled into it, but that's why I consider painting as an outlet. The city gives the tone to our modern times and my paintings are an observation of my environment, so I can say that the city is the starting point and my direct source of inspiration for my current artistic work that has arisen from the intrigue of the psyche of mankind and how it is inextricably bound to the constant urge to be seen and heard online."
Ghent is also a city that offers many networking opportunities for local creatives who seek to meet new people and embark on collaborative projects: "Ghent is what I call a big town, so a lot of times, everybody knows everybody. That offers a good networking opportunity. There are loads of things happening here and I try do as much as I can: concerts, exhibition openings, shops, zine happenings, theatre… I've been living here my entire life so I can say that it is easier for me to connect with other creatives and I try to participate in as much as I can."
LOCAL CREATIVES WE SHOULD KNOW ABOUT:
Musician CHARLOTTE ADIGÉRY
Illustration and comics collective TIETEN MET HAAR
Illustrator and visual artist LOULOU JOAO
Casting director GRIET TROCH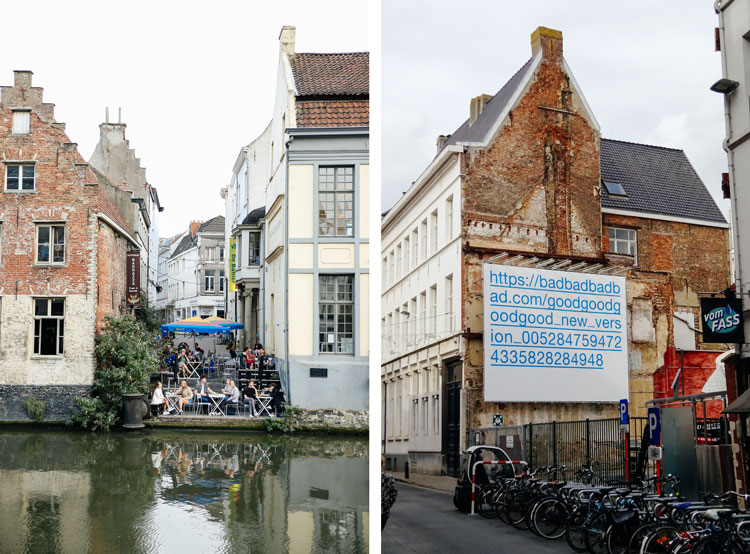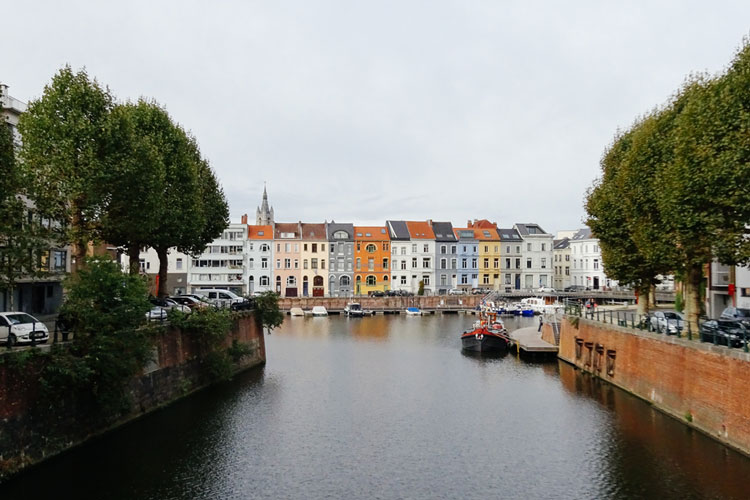 Joëlle's Recommendations
Clouds in my Coffee
Clouds in my Coffee is an innovative concept combining a café, bed & breakfast, webshop and different spaces that can be used for all sorts of activities like private parties, photoshoots or workshops.
Part of the bed & breakfast is housed in a renovated chapel, whilst the café area has beautiful interiors and a peaceful patio and garden where you can enjoy many drinks and a great food offer. Clouds in my Coffee is one of Joëlle's favourite places in her neighbourhood: "I often go to relax in their cosy garden, only a 5 minute walk away from my house and studio."
Clouds in my Coffee – Dendermondsesteenweg 104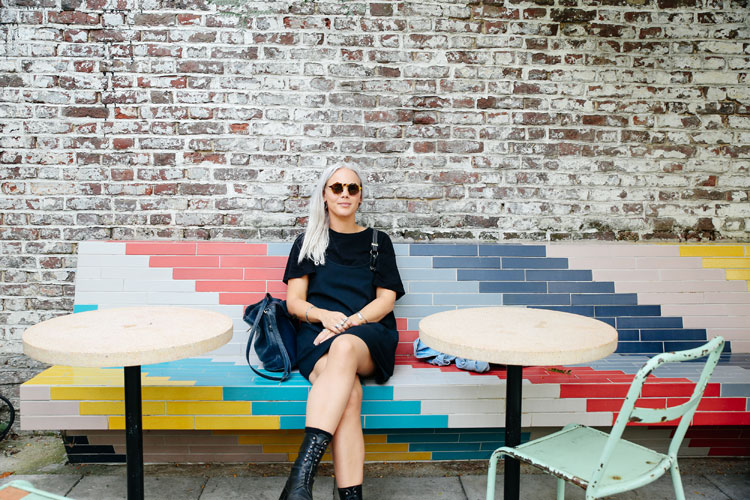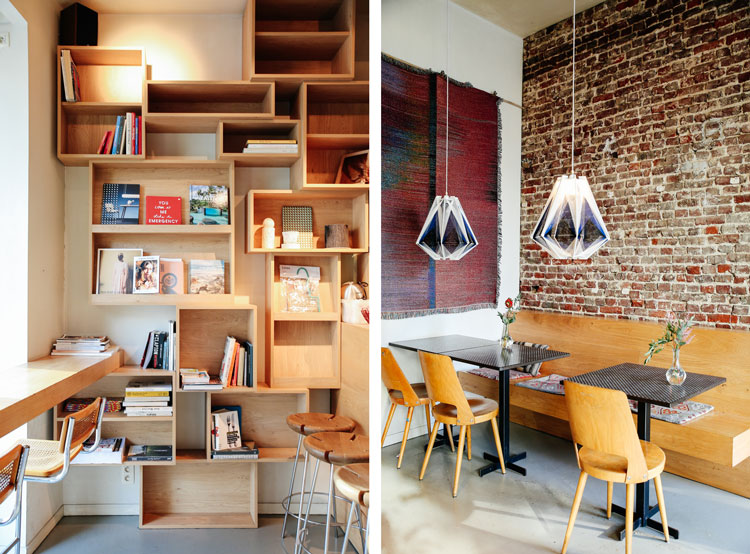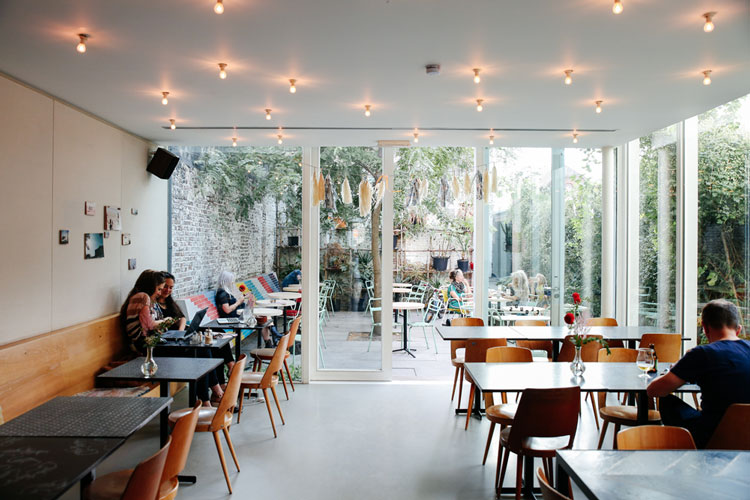 Riot

Also located in the Dampoort neighbourhood, Riot is a gallery and bookshop focusing on new and emerging artists. Inside this cool space in a former beer bottling factory, you can find a wide range of independent magazines, artist books, zines and other publications. Downstairs in the gallery area, visitors can enjoy shows by up-and-coming Belgian and international artists.
"I love books so looking and, even, sniffing the creative books is heaven to me. It's not a conservative bookstore and I am always amazed by the unique pieces I come across — it's a good source of inspiration."
Riot – Dendermondsesteenweg 80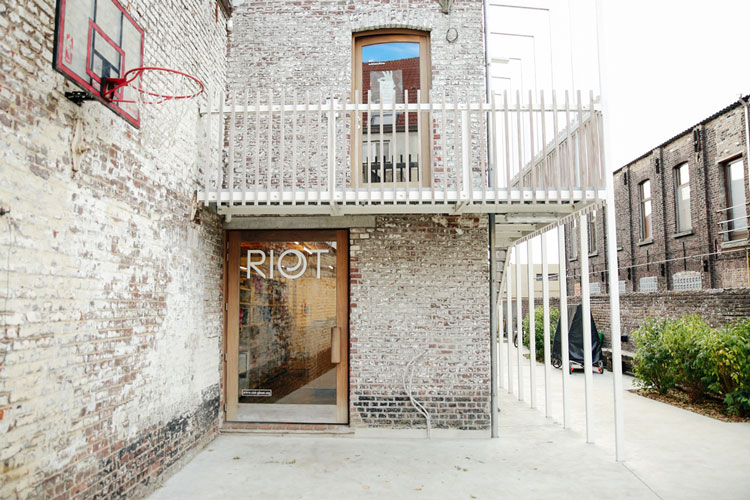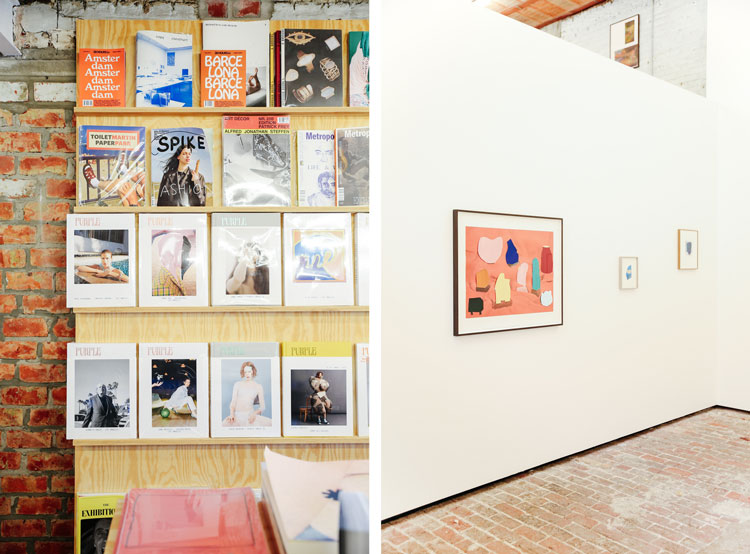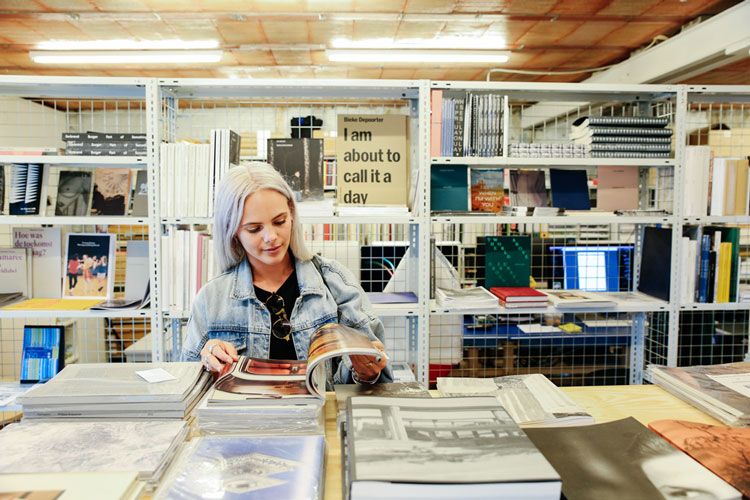 Golden Gai

Golden Gai is a new ramen bar that also offers a great selection of beers and cocktails. It is one of coolest and busiest spots in the city, where you can find some of the many creatives living in Ghent.
Golden Gai – Dampoortstraat 11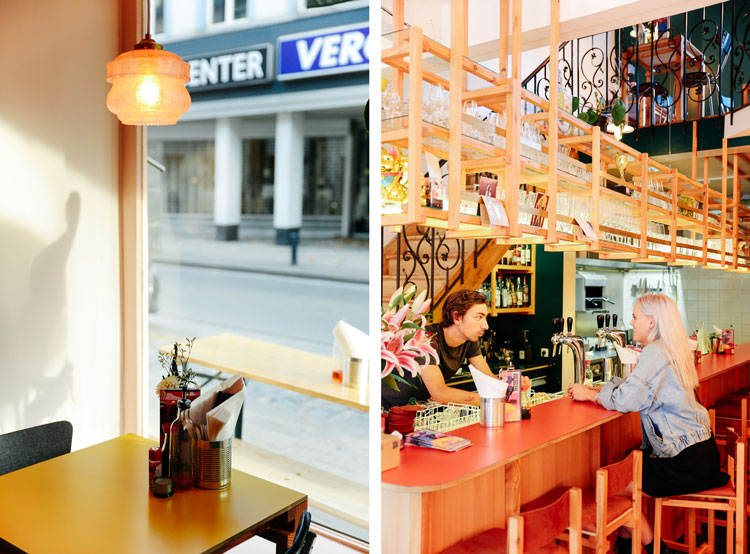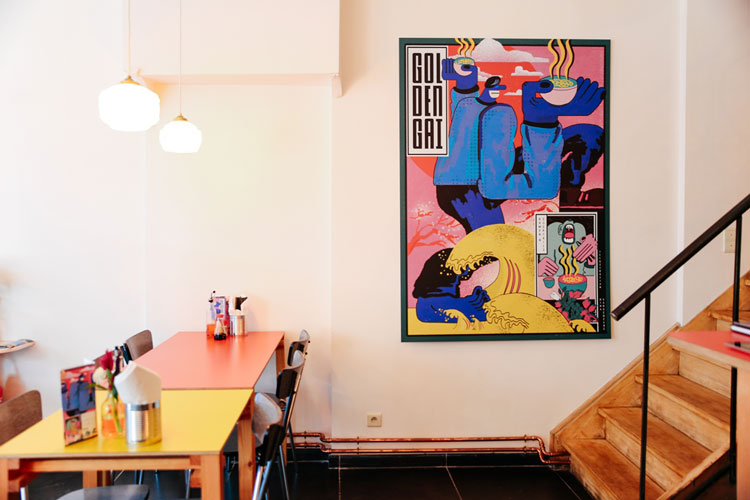 Jigger's

According to Joëlle, Jigger's is the best cocktail bar in Ghent. Located in one of the most popular streets in the city centre, Jigger's has won many awards for its alternative style and amazing drinks selection that changes weekly. Its walls also feature a colourful piece by Joëlle, depicting some of the unique people you can find in this bar.
Jigger's – Oudburg 16
MORE RECOMMENDATIONS:
Vegetarian restaurant DE APPELIER
Soup and sandwhich bar SOUP'R
Espresso bar TAKE FIVE
Contemporary art gallery BARBÉ URBAIN
The garden and vineyard of ST PETER'S ABBEY
---
CHARLOTTE EVERAERT – FASHION & INTERIOR STYLIST
Flat & Guesthouse
Charlotte Everaert is a fashion and interior stylist born in Ghent. Her work is as colourful as her personal style, mixing different materials and using unique tonal schemes to decorate the homes and commercial spaces of her clients, or to produce photoshoots for fashion magazines.
Charlotte recently opened a guesthouse in the same house where she grew up, decorated to her eclectic taste and offering two rooms, "The Apollo Suite" and "The Boho Cave" where guests can experience a unique stay in Ghent. She also works with her mother on her handmade ceramics label, Atelier Turquoise, helping her with the communications and visual branding.
We spent some time with Charlotte at her flat and guesthouse and then she took us on a walk around her favourite places in Ghent on a lovely autumn afternoon.
www.aliceroxy.com
www.atelier-turquoise.be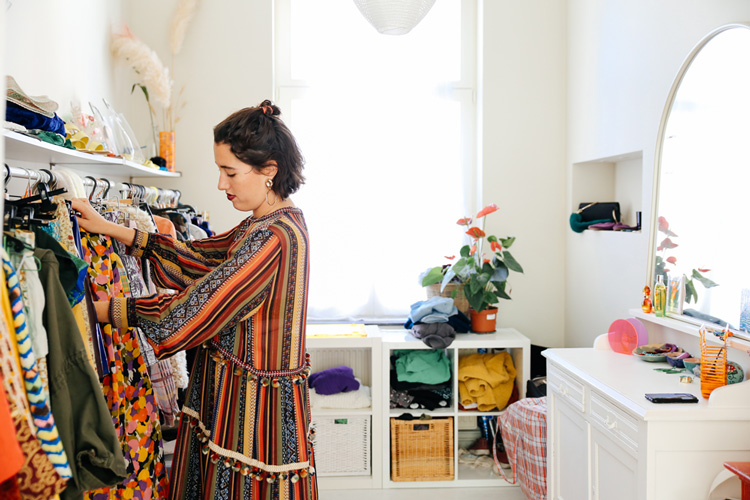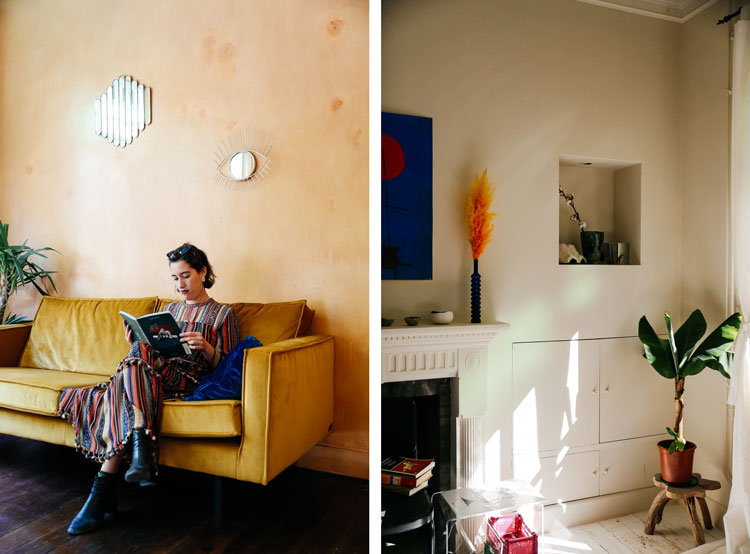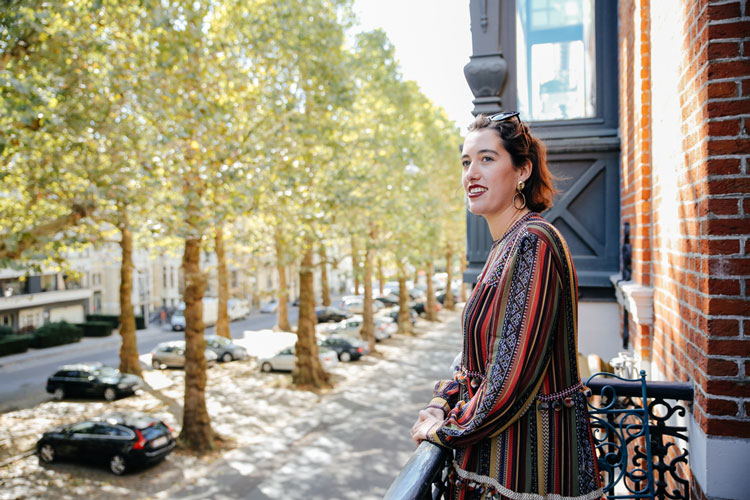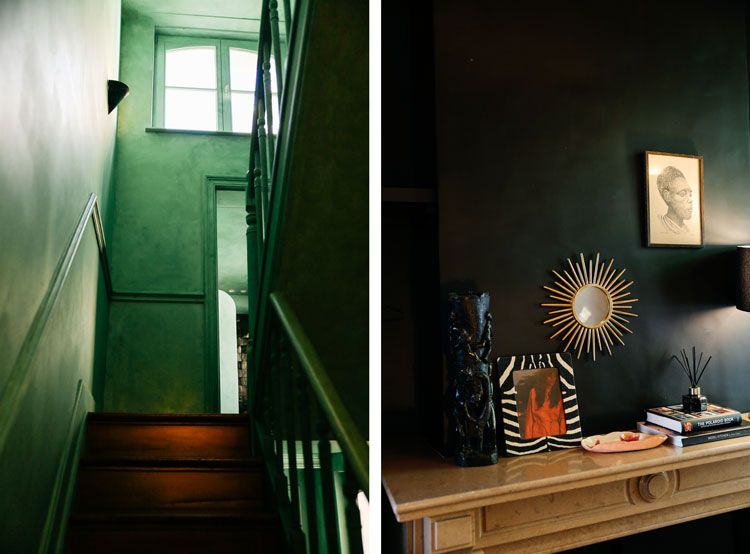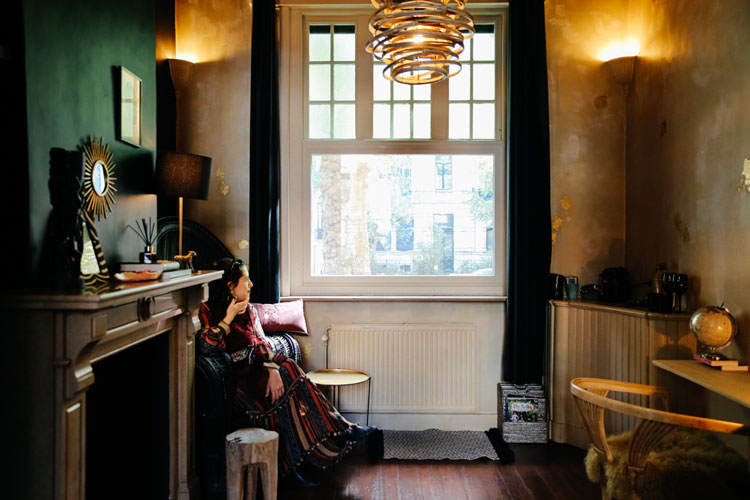 The Neighbourhood

Charlotte lives in the Arts Quarter, located in the south of the city next to Gent-Sint-Pieters railway station: "It's a very lovely and green neighbourhood to live in, with grand avenues full of hidden gems. I love to walk around admiring the great architecture and the trees in the Citadelpark, which is located at the end of the street. It's a quiet getaway for the sometimes hectic city centre."
She describes the neighbourhood where she grew up and where her guesthouse is as a fascinating place for architecture and art lovers: "The streets surrounding the Gent-Sint-Pieters station were built a few decades before Ghent's World Exhibition in 1913, which took place in the Citadelpark and 'Miljoenenkwartier' or Million's Quarter. Fans of the art-nouveau and eclectic style are in a good place here. De Smet De Naeyerpark and the surrounding neighbourhood, Million's Quarter, are the areas where every art-deco lover's heart starts pounding — in the 1920's several local architects created distinctive villas for Ghent's elite. Art lovers should visit SMAK museum, which always hosts surprising exhibitions, and the Museum of Classical Arts (MSK). They are both located in the beautiful Citadelpark."
Although it is mainly a residential neighbourhood, its high street is lively with many local stores and restaurants: "Ohne is the city's first packaging-free grocery store, Toulouse is a deli shop where you can also grab lunch, Alix Table et Jardin d'Amis is a restaurant organising apéro evenings and Sunday brunch in their huge garden. I hope that a good coffee shop will open up in my neighbourhood, because that's still missing for sure."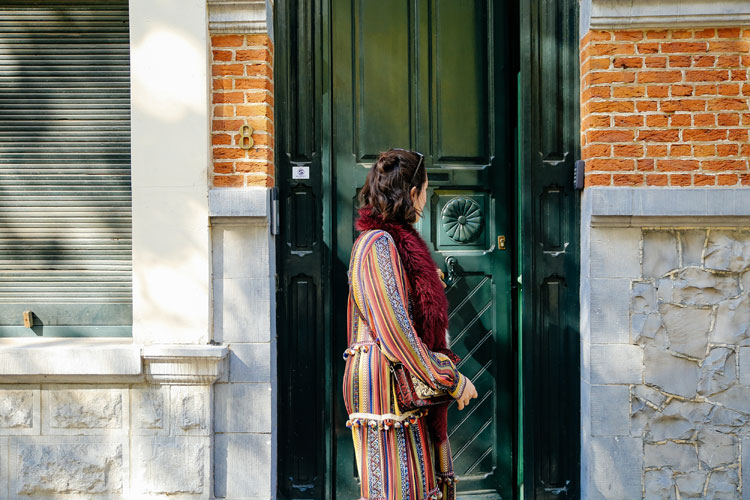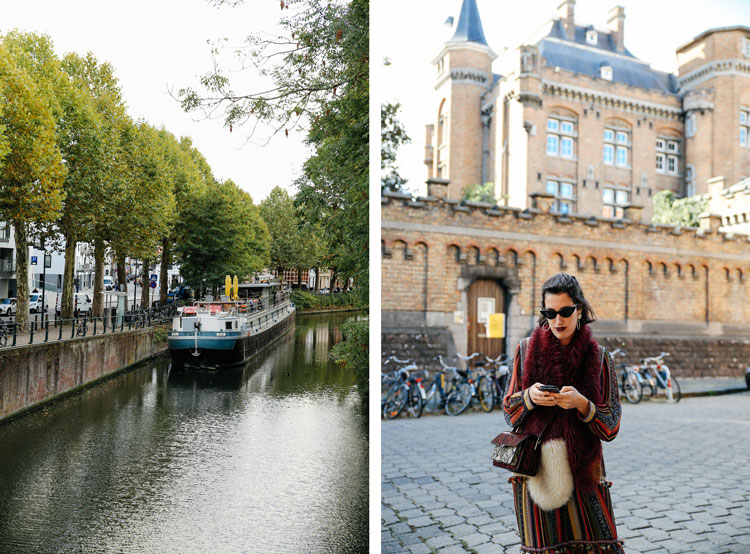 Working in Ghent

Although Charlotte finds living in Ghent inspiring, she usually finds inspiration outside of the city: "I am much more influenced by travelling and visiting other cities. I pick up a lot from everywhere: from a colour combination on the street to reading about an interesting way of running a business in Monocle Magazine."
She also thinks that the local creative scene doesn't end in Ghent and it expands to other cities in Belgium. "I know a lot of creatives from everywhere in Belgium. I think it's a combination of being a small country and being able to connect with other creatives through social media. I am never shy of contacting someone through Instagram. There are lots things happening in Ghent but I would love to see even more initiatives where we can go and collaborate with each other, as one big community!"
LOCAL CREATIVES WE SHOULD KNOW ABOUT:
Visual storyteller LAURENCE VANDERELSTRAETEN
Artist SHIRLEY VILLAVICENCIO PIZANGO
Designer EMELY VAN IMPE
Design shop owner NADIA KARA
Musician ISOLDE VAN DEN BULCKE
Photographer CHEYENNE DEKEYSER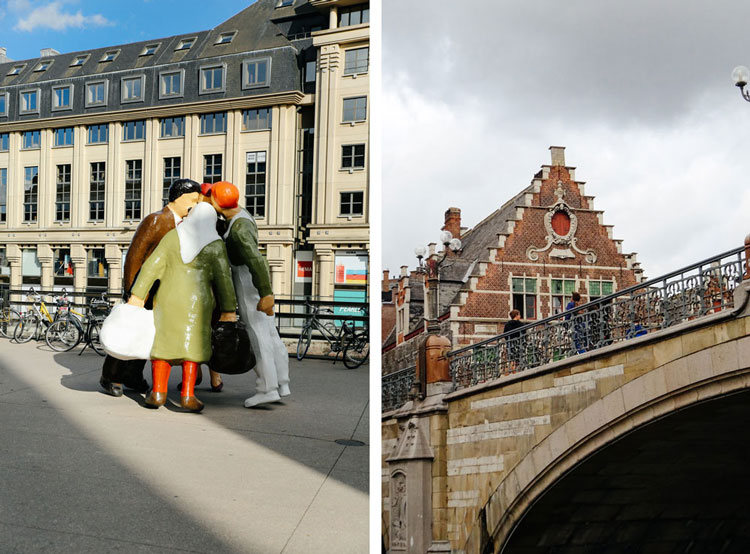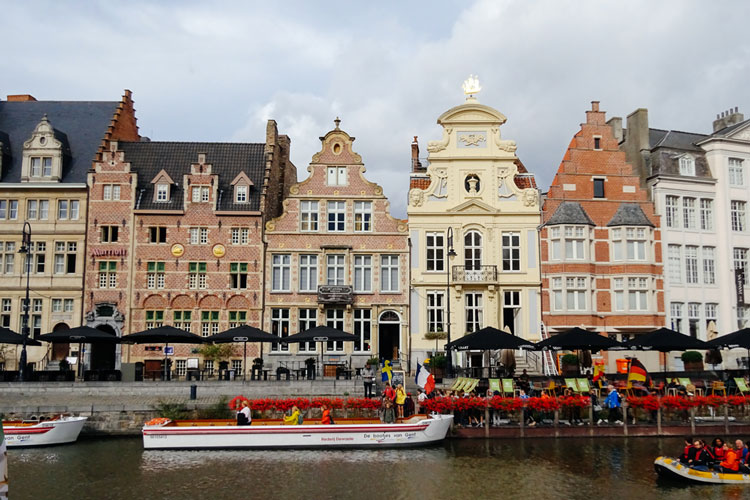 Charlotte's Recommendations
Citadelpark
This park in the south of the city was created in 1875, on the place where the Dutch citadel of Ghent formerly stood. Today it is one of the most popular parks in the city, home to a mysterious grotto, a bandstand, a dog shelter, romantic avenues and an open-air theatre.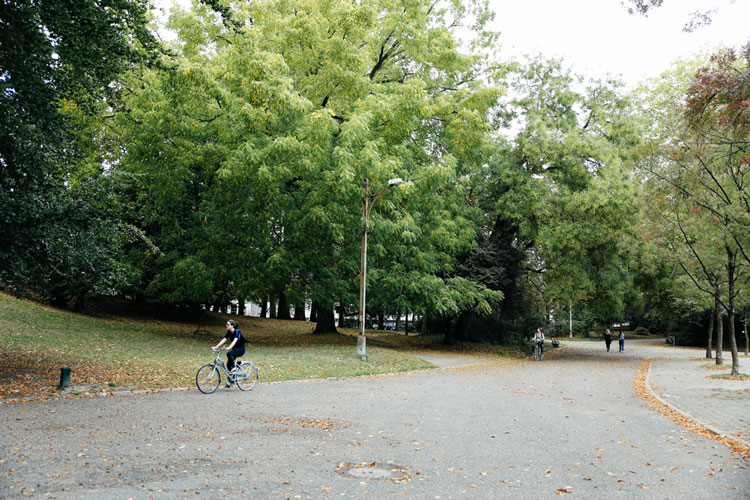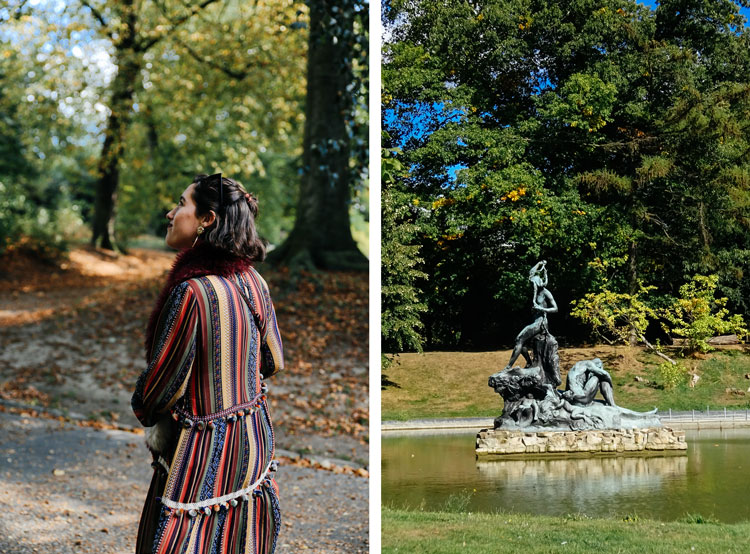 Kiosk Monterey

This renovated traditional kiosk in Citadelpark is one of the busiest spots in the park during the summer months. Here you can find a great variety of drinks in a cosy atmosphere, while you enjoy some of the live performances, movie screenings and other activities that take place at the bandstand directly opposite the kiosk.
Kiosk Monterey – Louis Hanssensdreef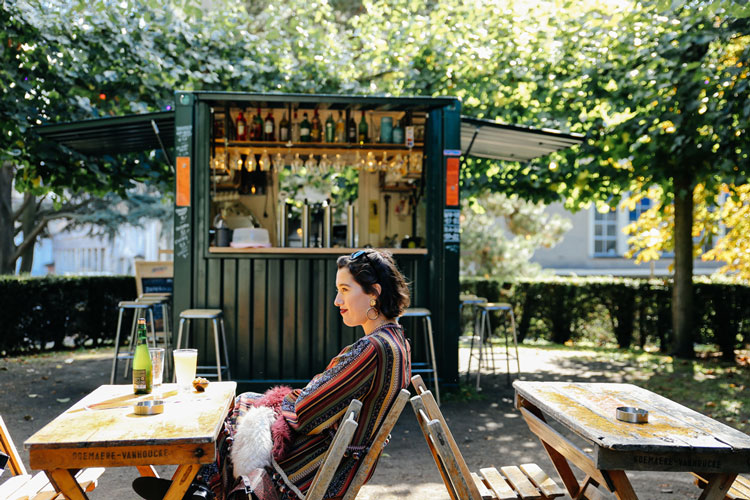 Ghent University Botanical Garden

A quite getaway from the city life, the Ghent University Botanical Garden is home to over 10,000 different varieties of plants in the outdoor areas and the tropical greenhouses. Located just 5 minutes away from Charlotte's flat and guesthouse, it is one of her favourite places in her neighbourhood: "I love to sit at the romantic pond or go into the greenhouse and pretend to be Alice in a Wonderland surrounded of tropical plants."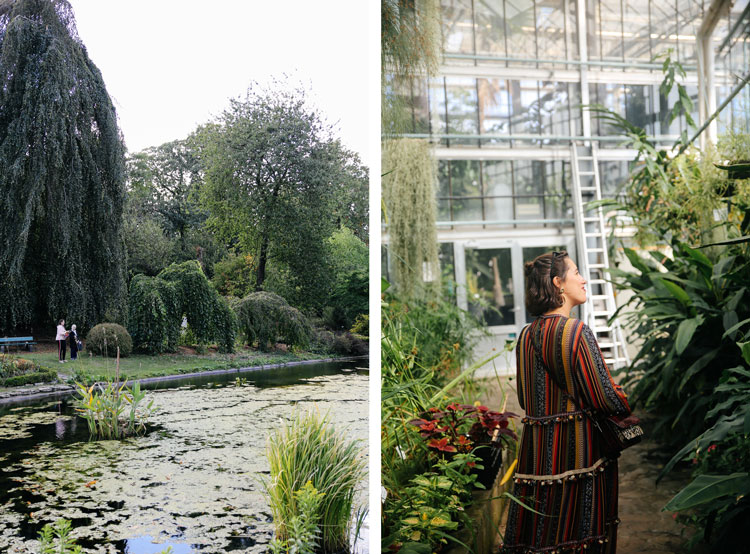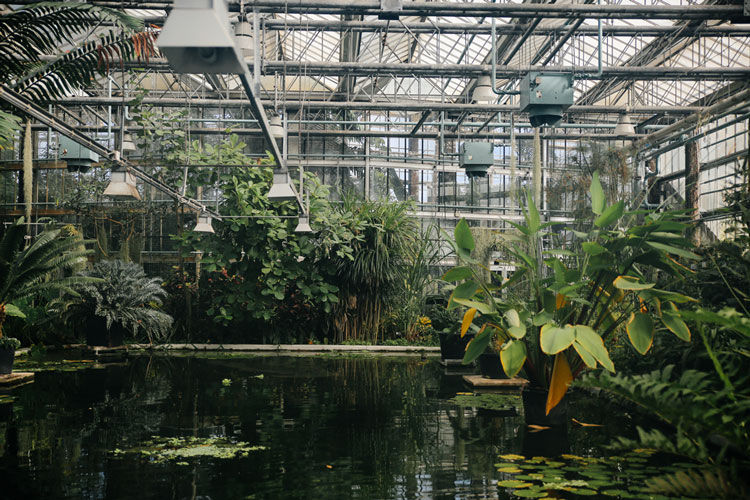 Piet Moodshop

This design and gift store located in a former pharmacy has kept most of the features from the original space, including the many medicine wooden cabinets and the beautiful tiled floors. Here you can find furniture and homewares by local and international designers, as well as design-led prints and objects that are the perfect souvenir to take home from your trip.
Piet Moodshop – Sint-Pietersnieuwstraat 94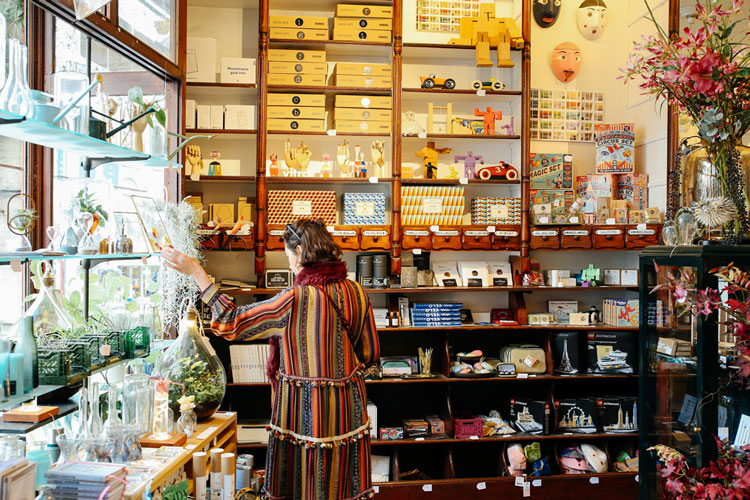 MORE RECOMMENDATIONS:
Cocktail bar THE DRIFTER
Lebanese restaurant AYWA BEIRUT STREETFOOD
Restaurant ENTR
Walking around PORTUS GANDA
Ice cream parlour NONNO
Deli shop TOULOUSE
Cinema STUDIO SKOOP
---

---
OUR RECOMMENDATIONS – STAY
Logid'enri
We stayed at Logid'enri, a modern bed & breakfast concept run by former interior architect Didier Michiels and his wife Nathalie. The building, perfectly located between the Art district and the historical centre, houses 11 bedrooms with clean, contemporary design and all the amenities you might need.
For example, our room was entirely decorated with earthy tones, featuring a bespoke cabinet/wardrobe, Eames chairs and a big screen with double use: watching TVs and movies from the comfortable bed and serving as a blind, covering the whole width of the room where the windows are located.
The exceptional service offered by Didier and Nathalie (don't be shy to ask them about tips and their favourite places in Ghent!) is completed with a delicious breakfast buffet with freshly baked pastries, a great selection of teas, cheeses and other tasty bites to help you start your day exploring the city.
Logid'enri – Brabantdam 201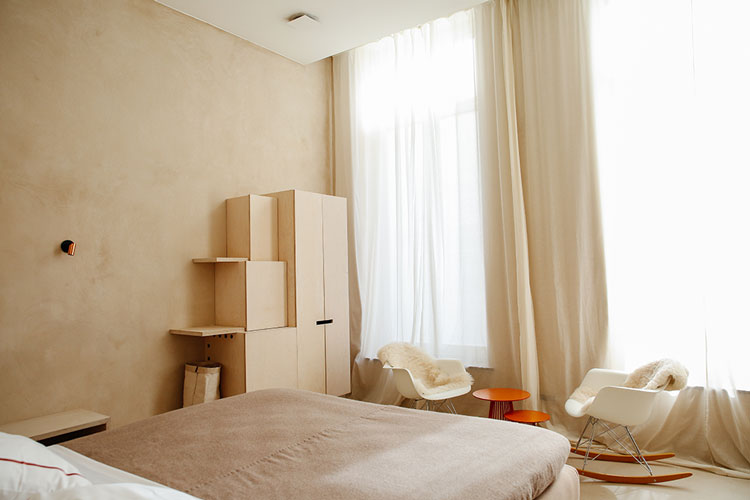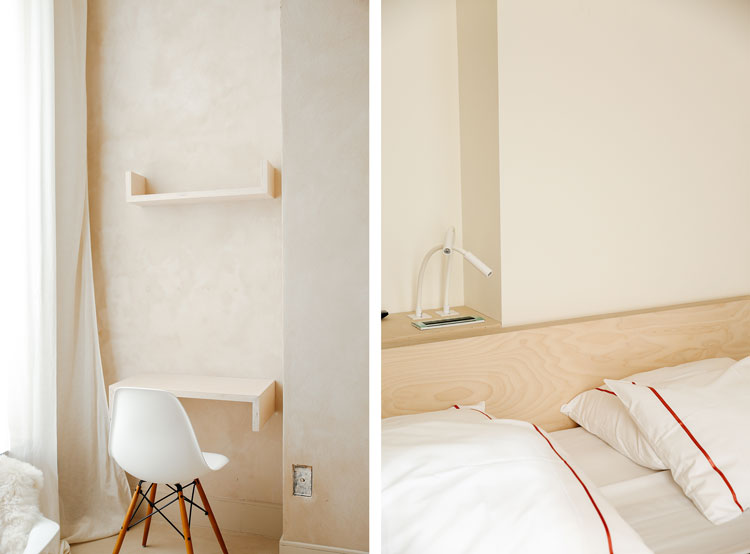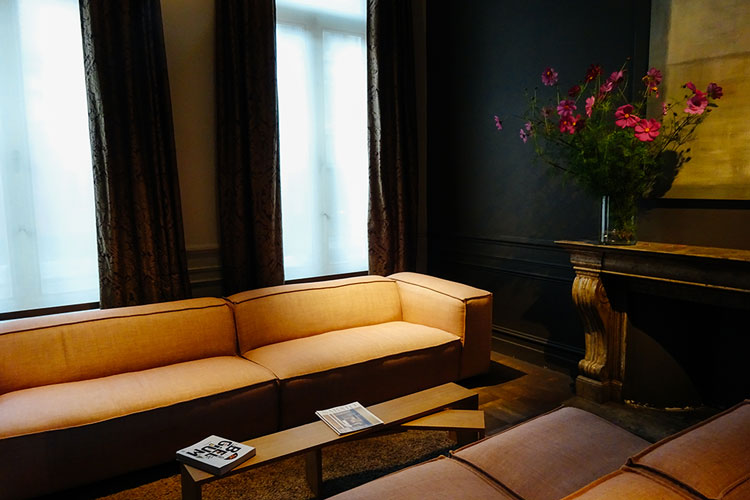 ---
OUR RECOMMENDATIONS – EAT & DRINK
Bodo
Just next to the Gravensteen, the medieval castle in Ghent's city centre, you will find Bodo, a relaxed, modern restaurant with Scandinavian interiors. Led by young chef Lore Moerman, Bodo offers new interpretations of both traditional Flemish recipes and international dishes made with fresh and seasonal ingredients.
Bodo – Burgstraat 2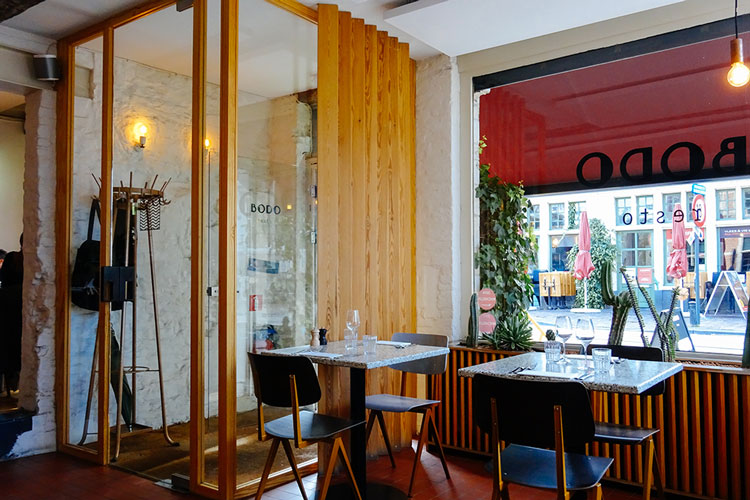 De Superette

A bakery, restaurant and café all located in a former corner store in a quiet back street in the University quarter. De Superette is one of the many food ventures of acclaimed chef Kobe Desramaults, the youngest Belgian chef to ever be awarded a Michelin star.
The open kitchen is one of the most attractive features of De Superette, take a seat at the bar next to it and see how the cooks create the tasty dishes from the menu, including the delicious wood-fired oven pizzas made right before your eyes.
De Superette – Guldenspoorstraat 29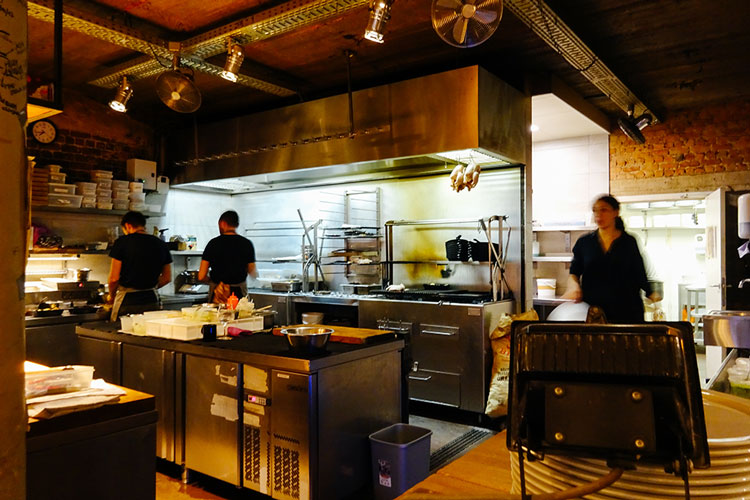 Cochon De Luxe

Our dinner at Cochon De Luxe was one of our highlights from our trip to Ghent. This modern cuisine restaurant is run by chef Tom Van Lysebettens and his partner Alison Roels, who is in charge of the front of the house, greeting guests and serving the beautiful dishes they create.
The tasting menus are designed to tell a story through the playful creations of Tom, based on classic French cuisine with a modern twist, featuring rich flavours with unexpected taste combinations.
Cochon De Luxe – Brabantdam 113


Mémé Gusta

This restaurant and café in Ghent's historical centre is inspired by the food cooked by grandmas for family lunches, so don't be surprised when you see the size and quantity of the dishes served here! If you want to try traditional Belgian cuisine in a modern and cosy atmosphere, Mémé Gusta is the place to go in Ghent.
Mémé Gusta – Burgstraat 19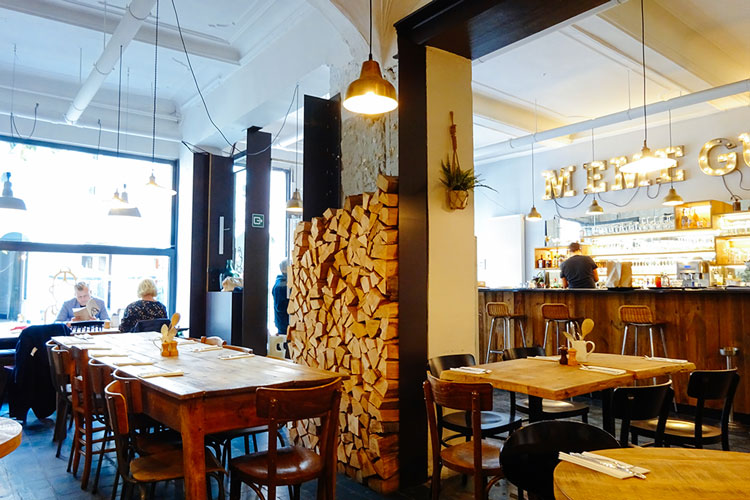 ---
OUR RECOMMENDATIONS – SHOP
LUX
LUX is a beautiful design store specialising in lighting we discovered when walking around Ghent. Here you can buy lamps and other lighting products by well-known and emerging labels, or you can build your own lamp, selecting all the different parts in the colours and materials you want to create a unique product completely made to order.
LUX – Gebroeders Vandeveldestraat 6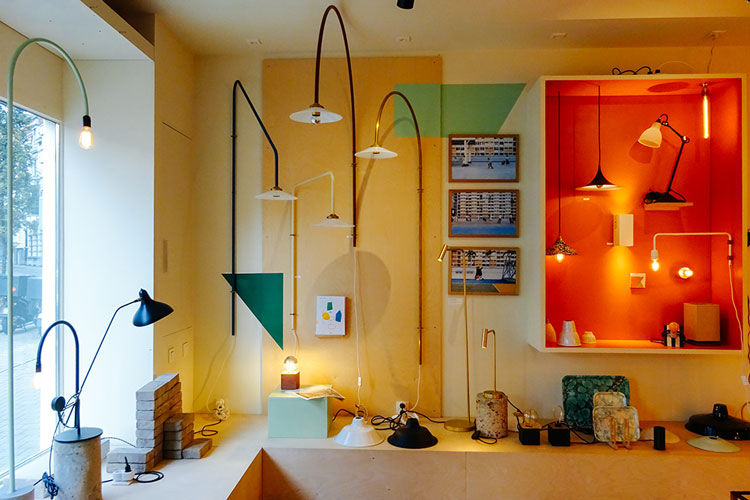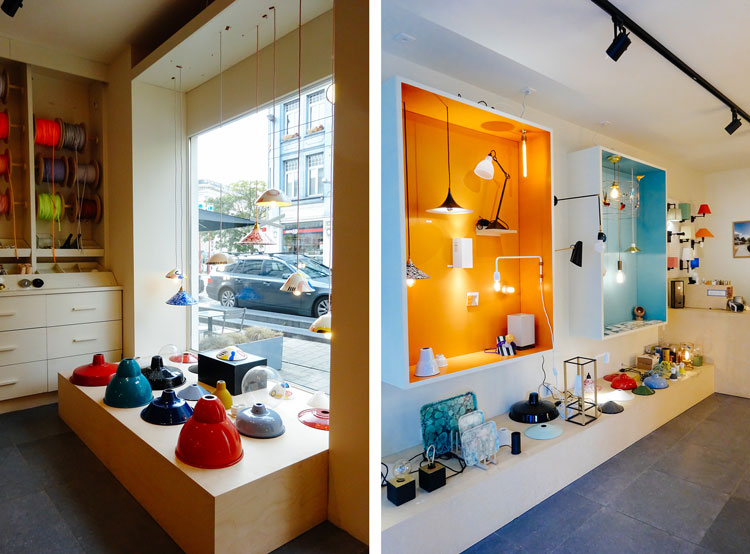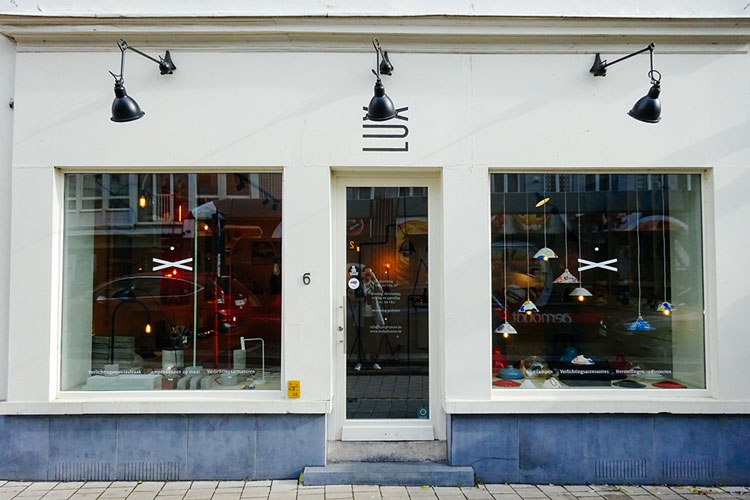 Copyright
We had visited Copyright's store on our trip to Antwerp but we decided to also explore Ghent's shop to enjoy, once again, the incredible selection of art, design, architecture, photography and fashion books.
If you're looking for a book in particular you'll probably find it somewhere in the packed shelves of Copyright, or ask the friendly staff about it as it might also be available on their online store where you can browse thousands of different publications.
Copyright – Jakobijnenstraat 8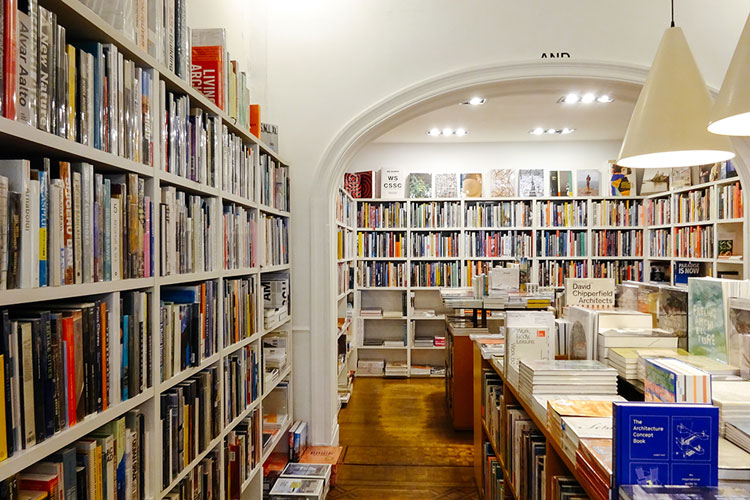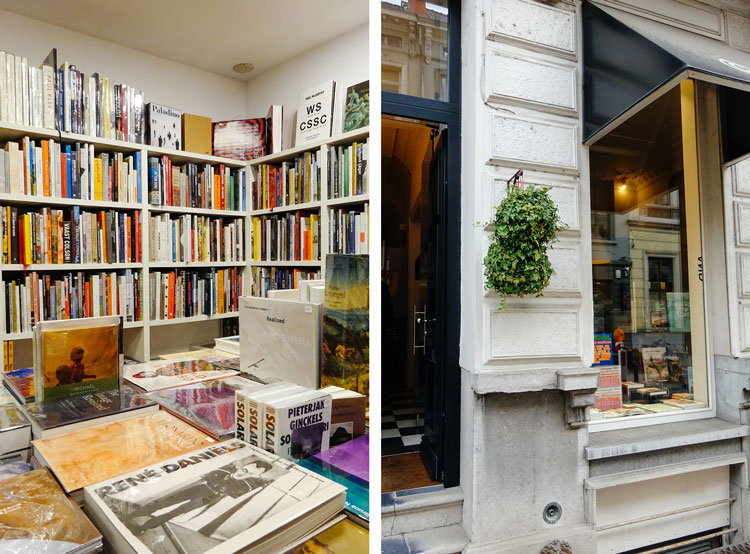 ---
OUR RECOMMENDATIONS – VISIT
Design Museum
Located in an 18th-century mansion, the Design Museum is an unmissable destination for those visitors interested in finding out more about Belgium's rich design history.
The permanent collection features pieces spanning from the 15th century to the present: "Object Stories" is Belgium's largest design collection with over 200 objects selected to act as individual narrators of stories and meaning, whilst "Marteen Van Severen & Co" illustrates the Belgian designer's interpretation of design.
The temporary exhibitions usually focus on contemporary design by local and international designers. When we visited, we were lucky to see a retrospective of acclaimed Dutch designer Maarten Baas' work, along with "Poème Brut", an exhibition featuring young designers and their renewed interest in crafts, local techniques and materials.
Design Museum – Jan Breydelstraat 5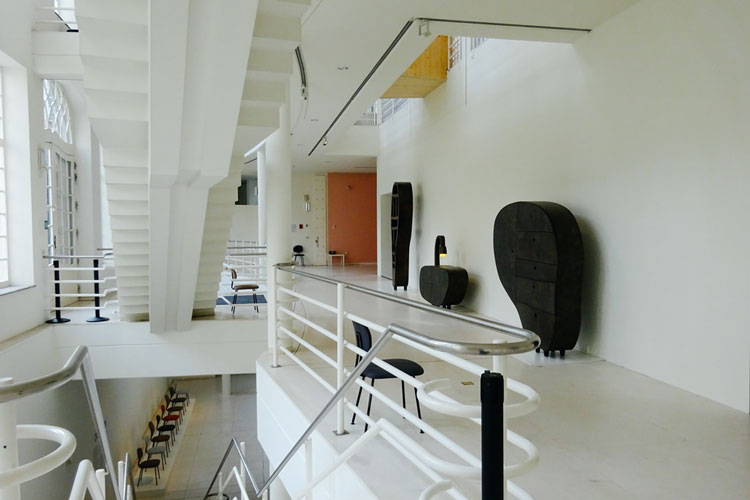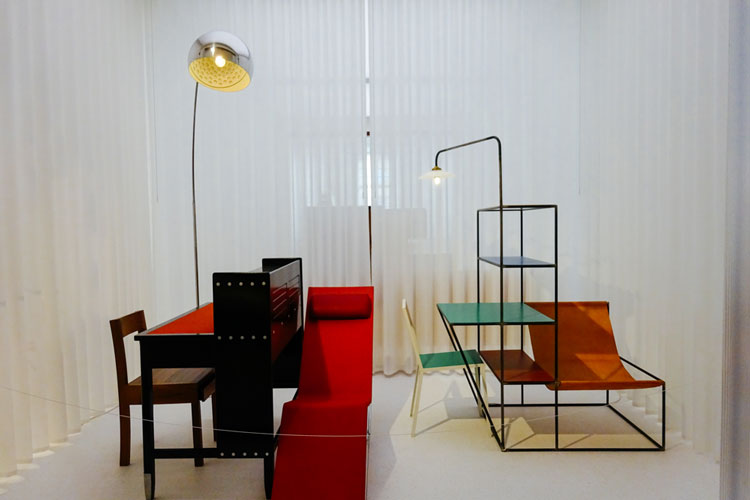 Stadshal
The Stadshal, city pavillion, is a striking structure designed by architects Robbrecht & Daem and Marie-José Van Hee, and built in Ghent's historical centre. Known by locals as the sheep shed, this building generated quite a lot of controversy when it was conceived although it has won several architecture awards for its unique design.
The wood, concrete and glass structure is used to host concerts, dance performances and other events, and it was also created to interact with the visitors' senses — the light that goes through and is reflected on the glass pannels creates different effects throughout the day, whilst the acoustics of the building change depending on where you are under the structure.
Stadshal – Poeljemarkt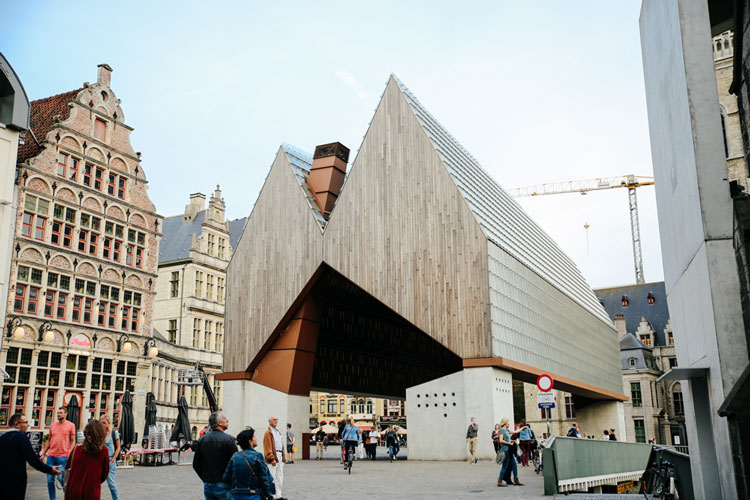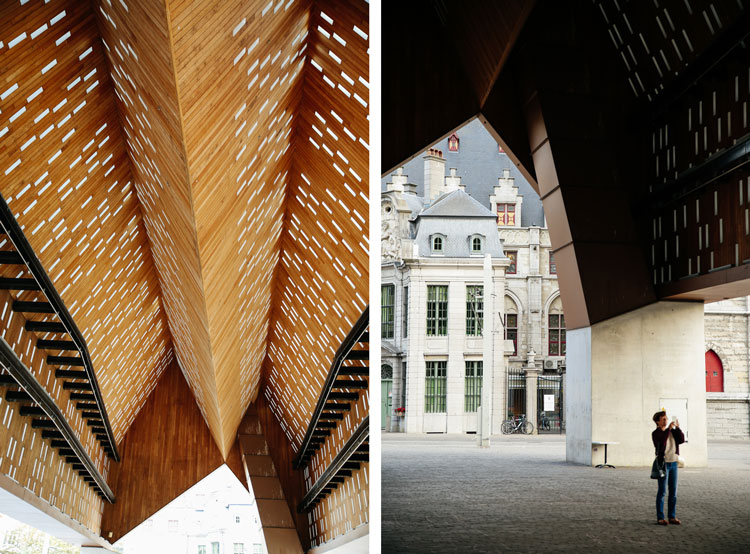 Dok Noord
This industrial area in the north of city is currently undergoing a renovation and being transformed into a new urban and creative hub. The abandoned docks are turning into hip cafés, studios, co-working spaces, a shopping centre and even a mobile hotel consisting of different sleeping units taking the shape of a beehive.
The area is especially popular during the summer months, when locals can attend the numerous concerts and events taking place here or enjoy a drink at the cool, urban beach.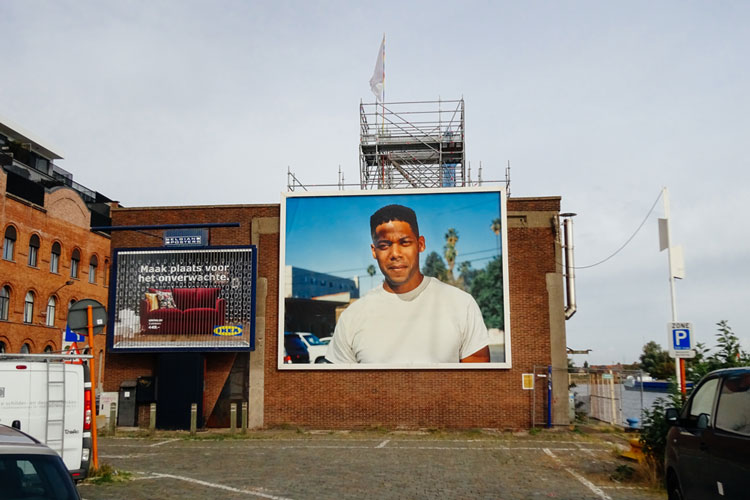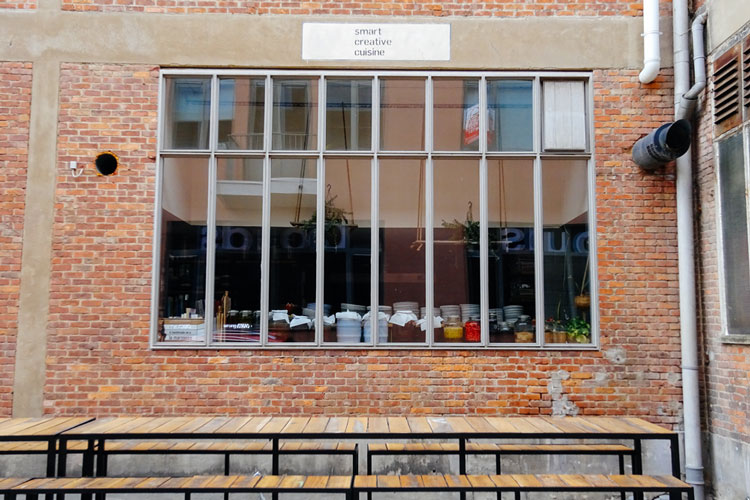 Gouvernement
Gouvernement is an independent arts centre and cultural platform working across different disciplines including visual arts, music and performance. The principles of this institution focus on cross-fertilization, "trial and error" and the unexpected, which are reflected in its programme, possibly the most innovative in Ghent.
Gouvernement – Gouvernementstraat 7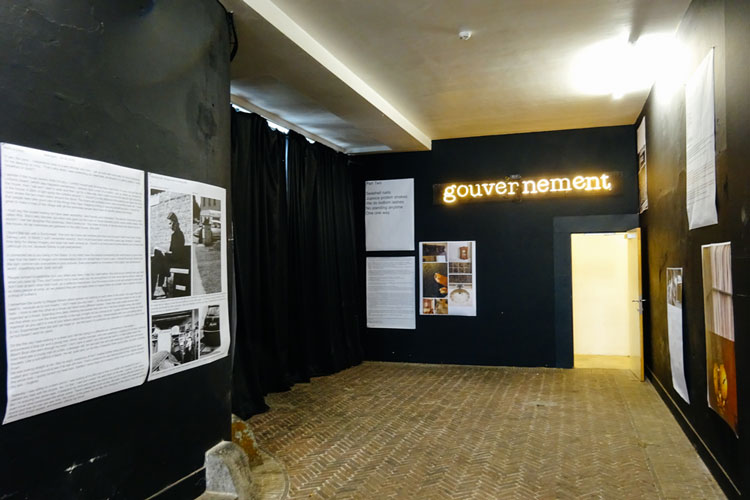 ---
GHENT – MAP
---
You might also be interested in:
---
---