---
24 HOURS IN BRUGES
The rich history of Bruges has turned the city into a popular destination for those wanting to explore the Middle Ages architecture, classical art and cultural heritage that has made it obtain the title of UNESCO World Heritage City.
But there's also another side of Bruges and that's what we've tried to cover in this 24 Hours guide. A city that embraces the future through modern art, architecture, food and a fascinating cultural offer.
Thanks to Visit Flanders and Visit Bruges.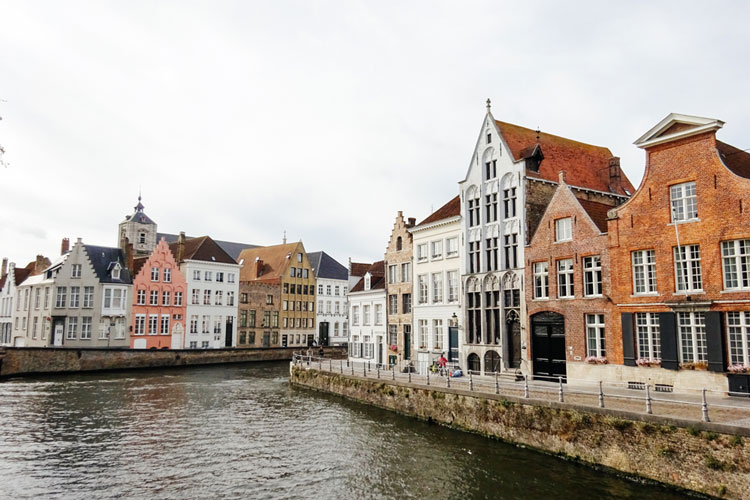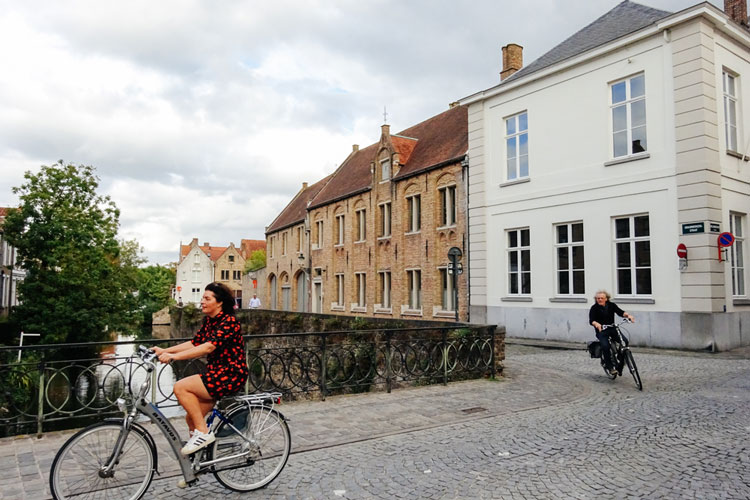 ---
Shop for Interiors
Start your day shopping. Despite its compact size, Bruges offers an interesting selection of interior design shops and ateliers where you can find the work of international and local designers.
Goûts et Coleurs has two shops right next to each other. In one you can find gifts, homeware and small objects mainly focusing on Belgian designers, whilst the other is dedicated to Scandinavian furniture, stocking brands the likes of HAY and Ferm Living.
If you're looking for something unique, pay a visit to Thomas Serruys. This gallery and shop stocks incredible collector items by big European design names and also sells Thomas' own floorlamps.
Want more options? Have a look at Handmade in Brugge, a platform showcasing the work of local artisans and makers.
Goûts et Couleurs – Ezelstraat 1 & 5

Thomas Serruys – Keersstraat 2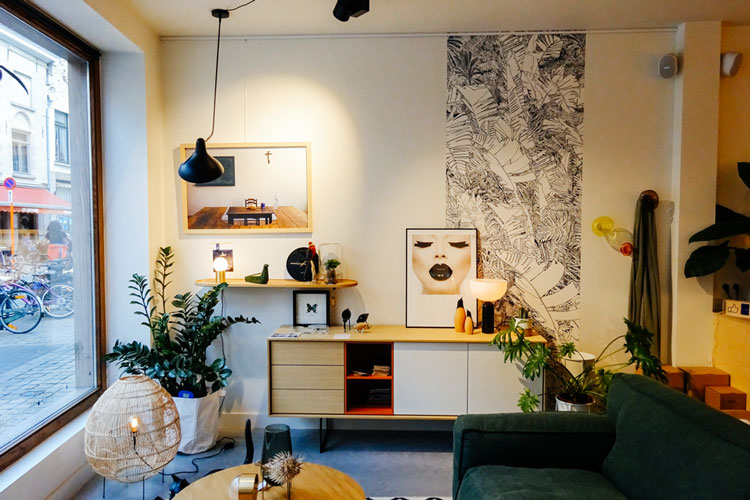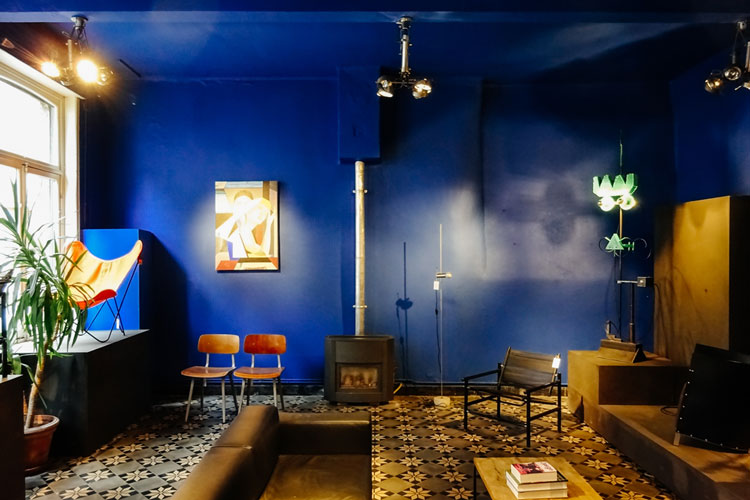 Discover the Modern Architecture of Concertgebouw

Surrounded by the medieval architecture of the city, you will find a modern gem: Concertgebouw. This concert hall was built in 2002 when Bruges was European Capital of Culture and, since then, it has faced divided opinions on its contrasting appearance.
Its programme offers the very best of contemporary dance, performance and classical music to locals and visitors. Guided tours are also available and allow you to discover more about the architecture of the building and its different works of art.
Concertgebouw – 't Zand 34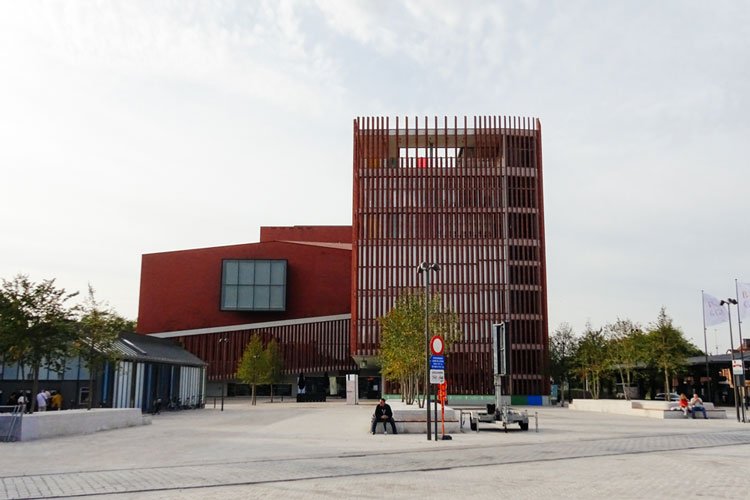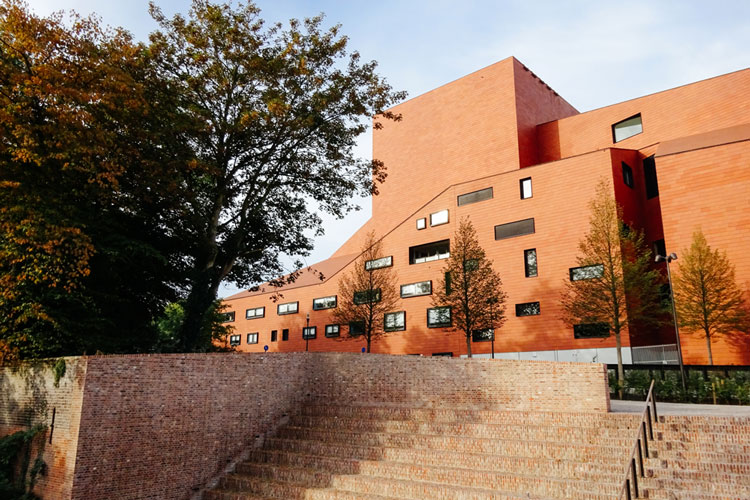 Have Lunch at Books & Brunch

Having lunch surrounded by books is possible at Books & Brunch. This cosy eatery offers simple, well-made dishes like salads, sandwiches and quiches all prepared with organic and locally sourced ingredients.
After lunch, browse through the hundreds of fiction and non-fiction books you can find on its shelves.
Books & Brunch – Garenmarkt 30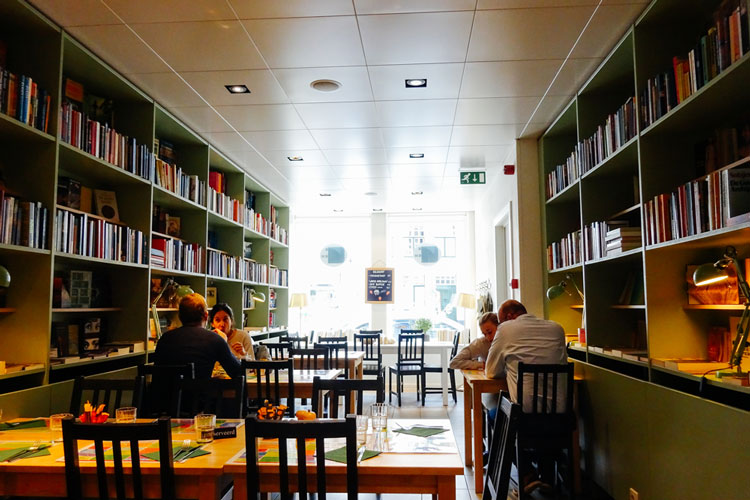 Wander Around the Windmills

Walk to Kruisvest, in the eastern side, to find one of the most beautiful sights in Bruges. In the 16th century the city was home to many windmills, although only four of them remain today.
The most famous one is Sint-Janshuis mill, built in 1770. It still grinds flour and it's the only mill that can be visited inside. After wandering around the windmills, get lost in the surrounding streets and explore the beautiful residential areas.
Sint-Janshuismolen – Kruisvest 3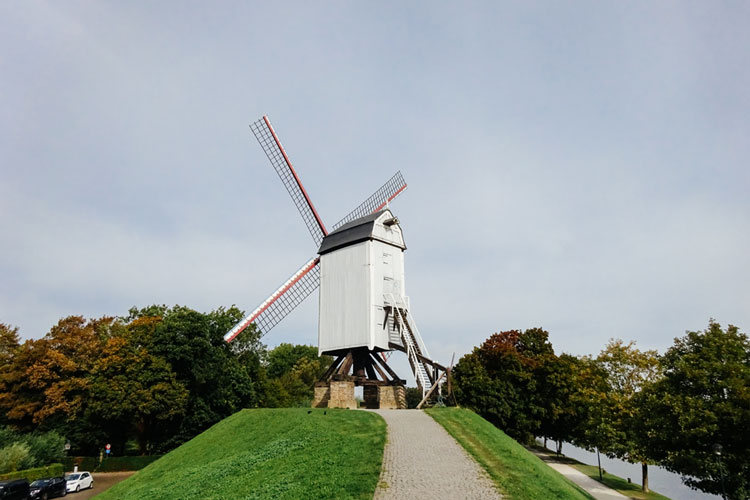 ---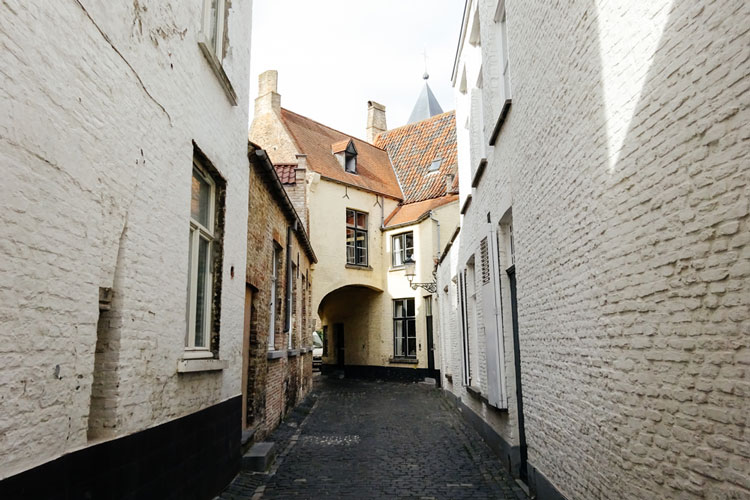 ---
Explore the City's Modern Art
Known for its classical architecture and art, Bruges is also home to exciting modern art. The Triennial is an artistic route with surprising installations by celebrated artists and architects. The second edition of this festival took place in 2018 and sought to stimulate interaction and lay new foundations for the future of the city.
There are also many contemporary art galleries across Bruges. Take a walk along Gestholf street to visit spaces like Pinsart or Galerie Vanlandschoote.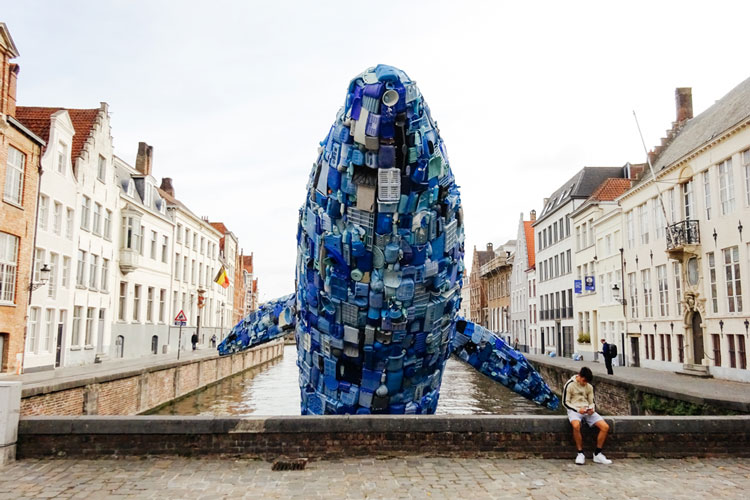 Enjoy a Belgian Waffle and Beer

It isn't a trip to Belgium without trying a waffle and drinking some beer. Chez Albert is considered the best place to eat waffles in the city — this small shop sells hundreds of them each day to locals and tourists alike.
Just around the corner from Chez Albert, hidden in a narrow alley, you will find De Garre, one of Bruge's most popular bars where you can try their famous house beer or many of the other Belgian beers from their impressive menu.
De Garre – De Garre 1
Chez Albert – Breidelstraat 16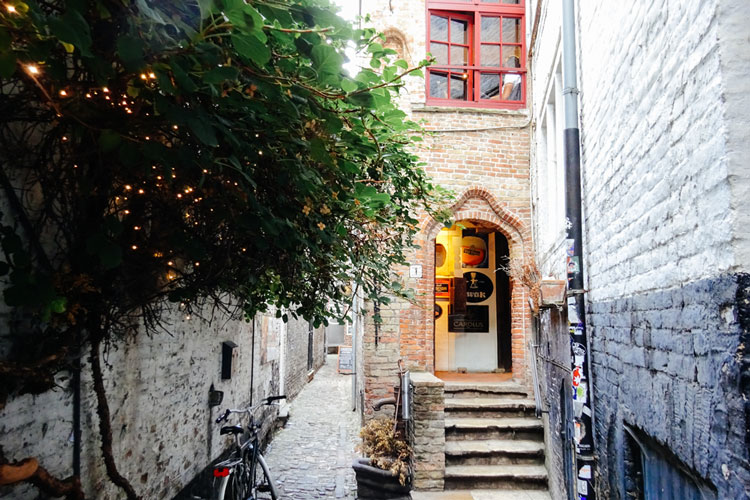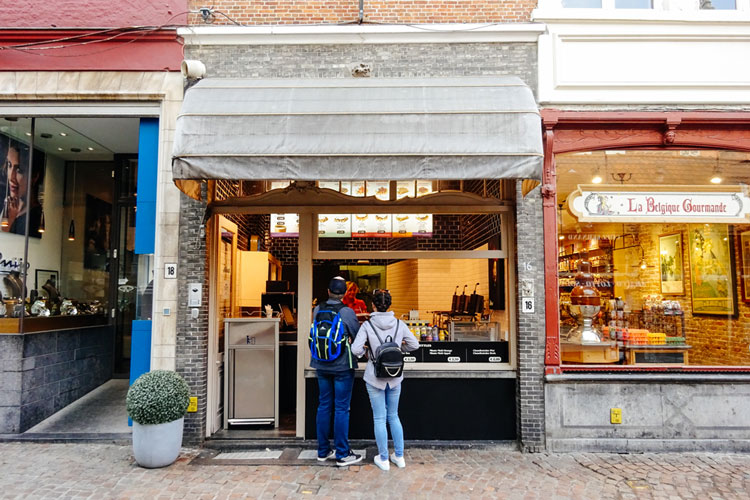 Get Lost in the Canals

The many canals across Bruges are some of the most beautiful places in the city. Explore them on foot and discover the secret gardens, picturesque bridges and hidden alleys. You can also hop on a boat tour and admire them from a different perspective.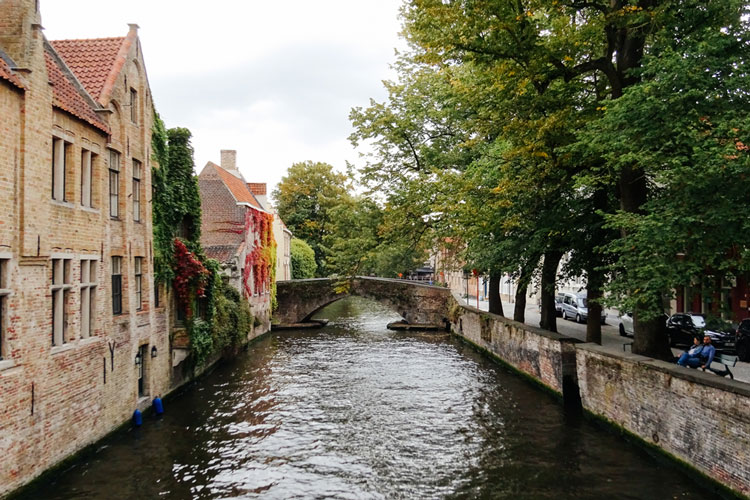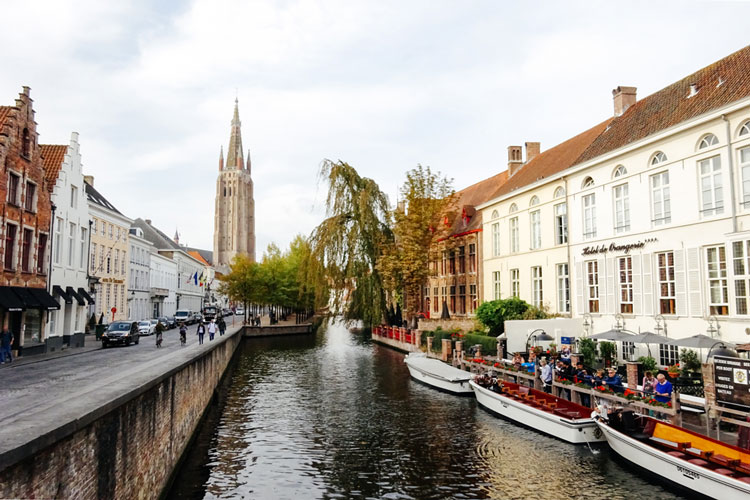 Have dinner at Bonte B

It's time for dinner at Bonte B, a relaxed and intimate restaurant serving honest and seasonal cuisine. The dinner menu consists of a 4-course and 6-course option, both offering some of the restaurant signature dishes, crafted with local produced, and served in a homely and cosy atmosphere.
Bonte B – Dweersstraat 12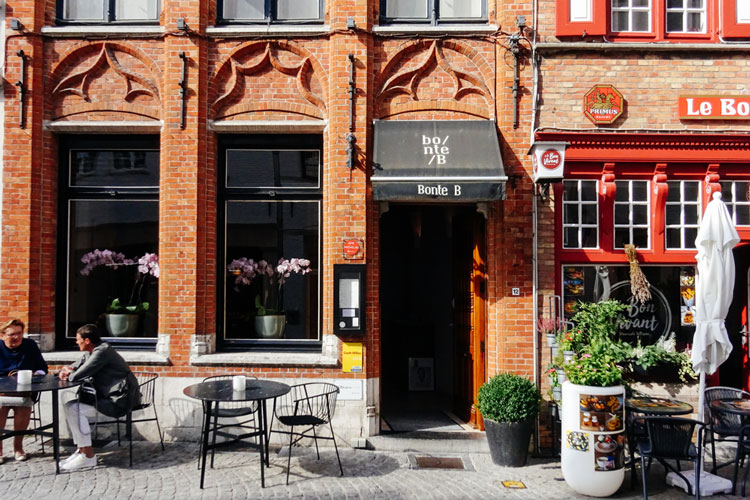 Sleep at Monsieur Ernest

Finish your day in Bruges getting a good night sleep at Monsieur Ernest. This modern hotel is located in a former brewery and keeps many of the historical features of the building like the impressive 19th century staircase in the reception area.
The spacious rooms, where the modern furniture blends in perfectly with the exposed beams and other original elements, offer beautiful views of the canal and all the amenities you might need to enjoy your stay in Bruges.
Monsieur Ernest – Wulfhagestraat 43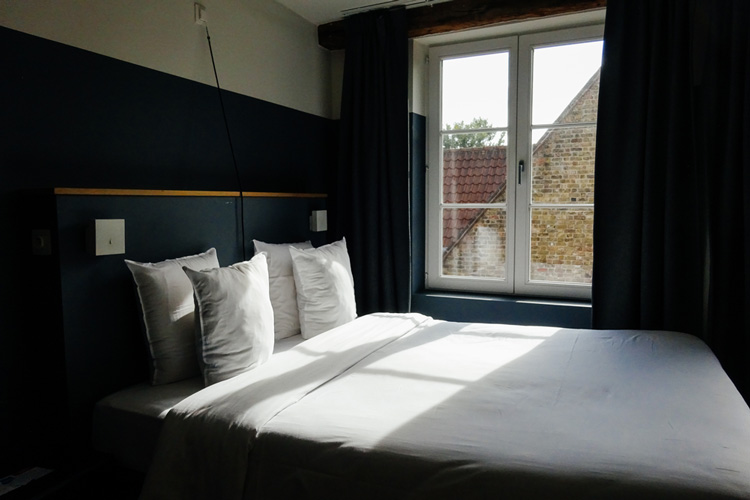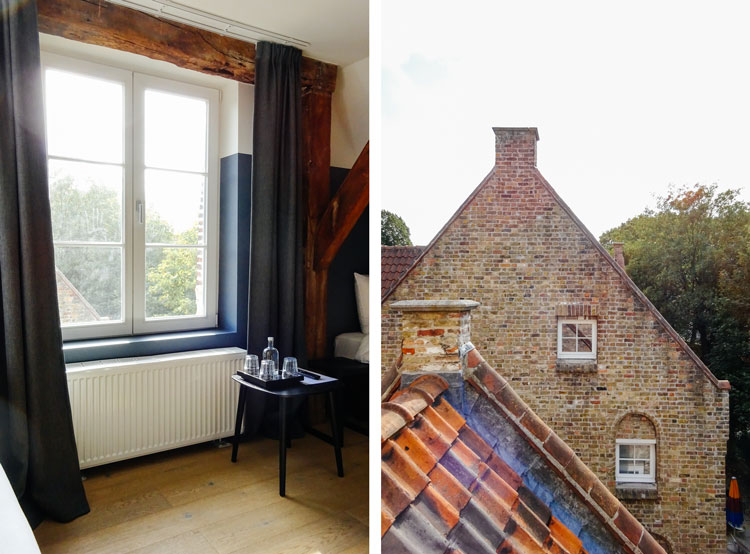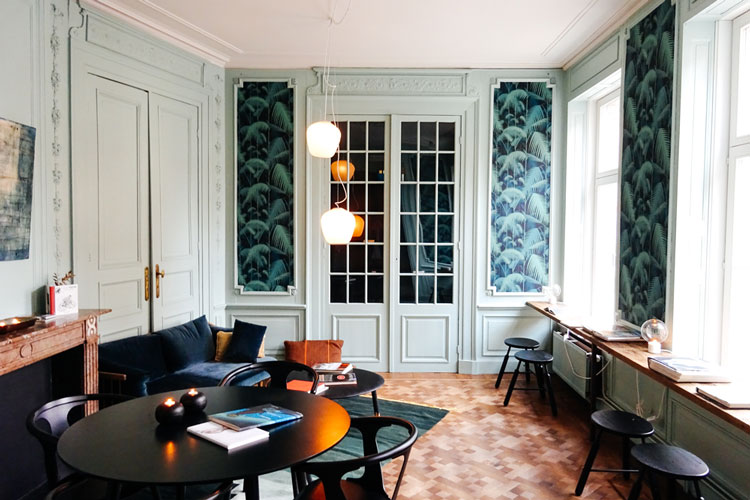 ---
---
BRUGES – MAP
---
You might also be interested in:
---
---